Beautiful Australian native flowers
January 14 2022
·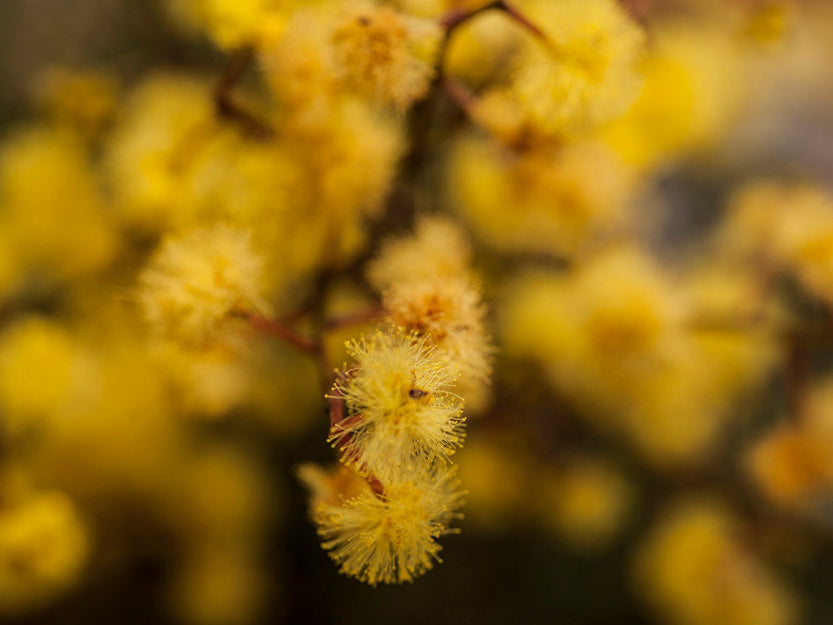 January 14 2022
·
A diverse and extraordinary range of flora can be found in Australia, all which have unique and powerful properties.  Beautiful and distinctive, each is a treasure from this wide brown land.  We share our 10 favourite Australian native flowers to brighten the new year. 
1. Sturt's Desert Pea Swainsona formosa
Sturt's Desert Pea, also known as Swainsona formosa, is a very distinct member of the Fabaceae family.  It is native to the Australian mainland and occurs in dry inland areas with little rainfall.  It's flowering period occurs from July to March, producing vibrant red leaf-shaped flowers with a black centre, known as a 'boss'.
2. Pink Rock Lily Dendrobium kingianum
The Pink Rock Lily, also known as the Dendrobium kingianum, can be found along eastern Australia from just above Newcastle to the central Queensland highlands.  It produces delicate flowers from pure white through to pink and purple and grows naturally on rocky surfaces and occasionally tree logs.  It is illegal to collect this species from the wild without a permit.
3. Paper Daisy Xerochrysum bracteatum
The Paper Daisy, also known as the Xerochrysum, is a small genus of six species, all of which were formerly classified in the genus Bracteantha.  It is widespread in various habitats in all States and Territories in Australia and comes in white, pink, red, orange, gold and bronze.  The flowers are a favourite for dried arrangements as well as for fresh cut blooms.
4. Wattles Acacia
The genus Acacia belongs to the family Mimosaceae and there are over 1000 species found all around Australia.  This stunning plant produces vibrant yellow flowers from a young age.  It's not surprising that the Golden Wattle (Acacia pycnantha) variety is the national flower of Australia. 
5. Blue Lechenaultia Lechenaultia biloba
The genus Lechenaultia is a group of twenty small woody or semi-woody plants native to Western Australia, found mainly on the Darling Range in gravelly soils, but can also occur as far north as Geraldton and as far east as Lake King.  It produces vivid blue flowers which grow to 1.5cm long from July to December and can also be found in shades of green, yellow, red and white.
6. Banksia

There are 173 Banksia species and all but one occur naturally only in Australia. They are an important part of the flora of Australia's eastern coast and few are found in arid regions or rainforests.  The flower heads are made up of hundreds of tiny individual flowers grouped together in pairs and the colours vary from shades of yellow to red. 

7. Fringe Lily Thysanotus juncifolius
The Fringe Lily, also known as Thysanotus juncifolius, is a twining, leafless perennial herb that climbs 0.2 – 2 metres high and is naturally occurring in Western Australia.  From August to November, it produces stunning purple flowers with fringed petals and anthers of unequal length.


8. Kangaroo Paw Anigozanthos
Kangaroo Paws belong to the genus Anigozanthos, which has 11 species.  This diverse plant occurs naturally only in the southwest of Western Australia in a variety of habitats and soil types.  The size, flower-stalk height and colour vary between the species, which makes them one of the most rewarding Australian native plants for the home garden.
9. Boronia
Boronia is a genus of about 160 species of flowering plants in the citrus family Rutaceae.  Most are native to Australia, with a few species found in New Caledonia.  Most species are trees or shrubs, producing highly fragrant flowers that range from shades of pink, brown and yellow. It's fragrance is very beautiful with it's oil being a coveted ingredient in many high end perfumes, with the majority of boronia oil extracted heading offshore to France.

10. Flowering Gum Corymbia ficifolia 
The Flowering Gum, also known as Corymbia ficifolia, is one of around 80 eucalypts which were transferred in 1995 from the genus Eucalyptus to the newly created genus Corymbia.  It can be found on the far south coast of Western Australia in a very restricted open forest area.  The flowering gum comes in a whole range of colours, from bright reds to soft pinks, whites and oranges.
Read more
✕