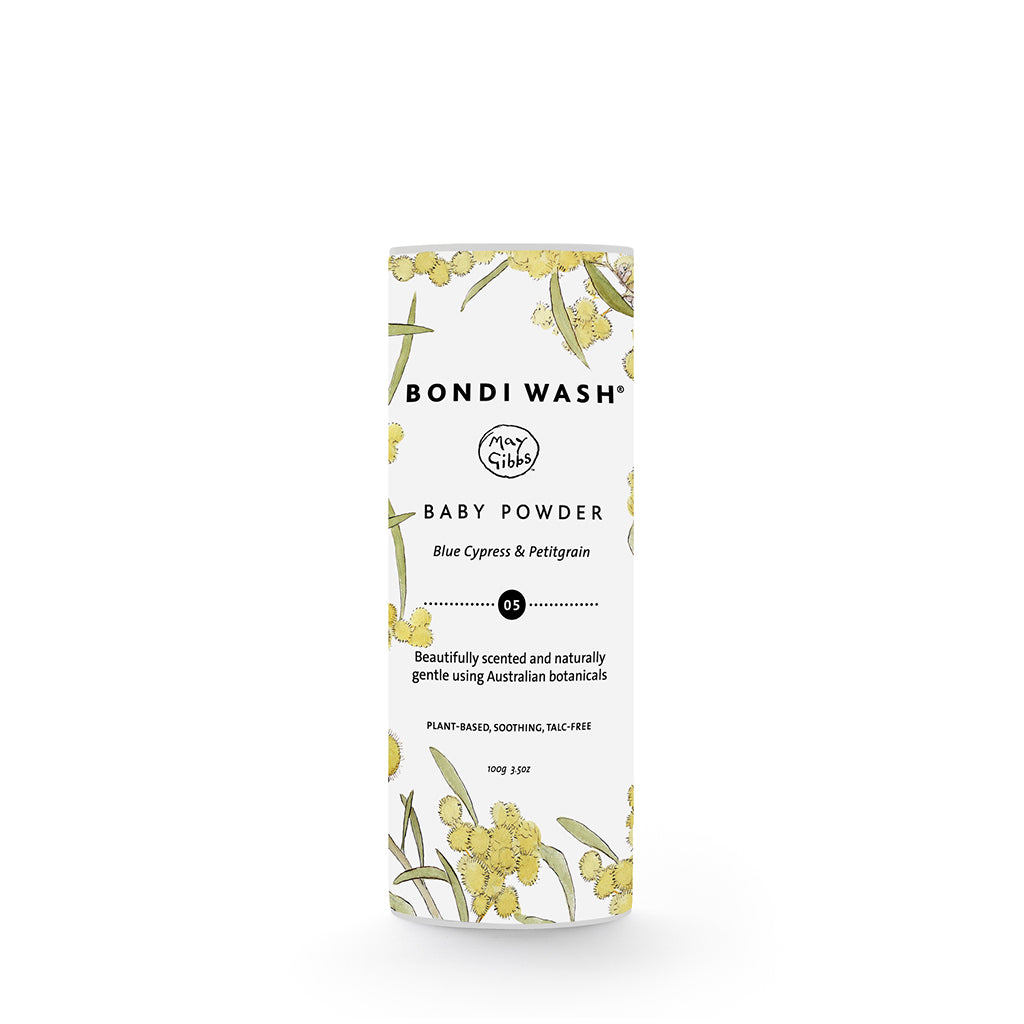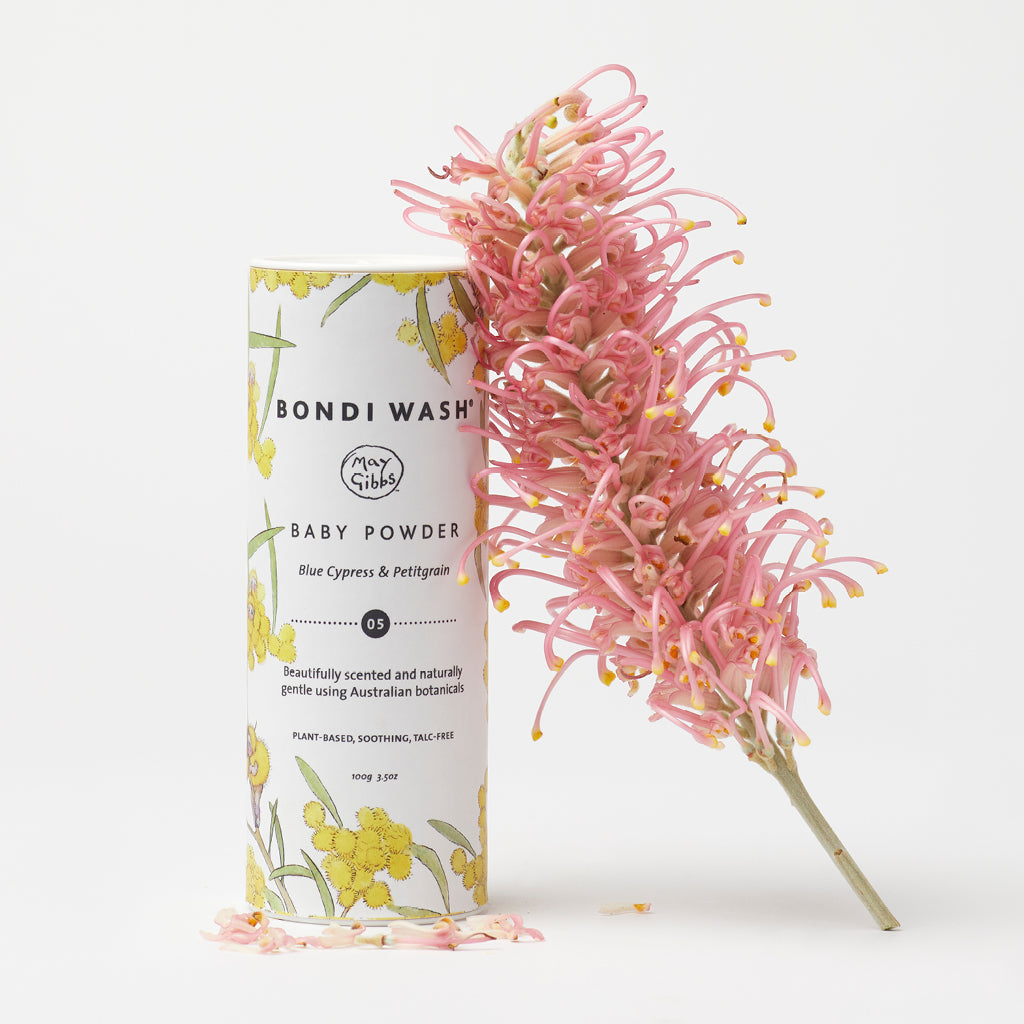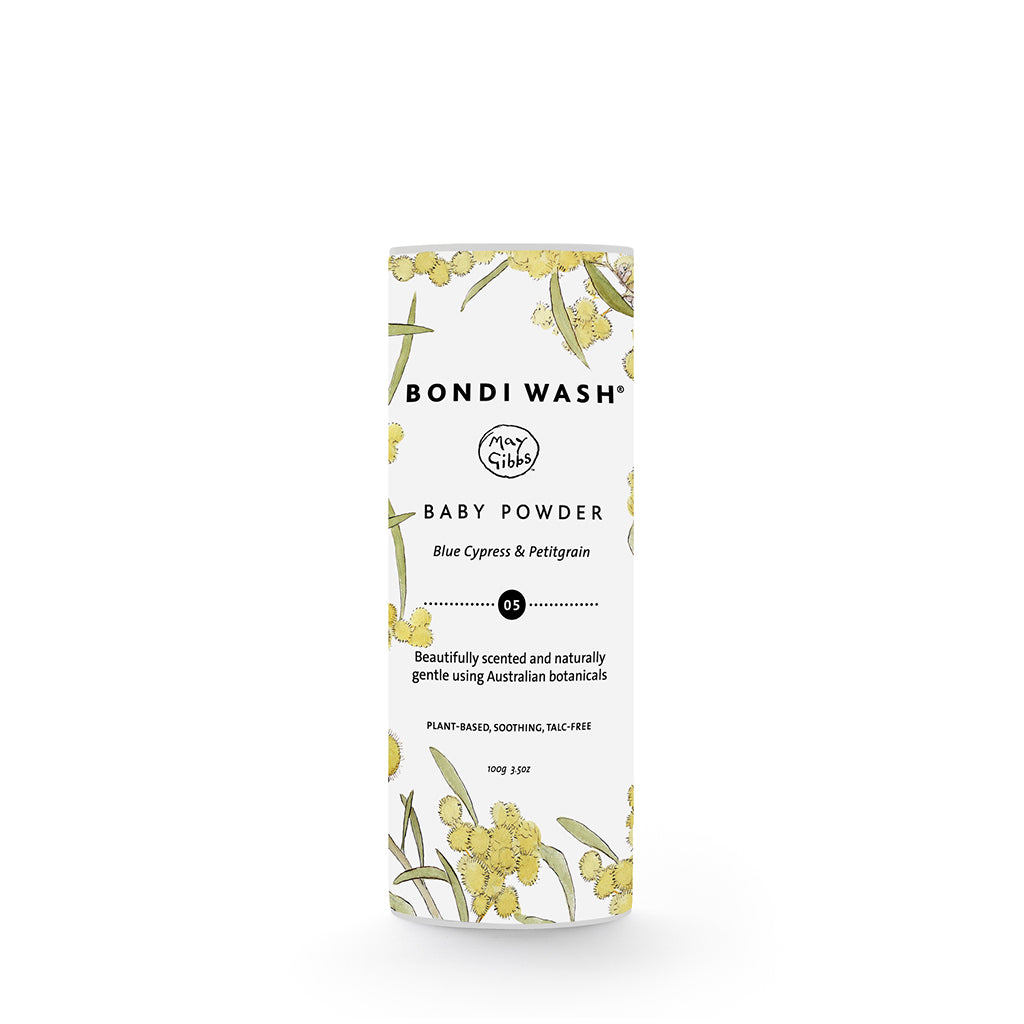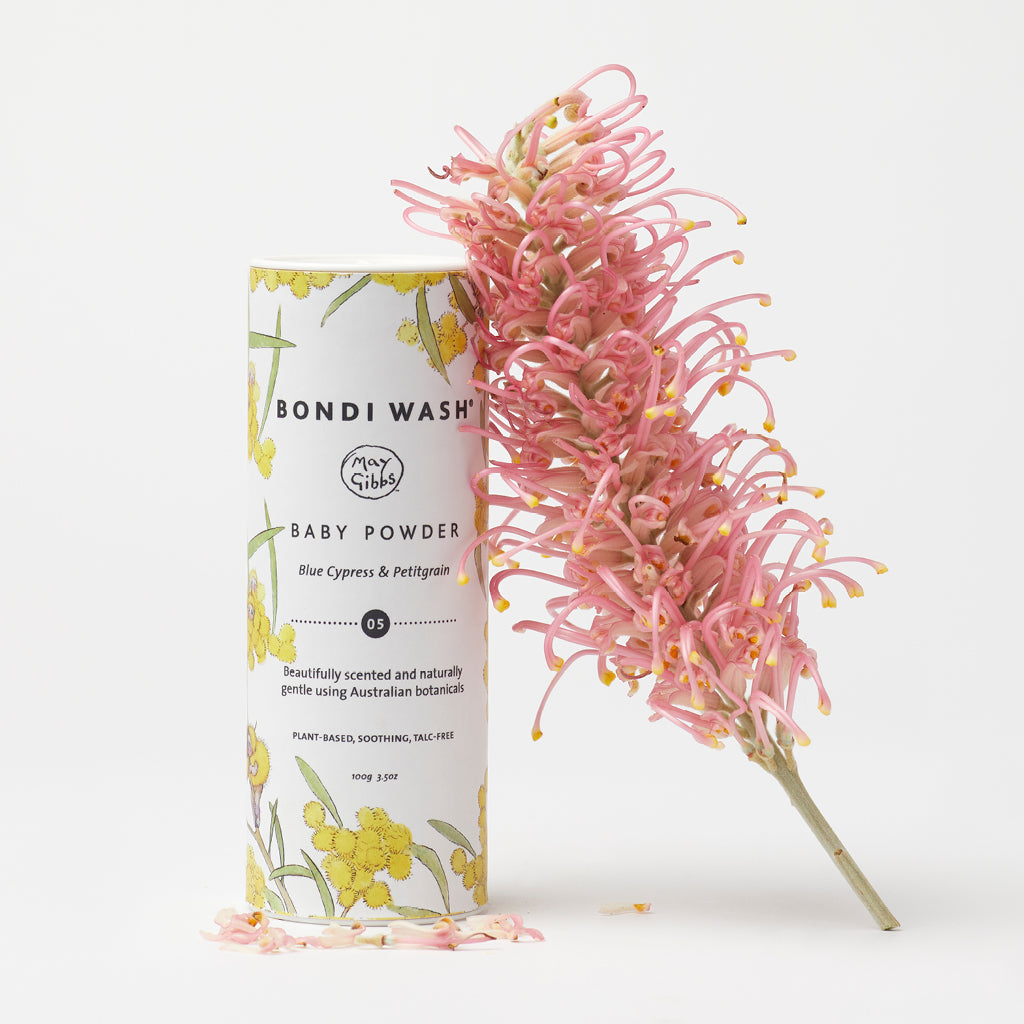 This product is currently sold out.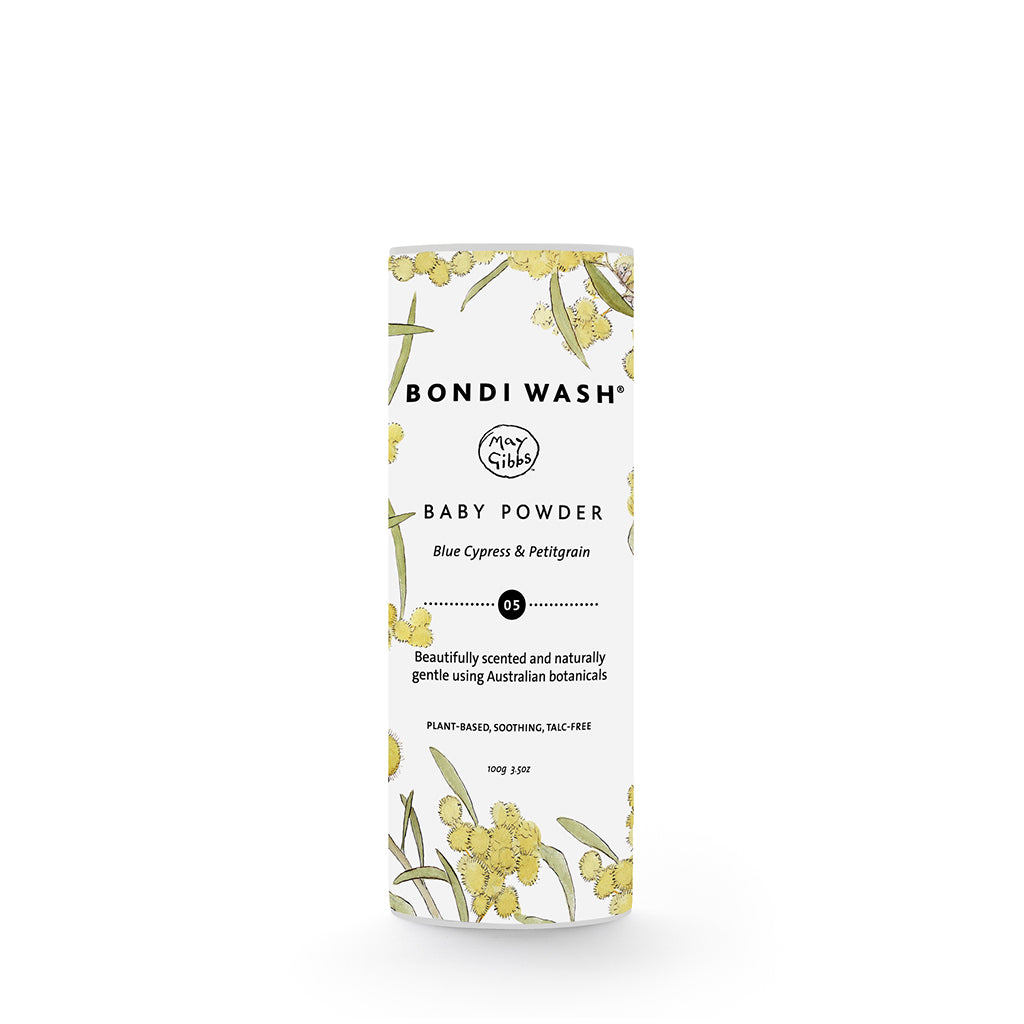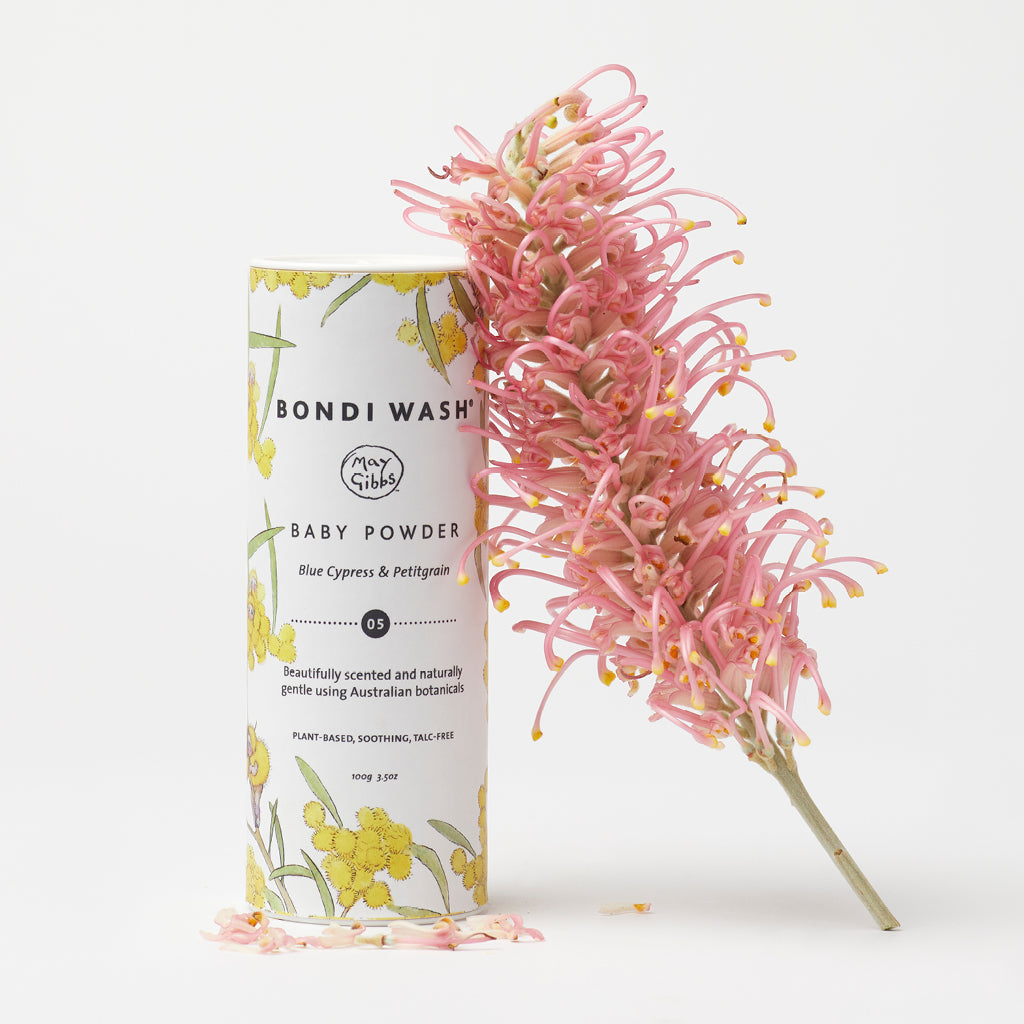 About
Introducing BONDI WASH x May Gibbs, a range of specially designed products featuring the native flowers, trees and fascinating creatures of the beloved illustrator and author.


A May Gibbs Baby Powder decorated with cheerful Wattle Babies, the most good-natured of all the Bush Babies - their bright yellow clothes brightening the bush on a winter's day. A 100% natural and talc-free Baby Powder to use on baby's bottom or skin creases to dry, soothe and protect delicate baby's skin. Enriched with Emu Apple extract for skin healing and lightly fragranced with pure essential oils designed for babies' delicate skin.
100% naturally-derived ingredients
Enriched with Emu Apple extract to nourish and protect the skin (also known as a wound healer and psoriasis treatment)
Lightly fragranced with Blue Cypress
Made in Australia
Available in 100g


Through her foresight and generosity, proceeds from the sale of May Gibbs products have supported thousands of Australian children living with disability and their families. All royalties on sales of May Gibbs products assist the works of The Northcott Society and Cerebral Palsy Alliance.
© The Northcott Society and Cerebral Palsy Alliance 2023
To Use
After bath time or nappy change, sprinkle powder onto the palm of your hand and apply to baby's bottom skin creases to dry, soothe, and protect the delicate skin. Can be applied to skin folds anywhere to prevent chafing and rashes. Do not ingest. Keep away from eyes.
Ingredients
Zea mays (corn) starch, magnesium carbonate, zinc oxide, kunzea pomifera (emu apple) seed oil, essential oils.
100%
of reviewers would recommend this product to a friend
Lovely baby powder
Smells divine but not overpowering! Very soft and smooth. I also use this for my toddler after going to the beach to wick the sand away!
Not Just for Bubs!
Love this powder - it's smooth, silky and so beautifully scented. Along with brushing teeth, a dusting of this lovely powder completes my pre-sleep routine.
Baby Powder
Such lovely smelling baby powder free from nasties. I just wish you still had the minis! They were perfect for the nappy bag
Lovely
This is a nice neutral powder, and fine textured. Perfect!
So good !
So good would recommend to anyone for themselves and their babies.