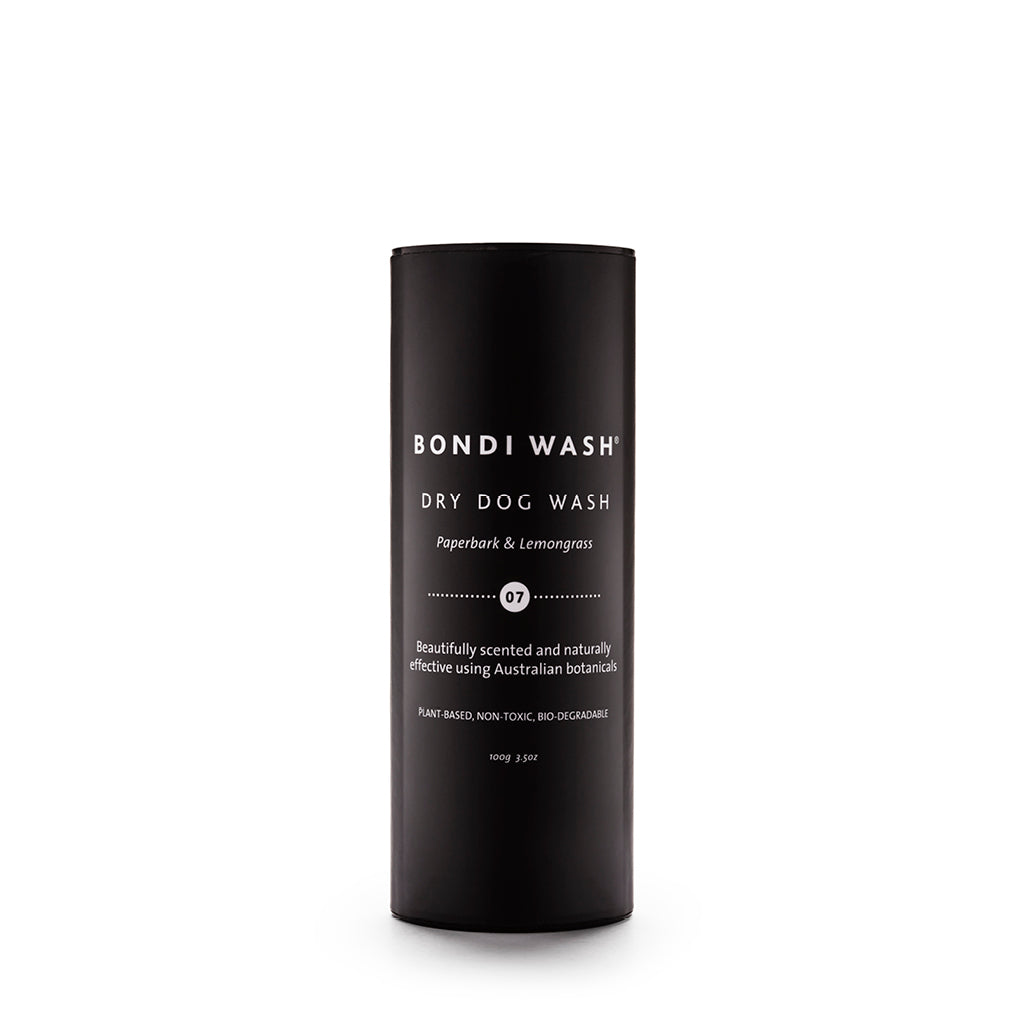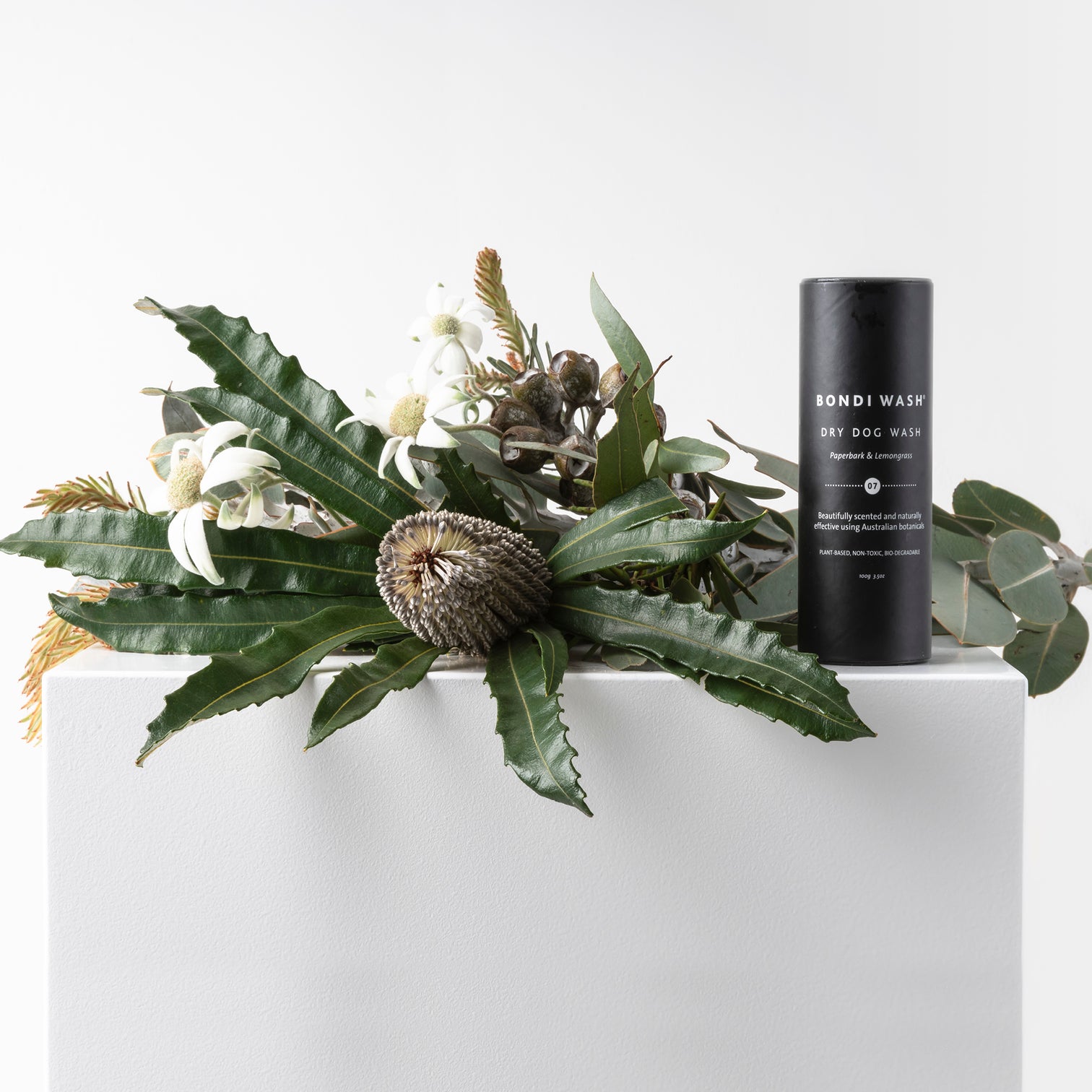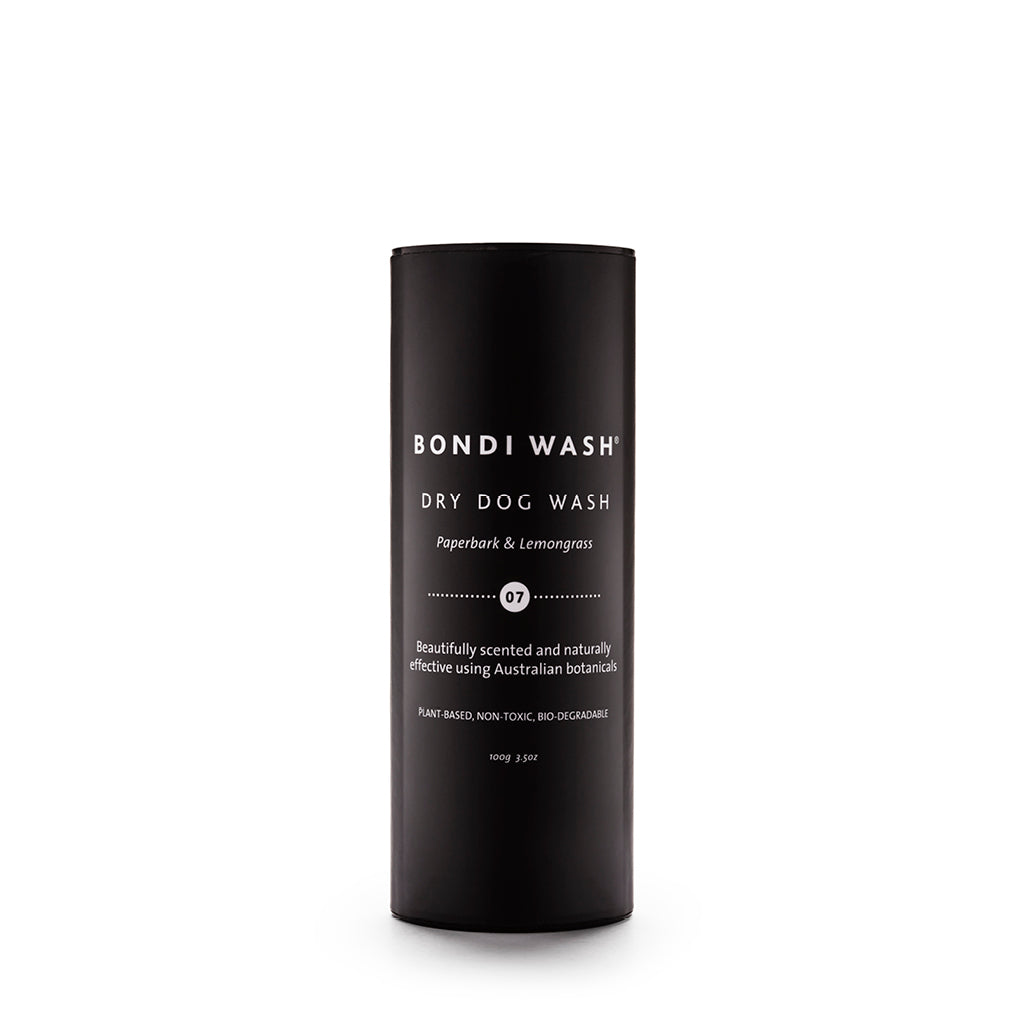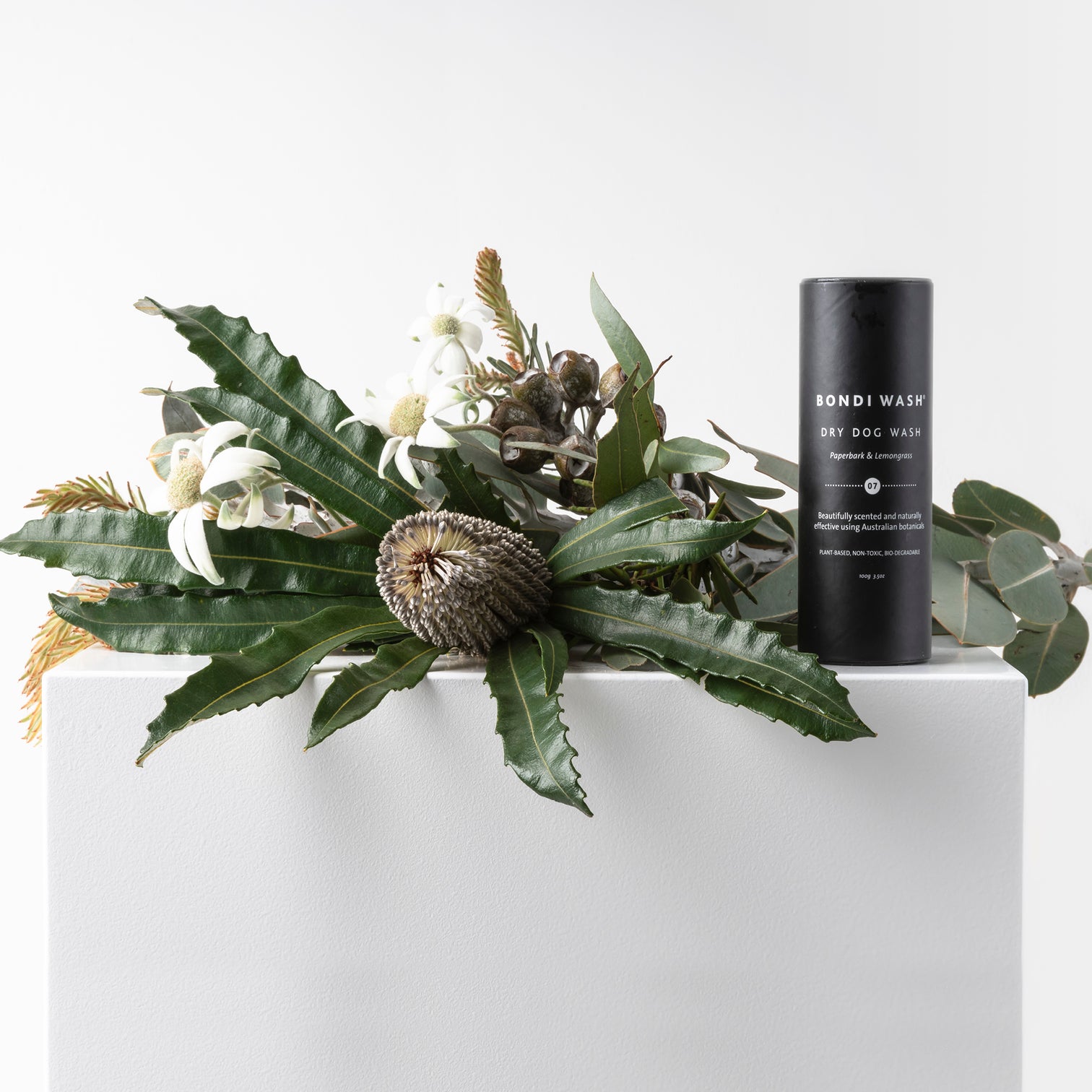 This product is currently sold out.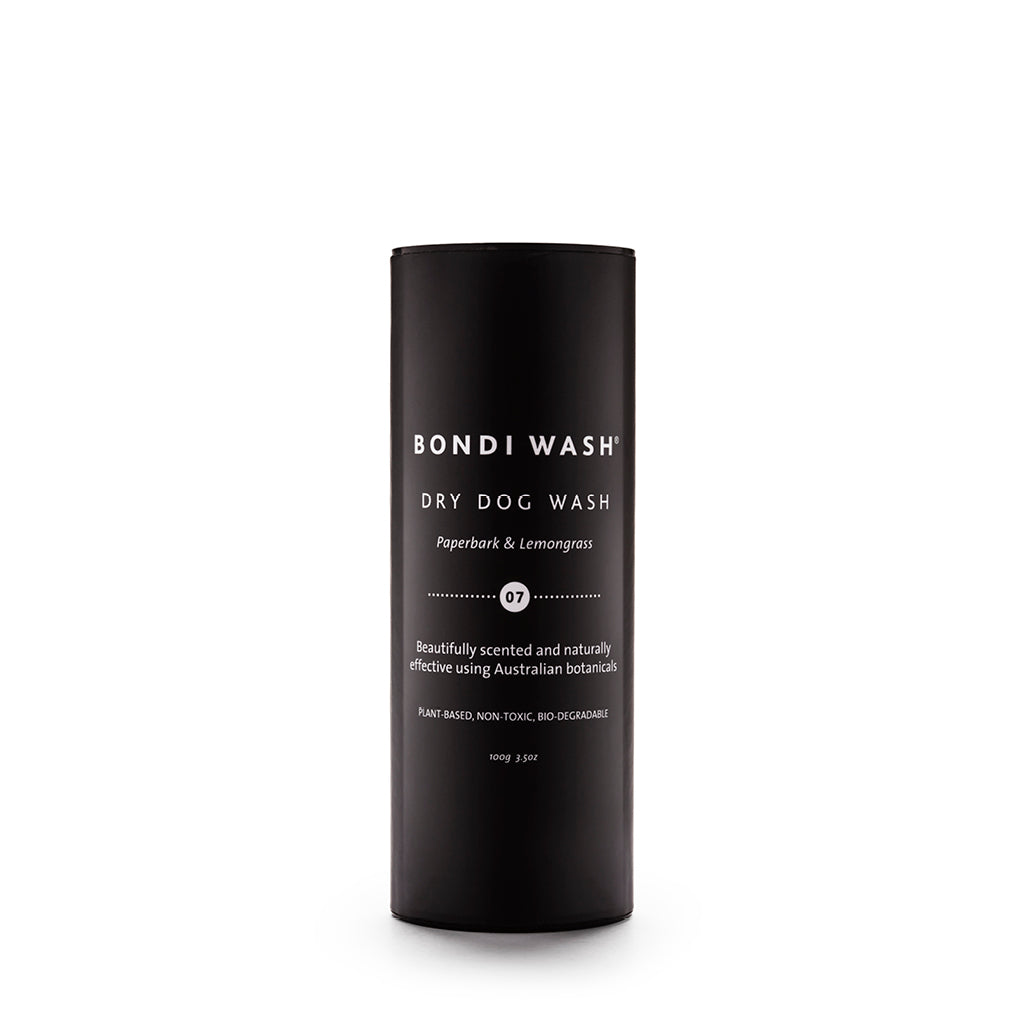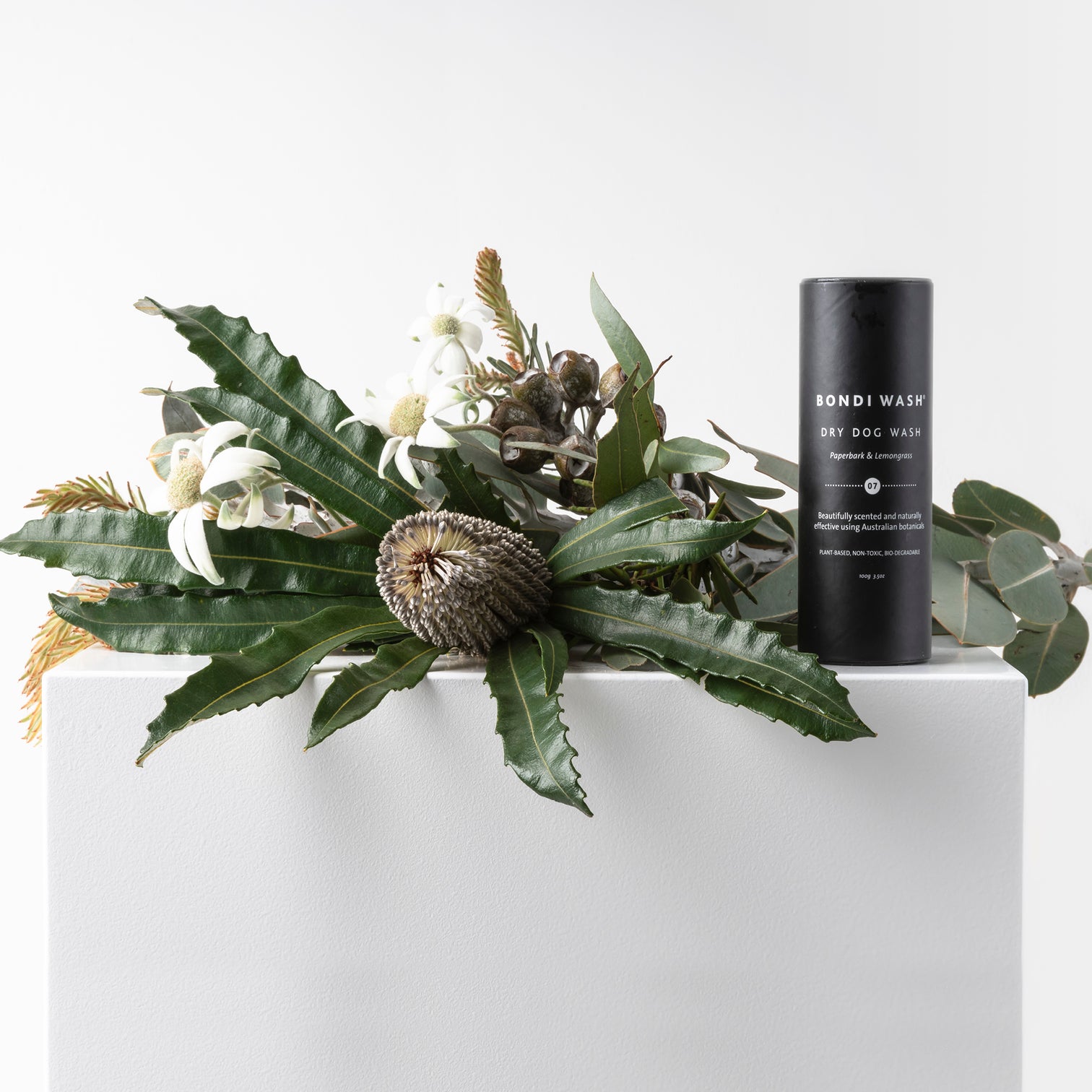 About
The Dry Dog Wash is a simple, convenient way to refresh your furry friend in between wet washes.  The gentle, all-natural formulation in Paperbark & Lemongrass scent is specially designed for a dog's sensitive skin and system.  Contains Australian banksia seed oil for a luxurious glossy coat. 
Enriched with Australian banksia for a glossy coat

100% plant-derived ingredients

Dogs seem to enjoy this product even if they don't like being washed

Can be used on humans as a dry shampoo

The product is a white powder so can require more brushing out for dogs with black fur

Made in Australia
Available in 100g
To Use
Sprinkle powder onto dog's fur and rub gently through. Let sit for up to five minutes, then comb or brush out. Darker fur may require more brushing. Keep powder away from eyes and nose. Do not ingest.
Ingredients
Zea mays (corn) starch, magnesium carbonate, Australian bush oils, essential oils, banksia errate (banksia) seed oil.
Excellent product
Loved the packaging, service and product. Easy to use and smells amazing.
Great product and easy to use
This stuff is great for a quick freshen up. One of my dogs is an Assistance Dog and as such has access to lots of places dogs aren't usually allowed so it's important to me that she smells clean not 'doggy', A quick sprinkle and brush through with this and we're good to go. She is a West Highland White Terrier, a breed that can be prone to skin sensitivity and I appreciate the peace of mind this product gives me knowing I'm avoiding subjecting her to potentially irritating additives. Have recommended this to friends.
Thank you so much for sharing this with us Tracey. It is great to hear that you love our Dry Dog Wash.
it's giving super floffy Pomeranian fur
perfect for those lazy days when a full beauty session takes too long. especially if it's rainy outside and drab inside. takes only minutes before your furball is cleaned and coat is super soft. a staple in our household 🩷
Reviewed by Samantha Kelson G.
Verified Buyer
I recommend this product
Effective, lovely fresh smell
Highly effective on dogs that like to roll in invisible stink! Our dog loves to rub against worms when they rise to the surface after rain! It absolutely reeks! This works against it really effectively, lives by the back door. Dog doesn't mind it at all, animal friendly scent. Lovely consistency, truthfully I've used it on my own hair, no I didn't roll in the worms!
Thank you so much for sharing this with us Samantha. It is great to hear that you love our Dry Dog Wash.