Native Eating: Wattleseed and Thyme Damper
April 30 2020
·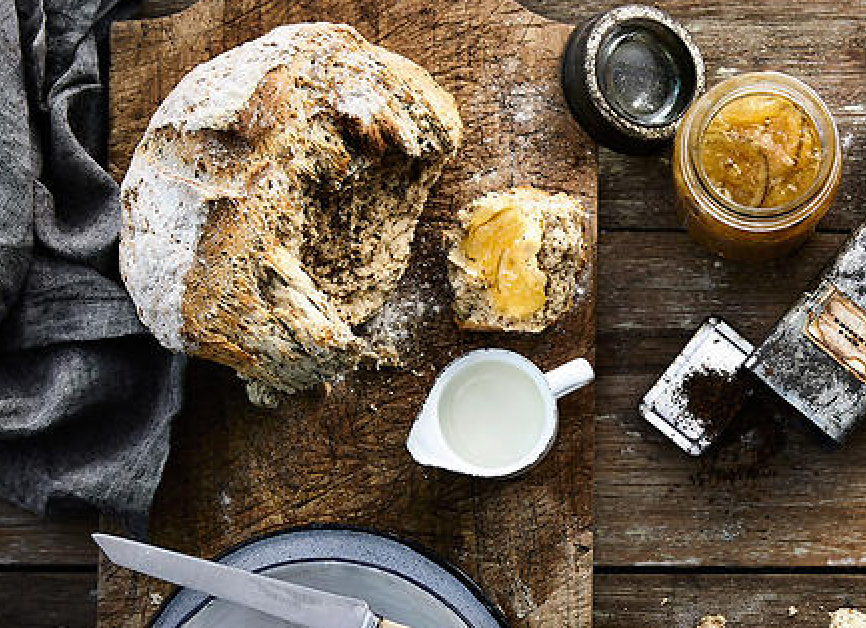 April 30 2020
·
A classic Australian bread that can be made in a camp oven on an open fire or in the oven at home.  The wattleseed smells amazing and adds a nutty, coffee-like flavour to the bread.  We recommend enjoying hot from the oven with butter and golden syrup. 
Ingredients:
900 g self-raising flour, sifted
2 tbsp wattleseeds (see note)
2 tbsp thyme leaves
1 tsp salt
500 ml (2 cups) full-cream milk
butter and golden syrup, to serve
Method:
If you're using a camp oven, build a fire and get a nice bed of coals going.  If you're baking in an oven at home, lightly grease a baking tray and preheat the oven to 200˚C (see note).
In a bowl, combine the flour, wattleseeds, thyme and salt, then make a well in the centre and pour in the milk.  Combine everything to form a smooth slightly moist dough.
Turn the dough out onto a floured bench and knead until the dough is smooth.  Shape the dough into a round loaf.  Use a sharp knife to score the top with an "X". Lightly dust the top with flour just before baking.
If using a camp oven, set the oven on a bed of gently glowing coals, place the loaf inside, put the lid on and, using a shovel, lay some coals over the camp oven.  Bake for about 35 minutes or until the loaf has a golden crust and sounds hollow when tapped.
If baking your damper in a regular oven, place the loaf on the oven tray and bake for 35–40 minutes – again, you want the loaf to have a golden brown crust and sound hollow when tapped.
Serve with butter, golden syrup and hot cups of billy tea.
Notes:
Wattleseed can be found via Warndu.
Oven temperatures are for conventional, if using fan-forced (convection), reduce the temperature by 20˚C.
This recipe was contributed to SBS by Paul West, host of  River Cottage Australia.  Photography by Sharyn Cairns. Styling by Lee Blaylock. Food preparation by Tiffany Page. Creative concept by Belinda So.
Read more
✕