Native eating: Stir-fried Australian greens by Kylie Kwong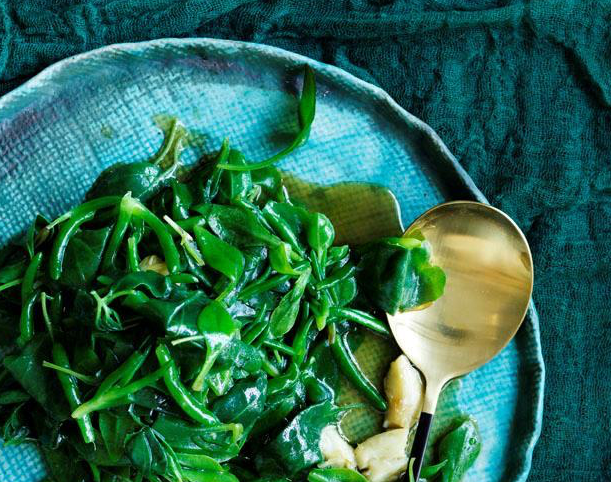 This dish by chef Kylie Kwong is incredibly simple and celebrates the diversity of Australian edible plants.  Saltbush, warrigal greens and bower spinach should be available at your local specialist greengrocers, or farmers markets.  Karkalla (pig-face) may be available at your local nursery.  The beauty of this dish is that you can use a mixture of greens depending on what's available. 
Ingredients:
60 ml peanut oil (¼ cup)
1/2 tsp salt flakes
3 garlic cloves, bruised
50 gm saltbush leaves
50 gm warrigal green leaves
2 tbsp tamari
50 gm karkalla leaves 
50 gm bower spinach leaves 
½ tsp sesame oil
Method:
Heat oil in a wok over high heat until shimmering, then add garlic and ½ tsp salt flakes and stir-fry until fragrant (30 seconds). Add saltbush and warrigal greens and stir-fry until just wilting (2-3 minutes). Add tamari and reduce slightly (30 seconds to 1 minute), then add 60ml water and stir-fry for another 30 seconds to reduce. Add karkalla, bower spinach and sesame oil, and stir-fry to combine (30 seconds), then serve immediately.
This recipe was sourced from Australian Gourmet Traveller, by chef Kylie Kwong.
Read more
✕