Native eating: Chocolate and wattleseed self-saucing pudding
November 21 2019
·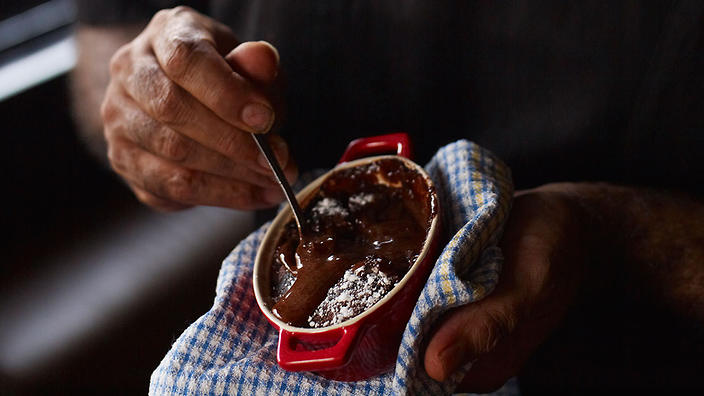 November 21 2019
·
A self-saucing pudding with the addition of wattleseeds, a perfect accompaniment to chocolate with its coffee-like aroma.  You will need 6 x 150ml ramekins for this recipe.
Ingredients:
2 tbsp wattleseeds, toasted
1 cup (firmly packed) brown sugar
⅓ cup dark cocoa powder, sifted
80 g unsalted butter, at room temperature
¼ cup caster sugar
1 egg, lightly beaten
1 cup self-raising flour, sifted
½ cup milk
vegetable oil, to grease
Method:
Soak wattleseeds in boiling water for 20 minutes, then drain. Combine 165 g brown sugar and 2 tbsp cocoa powder.
Preheat the oven to 180°C. Using an electric mixer, beat butter, caster sugar and remaining 55 g brown sugar until pale and fluffy. Add egg and beat until well combined. Combine flour and remaining 2 tbsp cocoa powder and stir into butter mixture, alternating with the milk, until smooth. Stir in wattleseeds. Bring a pan of water to the boil.
Meanwhile, grease 6 x 150 ml ramekins and place in a roasting pan. Divide pudding batter among the ramekins, top with cocoa mixture and then top pudding with boiling water. Fill the roasting pan with enough hot water to reach halfway up the side of the ramekins, cover the pan with foil and bake for 25 minutes or until puddings have risen and the sauce has thickened.
Photography by Derek Swalwell
As seen in Feast magazine, Jan 2012, Issue 5. 
Read more
✕