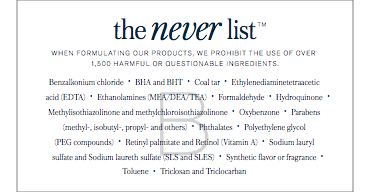 We love this list of ingredients that are NEVER used by Beauty Counter, a US-based natural cosmetics house making waves in the US through educating consumers about toxic ingredients and lobbying Government to better protect consumers with legislation .  To quote their website …
'There are more than 80,000 chemicals on the market today. Many don't have any safety data. This is particularly true of those used in the skin care and beauty industry.
What's worse is that the Food and Drug Administration (the agency that regulates cosmetics in the United States) allows companies to use chemicals known to be extremely harmful in the products we put on our bodies and on our kids' bodies every single day, day after day, and to make their own judgments about safety.'
The same is true here in Australia.  Many of the brands consumers trust most are using ingredients that are heavily regulated or even outlawed in Japan and Europe where regulations are much stricter.  Indeed there are 1,300 chemicals banned in Europe and a further 250 heavily restricted versus only 11 partially banned in the US to date.
Beauty Counter's Never List can be found
here.
And a convenient downloadable version which can be printed and saved is
here.
Read more
✕