Picturesque Australian Towns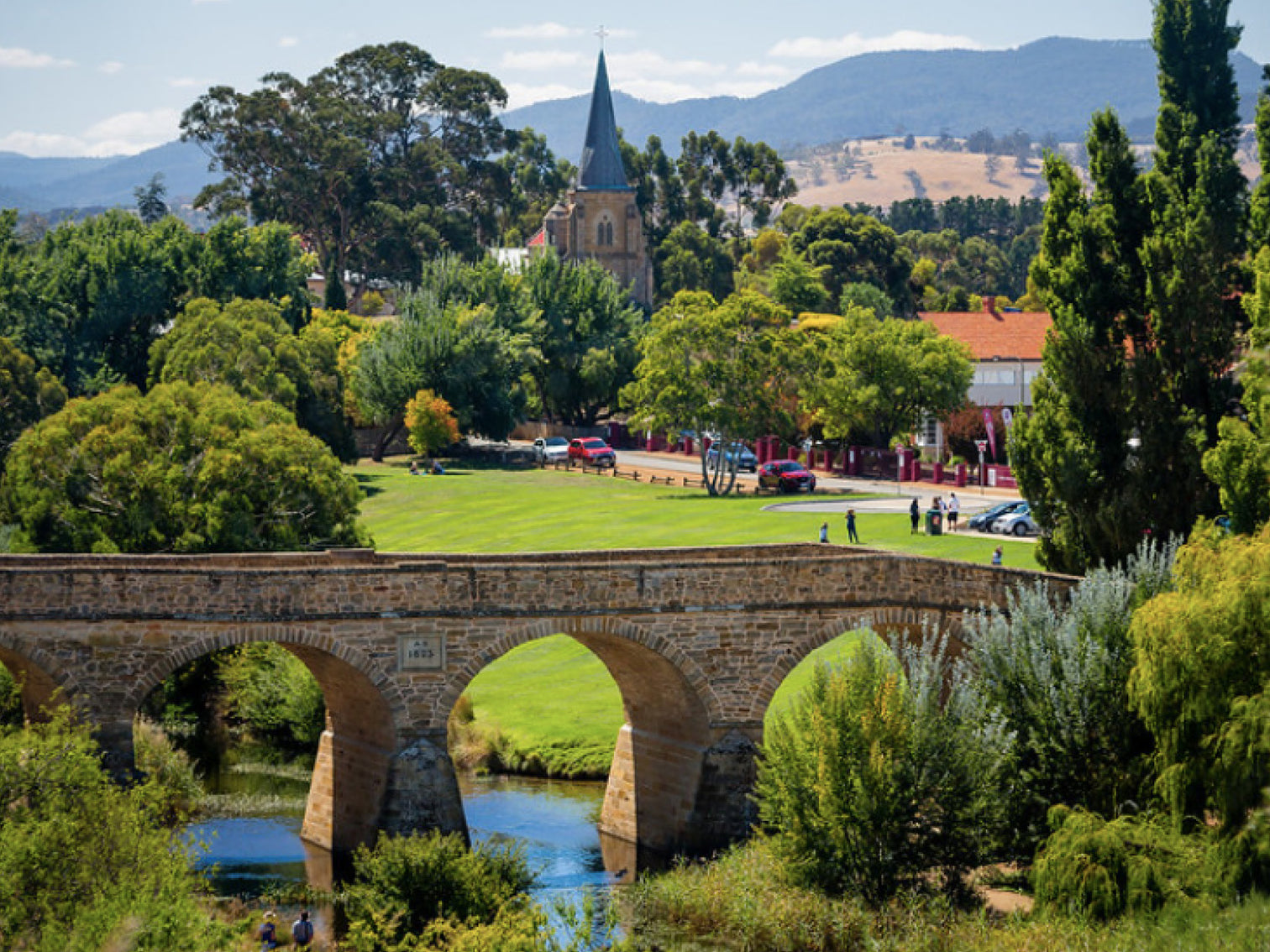 Sydney and the Opera House, Melbourne and its world famous thoroughbred horse race and Perth with its thriving mining industry are Australia's iconic cities known to everyone around the world.  But this beautiful big island is also home to many picturesque small towns, some of which look like they came straight out of a storybook.  Below are a few of our favourites: 
Victoria
Declared Australia's First Notable Town, Maldon is a perfectly preserved mining town with impressive historical buildings.  Walking the streets of Maldon, you feel as if you have travelled through time into the 19th century and gold rush era where you can even take a candlelit tour of an underground mine - Carman's Tunnel.

This small town is located within a region of Australia which contains the largest concentration of natural mineral springs.  There are quite a few spa resorts, surrounded by forests and gullies where visitors can experience hydrotherapy and other health treatments in a luxurious environment.
The oldest port in Victoria, Port Fairy is a charming fishing village characterised by its 1800s architecture, unique Irish influence and thriving local art scene.  A perfect stop for history buffs located at the end of the Great Ocean Road.
Image source: Country Life
Nestled between the mountains, Bright is an obligatory stop if you're traveling in autumn.  Watch the beautiful green alpine forests change to vivid yellows, reds and golds as the landscape prepares for the winter snow.  A perfect spot to visit year round offering bushwalking, cycling, fishing and most importantly, food and wine.
 Image source: Big4
Rich with gold and and rich with history, this well-preserved town is located in the north-east of Victoria.  Discover delicious food and wine while wandering around historic architectures and small boutiques. 
Image source: Love Your Travels
South Australia
This small town completely built below ground is located 850km north of Adelaide and often referred to as the "opal capital of the world" because of the abundance of opal mining. Renowned for its lunar landscape and underground houses and hotels, most residences are built in "dugouts" due to the scorching daytime heat.
Image source: Smithsonian Magazine
Just a half hour ride from Adelaide is Australia's oldest German settlement - Hahndorf. Throughout the town you'll find chic shops, plenty of bakeries, German-style pubs and beautiful boulevards tree-lined with 100-year-old elm.
Image source: Weekend Notes 
New South Wales
A popular day trip from Sydney, Katoomba is home to the iconic Three Sisters in the Blue Mountains National Park.  The town is packed with small restaurants, deco buildings and incredible views of the Jamison Valley.
Image source: Visit NSW
An elegant inland town in New South Wales where visitors can indulge in local produce and tour the beautiful wineries.  Orange is characterised by its tree-lined streets, beautiful historic houses and incredible food and wine scene.  

Image source: Time Out
Located in the Central Tablelands approximately 260km west of Sydney, is a small historic village of Carcoar.  Take a time out from modern life, in this practically unchanged 19th century town and treat yourself to good food, old fashioned hospitality, and boutique shops. 


Image source: Carcoar Village
Known to locals as "Bello", this small bohemian town by the Bellinger River is a wonderful place to relax and enjoy stunning views while enjoying local music. Adventurers may also wish to take on challenging hikes or kayak along the river.
 
Image source: Visit NSW
Established in the 1830's, Berrima is the best preserved example of a Georgian village on Australian lands. Today's visitor to Berrima can experience the quiet charm and romance that comes from those features of the village which remained frozen in time and which now so wonderfully portray those earlier times. 


Image source: Kramer Photography
Award winning restaurants, rollings hills and historic buildings. Berry is a picturesque country town and a popular escape for Sydneysiders. Popular activities around include: exploring nearby wineries, beaches, nature walks and fabulous restaurants. 


Image source: Visit NSW
Three hours from Brisbane, located in the New South Wales high country lies the unspoilt town of Tenterfield. Country, national parks and history attract travellers from all around seeking to enjoy life's simple pleasures.


Just a 3hr 30min northwest ride from Sydney is one of Australia's greatest wine towns - Mudgee.  From wine tasting, boutique shopping and incredible stargazing this historic town offers plenty of activities. 
Image source: Visit Mudgee Region


If you want to see a characteristic Australian Outback town, head to Silverton.  It has become a popular destination not only amongst tourists, but film crews as well, where popular movies such as Mad Max and Mission Impossible II have made the towns landscapes part of its scenery. 
Image source: Medium
Tasmania 
Strahan is located in Tasmania's West Coast and is rapidly increasing in popularity as a remote and adventurous getaway.  The harbour-side town is filled with dark, rich convict heritage, rare wildlife and an abundance of national parks.
Image source: North West Tasmania
Rolling hills, a convict-built bridge and Georgian-style buildings, this small town in southern Tasmania makes you believe you are in an English village from the 1800s.  It's famous Richmond Bridge was built by convicts in 1823 and is the oldest bridge still in use in Australia.  Many of the town's buildings have been turned into guesthouses, restaurants and shops showing an inside look as to what living in the 19th Century was like for colonial Australians.
A small little town with an unusual name, Lower Crackpot is a miniature village built to a 1/5th scale and perfect to visit with children.  The journey there can be quite an adventure as you can only reach the town once you navigate through the largest maze in the Southern Hemisphere - Tasmazia.  Though it might be a bit of a fantasy village, the town does have its own postcode and the buildings pay homage to Australian history. 
Queensland
Sitting on the banks of the Macintyre River, Goondiwindi offers visitors lakes, lagoons and nature reserves to explore with a side of culture, history and art.  Its name was derived from an Aboriginal word Goonawinna meaning "the resting place of the birds" - and it's just the place to relax and rest a while.
Image source: Expedia
Covered in history and located at the mouth of the Endeavour River is the site of Australia's first European settlement - Cooktown.  The town houses a museum filled with original artefacts recovered from Cook's pioneering vessel and a terrific pub.
Western Australia
Kalgoorlie | Western Australia
Located deep in the WA desert, Kalgoorlie is the biggest country town in the Australian Outback. It produces ten percent of the world's gold output and is dotted with museums and mines.  Visitors can explore the nearby Super Pit - one of Australia's largest open-cut gold mines and from July to October wildflower season paints the rugged landscape with bursts of colour. 
Image source: Abby Murray Photography
Recognised in pictures around the world for its famous sunset camel ride on Cable Beach, Broome is a seaside town offering some of Australia's most iconic landscapes: red dirt, blue seas and blinding white sands.  It is also known as the "pearl capital of Australia" and pearl diving has historically attracted a wonderful multi-cultural mix of people from around the world. 
Image source: ABC News
Esperance is a slice of paradise in Western Australia.  Surrounded by aquamarine waters and white pristine beaches, its no wonder the town is considered to have the most exquisite coastline in the country.  Apart from an abundance of wildlife and fauna, this charming town is also home to the world-famous Pink Lake or Lake Hillier.
Image source: Kimberley Experience
Northern Territory
Mataranka | Northern Territory
An oasis in the middle of the desert and with a population of just 250, Mataranka is an ideal location to relax and unwind.  It is home to crystalline thermal pools surrounded by lush rainforests created by soldiers which were stationed there during WWII. 
Read more
✕