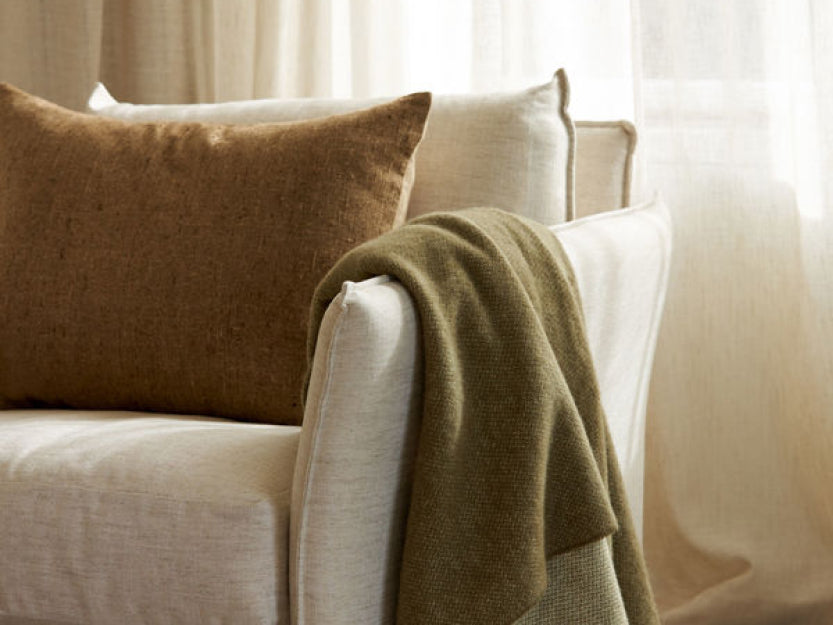 When skies are grey and it's blowing a gale, indoors is the place to be, snuggled up with a good book or in front of a movie, safe and warm from the elements outside. Choose a comfy spot, settle in for the day and wrap up in one of our favourite winter throws for some simple self-care. Our selection is made from all-natural fibres so won't cause polyester residues in the environment.
Bhumi Cable Knit Throw Natural
Super soft with a cable knit detail, this throw is made from 100% organically farmed cotton, free from chemical sprays and genetically modified seeds. Made for snuggling, a cotton throw is ideal for all seasons as it regulates body temperature and as a natural material is less likely to cause allergies or irritate sensitive skin.
LinenMe Beige Extra Fine Merino Wool Throw Marcus
Known for its exceptional softness and luxurious texture, merino wool is much finer than traditional wool making it feel soft and gentle against the skin. With an exceptional warmth-to-weight ratio despite being lightweight, this two-toned throw will keep you toasty warm with its excellent insulating properties.
Made from a mix of recycled wool, recycled polyester and other recycled fibres, this award-winning blanket sets the standard for environmental excellence. Produced by an Australian brand that is committed to closed-loop manufacturing, resources are sourced from around the world, diverting waste from landfill to create luxurious, useful products that can be further recycled if no longer needed. 
Sourced from Angora goats, Mohair is another popular choice for a throw as this 100% natural fibre is soft, non-itchy and delivers lightweight warmth with minimal creasing. This classic block check design in a neutral grey palette would be equally at home in a contemporary space as it would a heritage home. 
Waverley Mills Alpaca Throw Natural
Spun and woven in Tasmania from fine alpaca fleece, this throw will transcend time and trend, an heirloom piece that will suit any style of home. As a natural fibre, known for its breathability, warmth and softness, alpaca fiber is hypoallergenic and lightweight making it an ideal choice for long, lazy days curled up inside. 
Main image source: citta.com  
Read more
✕