NATIVE EATING: SORBET WITH WHITE CHOCOLATE AND LEMON MYRTLE GANACHE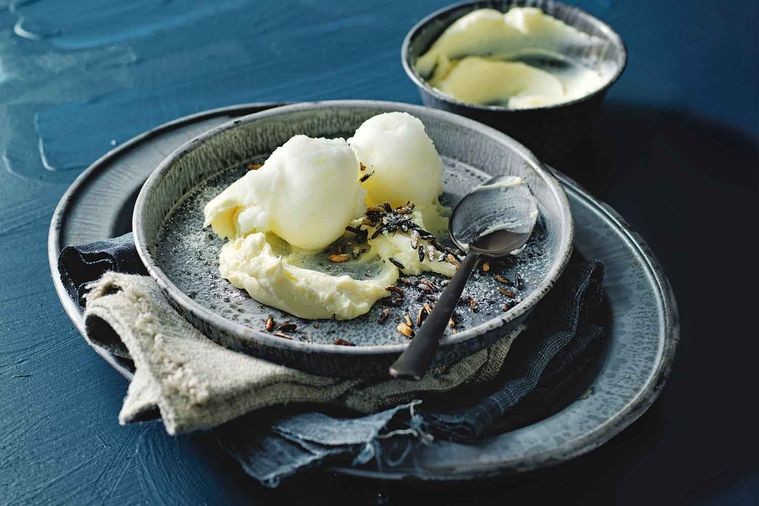 A refreshing sorbet featuring native lemon aspen accompanied with Australian Lemon Myrtle and white chocolate.
You can purchase lemon aspen from The Bush Food Shop. 
Ingredients:
For the sorbet:
250g caster sugar
100g lemon aspen (optional – available frozen from Taste Australia Bush Food, bushfoodshop.com.au)
225ml sparkling water
Juice of 4 lemons
2 eggwhites, lightly beaten
Sunflower oil, to deep fry
80g wild rice
1/4 cup (30g) pure icing sugar, sifted, plus extra to dust
For the white chocolate and Lemon Myrtle ganache:
140g thickened cream
1/2 cup lemon myrtle leaves (substitute pared zest of 1 lemon)
1 titanium-strength gelatine leaf
215g white chocolate, finely chopped
160g Greek yoghurt
Method:
To make the sorbet, combine caster sugar and 1 cup (250ml) water in a saucepan over high heat and cook, stirring constantly, until sugar is dissolved. Bring to the boil and remove from heat. Add lemon aspen and stand for 4 hours to overnight to infuse. Strain lemon aspen mixture through a fine sieve into a bowl. Stir through sparkling water, lemon juice and egg whites. Transfer to an ice cream machine and churn according to manufacturer's instructions. Alternatively, transfer to a steel container, cover and freeze making sure to remove the sorbet from the freezer and stir vigorously every 30 minutes or so until frozen (about 3 - 4 hours). Between each stir, try to level out the sorbet as best as possible.
Meanwhile, for the ganache, place cream and lemon myrtle in a saucepan over high heat and cook until warm. Remove from heat and stand for 1 hour to infuse. Place gelatine in cold water and stand for 5 minutes to soften. Return cream mixture to high heat until hot (do not bring to the boil). Squeeze excess liquid from gelatine and stir through cream mixture until dissolved. Place chocolate in a heatproof bowl, pour over hot cream mixture and whisk until smooth. Whisk through yoghurt until combined, then cover and chill for 3 hours or until completely chilled and thickened slightly.
To make the crisp wild rice, half-fill a deep-fryer or large saucepan with sunflower oil and heat to 200°C (a cube of bread will turn golden in 35 seconds when the oil is hot enough). In batches, place rice in a heatproof sieve, carefully place into oil and deep-fry for 10 seconds or until golden and crisp. Drain rice on paper towel and repeat with remaining rice. Dust with icing sugar and a small pinch of salt flakes. When ready to serve, stand sorbet at room temperature for 10 minutes or until softened slightly. Spread serving dishes with ganache and top with small scoops of sorbet. Scatter with crisp wild rice and dust with extra icing sugar to serve.
Recipe via Delicious magazine.
Read more
✕