Get Your Nutrients From Australian Natives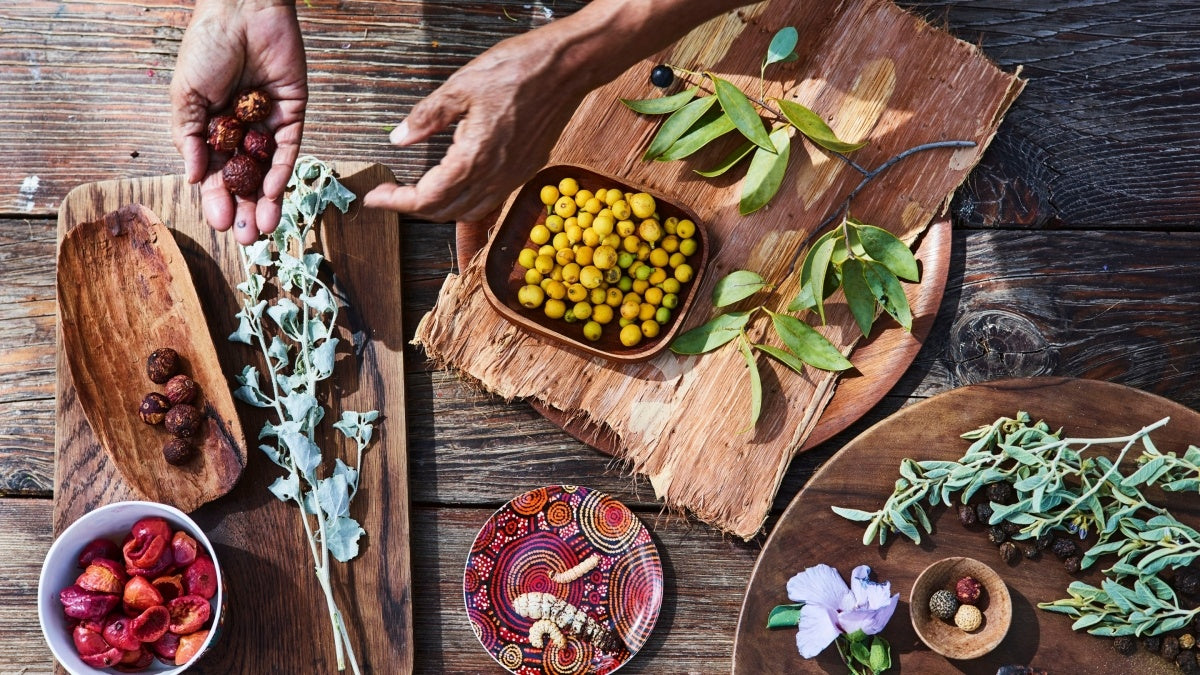 Inviting Australian native ingredients to your kitchen is an easy way to both enrich and add nutrients to your meals.  These ingredients consist of herbs, flowers, fruits and seeds from Australian woodland, dense rainforests and far-reaching deserts.  The indigenous Australians have been using these resources for many thousands of years while the public has only just begun to incorporate into meals a few decades ago.  Today more than ever, people are being mindful in choosing healthy foods that are available seasonally and from local sources.  As a result, the interest in Australian native ingredients is on the rise - these ingredients are locally grown, delicious and highly nutritious with many proven health benefits.
We want to encourage you to explore these beautiful flavours which can be accessed from our own land - a great way to add fun and vibrancy to your recipes.  To get you started, we have listed a few of our favourite native ingredients with recommendations on how to prepare, cook and where to source. 

Wattleseed
Health benefits: Wattleseed is a grain that is both nutritious and adds a lovely mild, coffee-like flavor.  It grows on the Acacia tree and is a rich source of protein, calcium, iron and zinc.  Wattleseed also helps your body maintain a low blood sugar level.
Cooking: Before used in cooking, wattleseed is processed in a similar way as coffee beans, first roasted and then ground to a powder.  The powder is then used as a spice and has a nutty, chocolate/coffee flavour with a hint of sweetness.  It is beautiful to use for baking and savoury dishes like pancakes, scones and breads.  A hot tip is to add it straight into your coffee to unleash the coffee/chocolate aroma.  Try the wattleseed & thyme damper, brownies or chocolate and wattleseed self-saucing pudding.
You can purchase wattleseed from Source Bulk Foods.
Lemon Myrtle 
Health benefits: Lemon myrtle is a leafy plant with an incredibly high concentration of citral (<90%), known for its powerful antifungal and antimicrobial properties.  It also includes antioxidants, calcium, lutein, folate, vitamin A+C+E, zinc and magnesium. 
Cooking: The fresh flavour of lemon myrtle can be used in both baking and cooking - perfect for cookies, muffins, ice creams and sorbets.  The leaves can also be substituted for bay leaves in marinades, soups, pastas, stir fries and with grilled meat or vegetables.  They are also perfect in salads, dressings, drinks and dips.  You can easily make your own Lemon Myrtle tea by adding ginger, cinnamon, freeze dried lemon myrtle powder and a little bit of clove to hot water.  Add a slice of lemon for extra flavor and garnish.  Enjoy a few recipes from our native series, a lemon myrtle roast chicken or quince and lemon myrtle syrup cake.
You can purchase lemon myrtle from Source Bulk Foods.
Bush Tomatoes
Health benefits: Bush tomatoes consist of selenium, a rare mineral which contains antioxidant properties and supports your metabolism.  They also include high levels of folate, zinc, magnesium, calcium, vitamin E and a lot of iron. 
Cooking: This desert plant has a powerful sun dried caramel flavour and is absolutely delicious to use in in any dishes with eggs, avocado, cheese or meat.  They are also excellent in breads, pastas, soups, chutneys and salads.  You can use them in cooking (whole) or purchase as a ground spice called Akudjura.  Try bush tomatoes in these delicious slow cooked wallaby shanks.
You can purchase bush tomatoes from Bush Tucker Shop. 
Muntries 
Health benefits: Muntries, also called emu apples or native cranberries are a berry harvested from a native shrub that grows along the southern coast of Australia.  Muntries are considered a health asset with high levels of antioxidants - four times that of blueberries. 
Cooking: Muntries possess a luscious flavour reminiscent to spicy apples.  You can eat them raw or add to cooking and baking in the same way you would use raisins.  They are mainly used in cakes, muffins, chocolates and pies but they are also the perfect complement to cheese platters, salads or in your brekkie bowl.  The barramundi and muntrie salsa is a fabulous recipe along with this fig and prosciutto salad.
You can purchase muntries from Edible Oz.

Warrigal Greens
Health benefits: Warrigal greens, also known as Botany bay greens or New Zealand spinach, is a popular leafy plant that originates from Australia and New Zealand.  The leaves are nutritious and especially rich in iron and vitamin C.  They also contain oxalic acid and therefore need to be blanched for about 3 minutes before being edible. 
Cooking: Warrigal Greens taste similar to spinach and make a perfect side to any dish.  After boiling them, simply add some butter and squeezed lemon.  You can also make a heavenly tasting pesto or use them in your omelettes, pies or quiches. Kylie Kwong has a wonderful recipe using warrigal greens - stir-fried Australian greens, or perhaps try the indulgent green gnocchi with burnt butter sauce.
You can purchase warrigal greens from 4 seasons seeds. 

Read more
✕