NATIVE FOOD MONTH: CINNAMON MYRTLE APPLE PIE
September 12 2019
·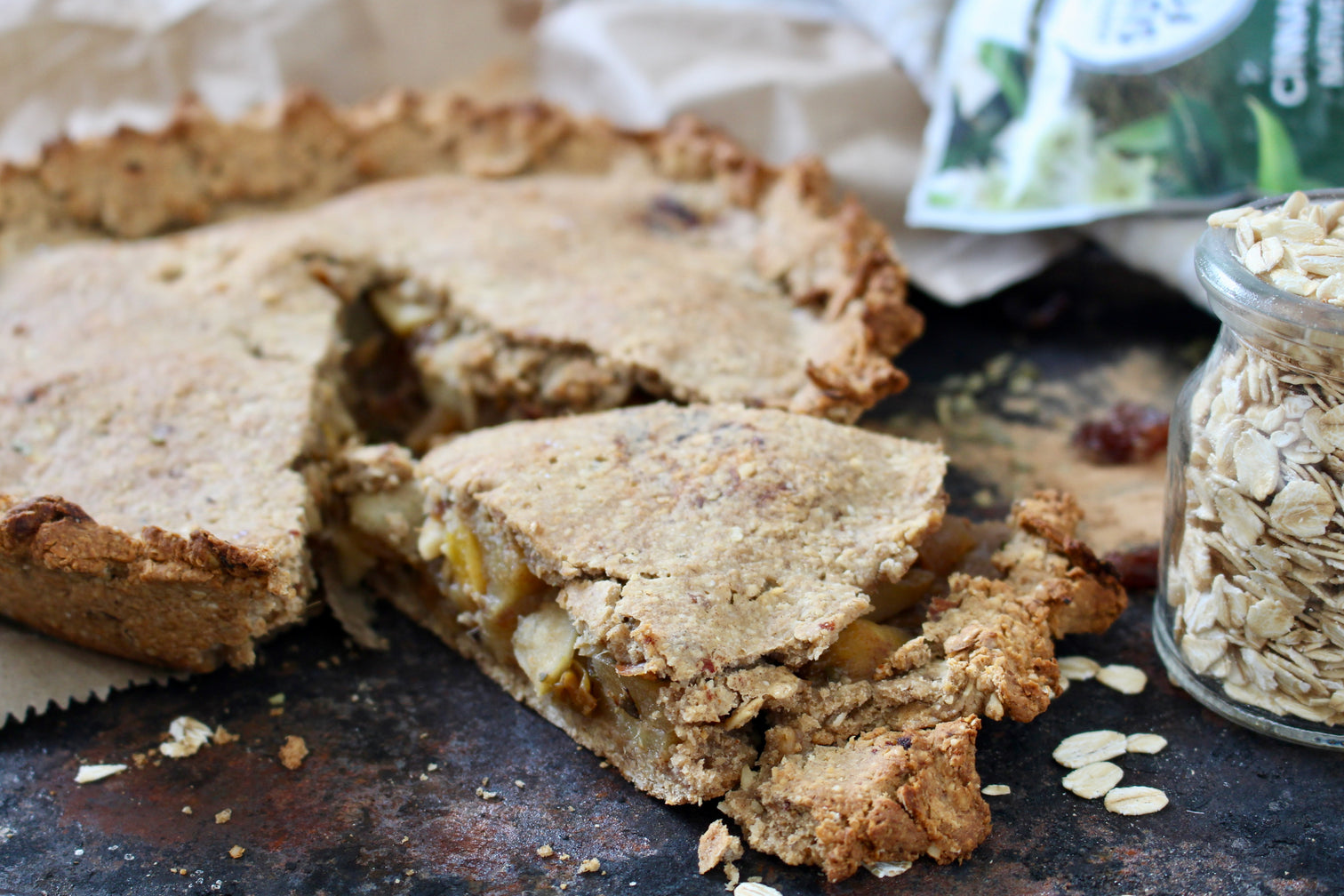 September 12 2019
·
INGREDIENTS
For the crust:
1 cup oat flour
½ cup oats
½ cup buckwheat flour
3 tbsp wholewheat spelt flour
1/2 tsp salt
5 dates, soaked in hot water
4 tbsp coconut oil
2-4 tbsp almond milk
For the filling:
3 apples, peeled and sliced
6-8 dates, roughly chopped
2 tbsp almond milk
1 tbsp cinnamon myrtle
2 tsp strawberry gum
1 tbsp carob powder
1 tbsp honey
Water as necessary
METHOD
For the crust:
Add the oat flour, oats, buckwheat flour, salt and spelt flour to a medium size bowl and stir to combine.
Drain the dates and add to the flour mixture with the coconut oil and the first two tablespoons of almond milk.
Use your hands to bring the mixture together, adding additional almond milk if necessary to produce a dough consistency.
While the filling is cooking, prepare the dough by splitting it in half and rolling out each half until it is large enough to fill a 24 cm pie plate.
For the filling:
Add apples to a pot with dates and almond milk.
Stir in strawberry gum, cinnamon myrtle and carob powder.
Cover and let simmer over low heat until apples start to tenderize – add water as necessary to facilitate the cooking.
Once apples are soft, stir in honey and remove from heat.
Assembly:
To assemble the pie, oil a 24 cm pie plate and then lay out one piece of the crust into the plate. Spoon the filling onto the crust and then cover with the second piece. Gently crimp the edges to help the pie stay together and then slit three holes in the top.
Place in the oven preheated to 180 degrees Celsius and bake  for 20-25 minutes or until the top turns firm and golden.
Remove from the oven and set on a rack to cool. Serve immediately, and store remainder, covered in the fridge.
Recipe and image supplied by The Australian Superfood Co.
Read more
✕