Caring for your Winter Woollens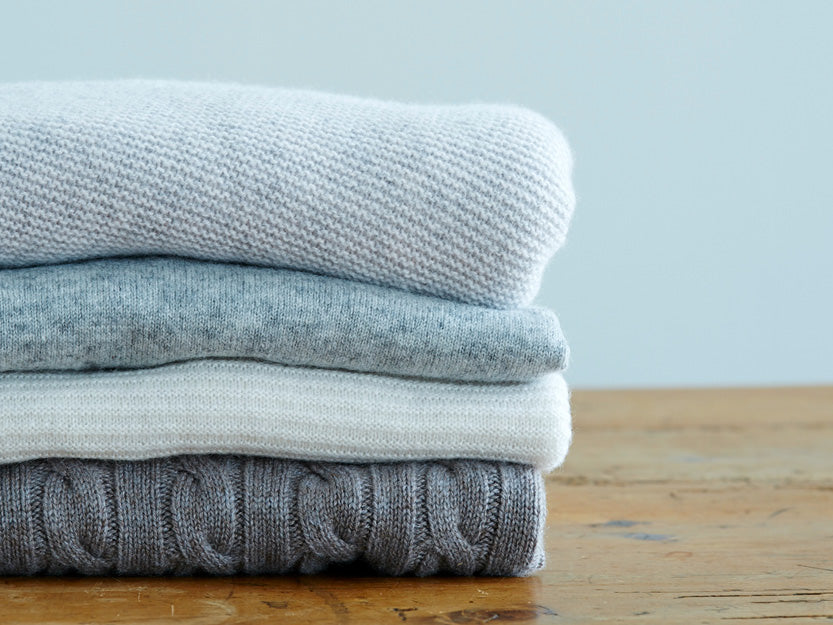 Cold, hot cocoa and Netflix weather is around the corner which means the time is approaching to dig out those snuggly faithful woollens that have been hibernating their way through spring and summer.  But before rushing towards the dry cleaner to freshen up the fibres, we have a few washing tips for taking care of them at home.
Washing Wool
Wool is a self-regulating fibre, meaning it keeps itself clean naturally, expelling odours through moisture control.  It's a very durable fabric and it doesn't have to be washed as often as other garments - in most cases by simply airing it out you can get rid of any lingering odours.  But if the time has come for a thorough wash,  make sure to follow these simple steps:
For both hand or machine washing the first step is to prepare the garments by turning them inside out - this will prevent the fibres from friction and fading, preserving its colour. 
Fill a standard bucket or sink with cool water and pour two capfuls (10ml) of the gentle and 100% natural

Wool & Cashmere Wash

, then swirl around to disperse the soap throughout the water.


Submerge the woollens into the bucket and gently agitate.  Pay extra attention to most exposed areas such as armpits, cuffs and collars then let the knits soak for approximately 20-30 minutes.


To rinse, remove the soapy water from the bucket and run the garments through clean water.  Remove moisture by gently pressing the item against the side of the sink or bucket. Do not wring as it will cause the garment to stretch out of shape.
If washing in a front-loader use four capfuls (20ml) of the Wool & Cashmere Wash in the detergent section of the machine, and four (20ml) to six (30ml) capfuls in a top-loader, depending on the load size – 20ml for average load and 30ml for large load.


Select a gentle or delicate cycle and make sure the water temperature is cold (20 degrees) and the spin cycle is slow to avoid shrinking.  Always attempt to have more than one garment in the load to soften bounce and friction and save water usage.
Drying Wools
Never hang wet woollens as the weight will stretch it out of shape. Let them air dry by flattening the fabric out on a drying rack or on a clean towel laid out on your bed.  To speed up the drying process lie one item flat on a clean towel and gently rolling it like a sleeping bag to remove moisture.
Pilling
Those annoying little balls usually appear on the elbows, sleeves, chest and sides of knitwear, a result of rubbing during wear.  To prevent or minimise pilling, turn garments inside-out before washing as this will reduce abrasion during the cleaning process.  Try to avoid wearing the knit in layers where it comes into contact with other fabrics as this can also exacerbate pilling.
Before ironing or storing, check knitwear for any signs of pilling.  If there are only a few little balls, pick them off by hand, being careful not to pull any threads.  The BONDI WASH Cashmere Comb can be used to remove a larger number of pills by laying the garment on a flat surface, securing it in one hand while using the other hand to gently and carefully draw the comb over the knit to remove the balls.  Waste can be discarded into the compost bin if the fibre is 100% natural, or into the landfill bin if the fibre contains synthetics.
Storing Wools
Knitted wool garments will last longer if they are folded away in drawers or shelves rather than hung.  Hangers can cause stretching and after storing the knits for a whole season the weight of the garment will have stretched it out of shape.  
Moths and bugs are attracted to dirt, so always try and wash the knits before putting them away.  The essential oil blend in the Wool & Cashmere Wash is high in limonene which will help repel insects.  And to refresh the garments from time to time the Mist Spray is a perfect way to naturally fragrance while killing any lingering airborne bacteria. 
Read more
✕