CARING FOR BABY'S SKIN WITH EMU APPLE
January 19 2023
·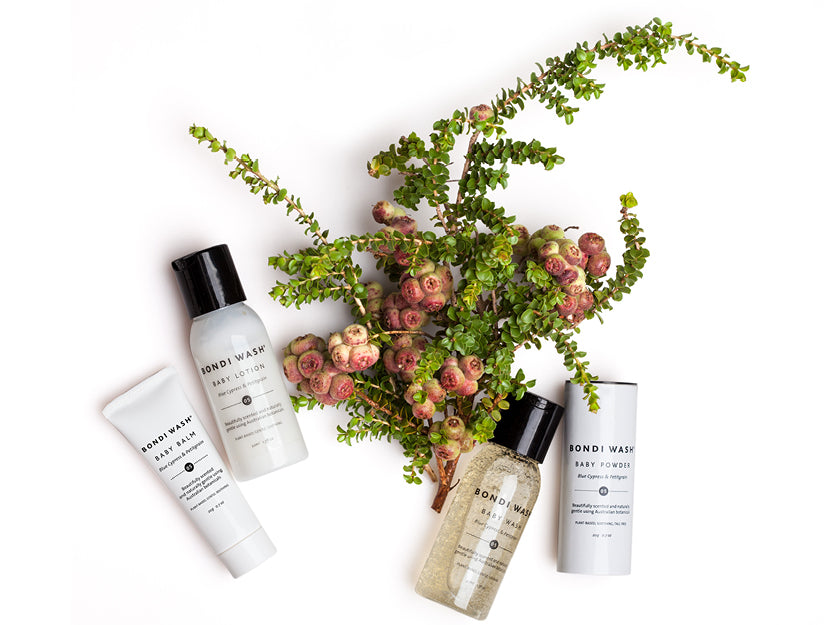 January 19 2023
·
After birth, a baby's skin is still developing.  It's thinner and more sensitive than adult skin and highly absorbent.  This makes it less resistant to bacteria as well as topical and environmental irritants (1).  Gentle, protective skincare that doesn't disrupt the skin's natural function is recommended for infants - products that cleanse and soothe whilst also aiding in the healing of any rashes or skin conditions.
Included for its exceptional nourishing and protectant qualities, Australian Emu Apple features in the BONDI WASH Baby range.
For generations, indigenous Australians in South Australia and Victoria have eaten the nutritious Emu Apple as part of their diet but their use of it to nourish the skin as well as treat burns and wounds provided early insight into the healing qualities of this native botanical.
An Australian 'superfruit', Emu Apple grows on a low-lying shrub, the small green apple-flavoured berries tinged with red and purple-coloured anthocyanins, pigments rich in antioxidants that studies have shown protect the skin from free-radical damage.  It contains high amounts of vitamin C—another powerful antioxidant valued for its tissue healing properties (2)—more than four times the amount found in blueberries and the phenolics also found in this wondrous little fruit are naturally anti-inflammatory and antimicrobial (3) to help control harmful microorganisms such as bacteria (4).
In addition to these many benefits, Emu Apple is covered in a rich, nourishing wax that has been found to have humectant properties to help preserve moisture, an important quality that assists in keeping baby's skin healthy and protected.
With no reported side-effects, this essential ingredient ensures the 100% natural BONDI WASH Baby Range is not only suitable to cleanse, soothe and heal baby's delicate skin, but also the sensitive skin of adults and children of all ages.
Read more
✕