BONDI WASH FLAGSHIP STORE
October 8 2016
·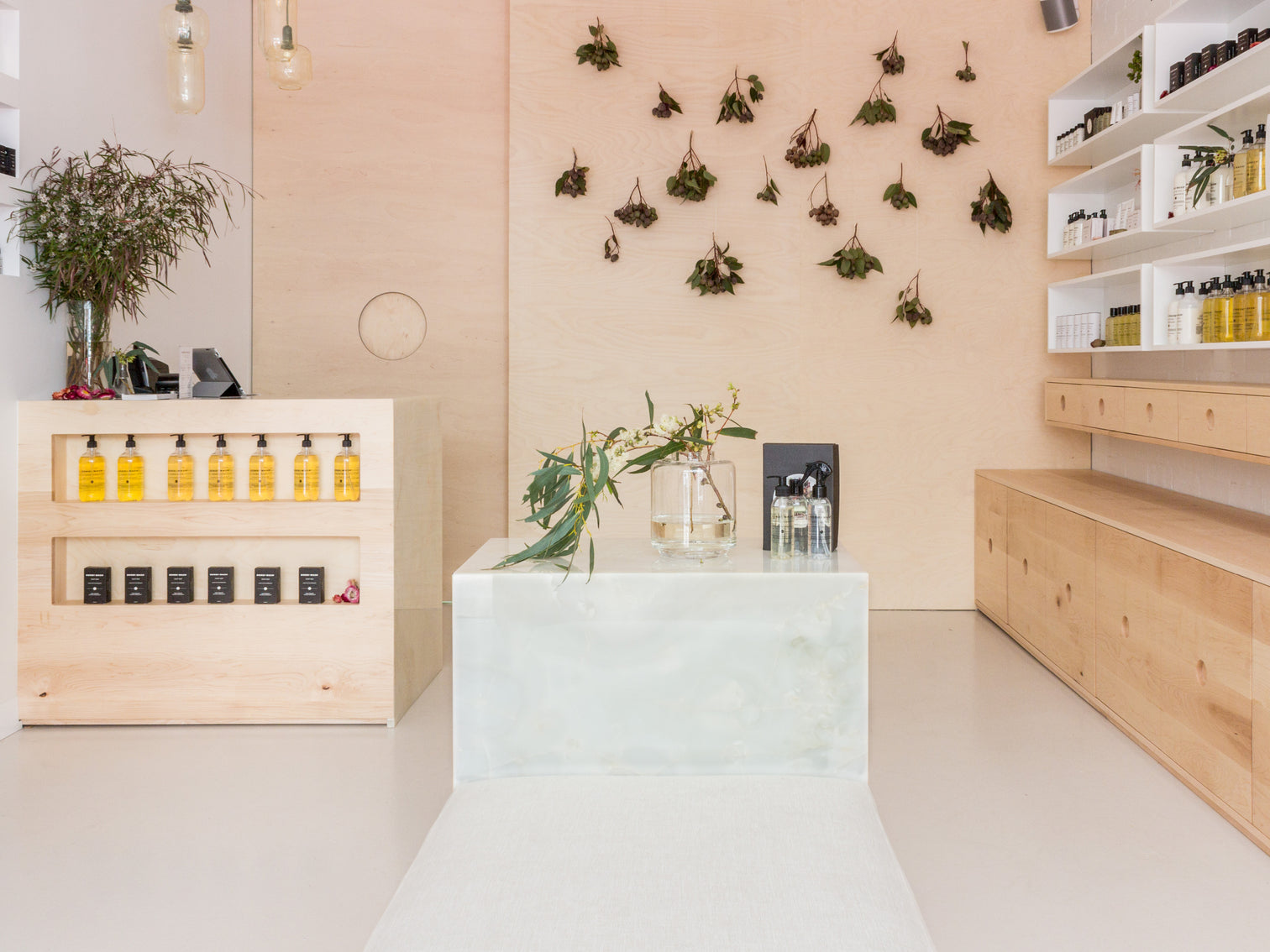 October 8 2016
·
We are so excited to have opened the doors to our Flagship store here in Bondi. It happened so quickly that it still feels a little like a dream. Mr Jason Grant spotted the space back in July thinking it could be right for us and within a few days we had signed the lease. To be honest, we were completely petrified at the prospect, not knowing anything about running a retail space. But we have loved the process of pulling it together. We have had wonderful help and support from other retailers (Dinosaur Designs and Uashmama in particular), and a lot of creative input from our team, family and friends.
We started searching for help with the interior design and fitout and came across Mr & Mrs White after admiring an Instagram post by Fete Magazine featuring their beautiful simple arm chair.
We met briefly with Sasha (Mrs) and Nathan (Mr) and to introduce them to the brand and gave them the following brief:
Showcase Australian botanicals, Inviting, Interactive, Scents, Australian interpretation of French perfumery, Natural, Integrity, Elegant, Timeless, Clean, Crisp, Stories about ingredients, Sophisticated
Within a few days Sasha had created a design that is very close to what you'll see in store now. We are so happy with how it turned out with surprisingly few hiccups along the way.
Some of the features we love include the circles mitred into the timber referencing the circles on our bottles. The pale maple timber softens the store and brings a natural feel. The stone Sasha discovered is white onyx which references the wash of the waves on sand. We really loved working with Sasha and Nathan – their relaxed style, their attention to detail, their grasp of the brand and their beautiful simplicity in design.
We would love you to visit to test out all our scents (including 2 new ones – Native Lemon (09) and Buddhawood & Blackcurrant (10) and discover some of our beloved Australian botanicals. You'll find us at 76 Gould St Bondi Beach, open daily. Feel free to call the store with any questions 9365 5609 or email store@bondiwash.com.au.
Read more
✕