NEW: WHERE WE EAT IN BONDI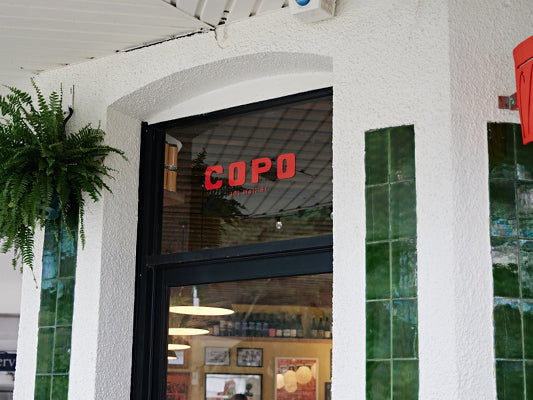 The local Bondi food and drink scene keeps on giving, from laid-back coffee nooks to intimate Italian dining.  Here are some of the spots we've been loving lately:
Inspired by the energetic neighbourhood bars of South America, Bar Copo is a true local hangout.  Sip on a seasonal flavoured Margarita or Caipirinha while feasting on tasty Latin American bar food and sandwiches.  A great spot for a sunny afternoon drink or a night out with friends on the weekends.  Things get groovy after dark with local live music acts and creative pop-up events.
Image credit: Broadsheet


A favourite spot for any group dinner, located in South Bondi up the hill from Icebergs.  Very inventive menu offering delicious wood-fired Mexican dishes and tacos using simple and fresh ingredients.  Friendly and fun atmosphere, perfect for a birthday or celebration with friends.  Their bottomless brunch special on the weekends is hard to beat - $85 for unlimited tacos and margaritas.
Image credit: CARBON Mexican


Cosy joint opposite the beach serving authentic south American street food.  Great GF and vegetarian options.  We recommend trying the Arepas - a traditional Colombian bun made from corn, filled with beans, rice, slow-cooked meats or veg and lots of avo.  Grab it to-go and enjoy it on the Bondi grass at sunset.
Image credit: El Indio


Beautiful beachfront meze bar serving Mediterranean share snacks and creative cocktails.  Step inside and be transported to the Greek islands with curved archways and walls that mimic the houses of Santorini.  The winning dish is the saganaki cheese drizzled with chestnut honey and a squeeze of lemon – served directly from a sizzling plate to your own with a friendly smile.  We recommend the set menu for only $69 per person.
Image credit: Ikaria


Sweet little Swedish café hiding in the backstreets of North Bondi.  A truly unique cafe with a lovely, warm vibe.  We love to pick up a coffee and one of their fresh-made Swedish treats on the weekend.
Image credit: Fika Swedish Kitchen Bondi


Casual seafood restaurant in a new development in North Bondi, from the team behind Fishbowl.  Serving fresh and delicious fish-focused dishes with healthy and flavourful sides and a wine list that leans natural.
Image credit: Kitti Gould / Concrete Playground


Recently reopened by ex-Matteo chef, Da Orazio is the new favourite Italian sitting in the heart of Bondi.  The pizza is some of the best we've had in Sydney and the bread and grilled antipasto plates give Totti's a run for its money.  Pair the richer cheeses and meats with the fennel and orange salad or a zesty cocktail.  Book in advance for a dinner on the weekends or head down early for a meal with the kids.
Image credit: Concrete Playground


An old favourite for Bondi locals, the corner house is effortlessly cool.  Our choice for a cosy mid-week dinner or date night.  Enjoy a delicious wood-fired pizza and produce-focused Italian plates.  Sit at the street-facing bar and watch the buzz of Bondi Road or head upstairs for a more rustic 'living-room' vibe (also a great space for events).  They also have specials throughout the week that are worth checking out.
Image credit: Hidden City Secrets


Bondi's newest gelateria. It's gelato how the Italians meant it to be; creamy and delicious, and made fresh in-store using sustainable ingredients.  The staff are lovely and we love that they offer half and half scoops for those times when two flavours are calling your name, but you only want a little. We must mention this does not replace our love for the OG favourite, Gelato Messina.
Image credit: Jiwon Kim / Broadsheet


A simply great café, nailing every element - tasty food, good coffee, friendly service and a communal vibe.  Menu highlights are the Blueberry & Ricotta Hotcakes and the Feta & Quinoa Fritters.  Lots of options for those with dietary requirements and we love that they make their almond and macadamia milk in-house.
Image credit: Nikki To / Broadsheet
Read more
✕