NATIVE FOOD MONTH: CHOCOLATE AND WATTLESEED MUESLI BARS
September 15 2019
·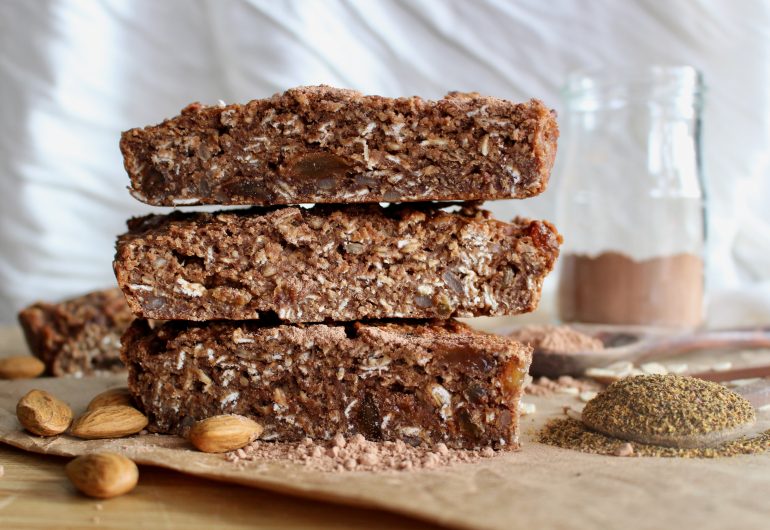 September 15 2019
·
INGREDIENTS

3/4 cup oats
1/2 cup oats + 1/4 cup sunflower seeds, ground into flour
1/3 cup whole wheat flour
1/4 cup raw cacao
3 tbsp coconut sugar
2 tbsp Wattleseed
1 tbsp honey
1 tbsp tahini
1 tbsp olive oil
1/4 cup dates soaked in 1/2 cup boiling water
1/2 cup almond milk
1/2 large banana
Salt
1/2 cup mix ins, such as sultanas, chocolate chips, chopped nuts or seeds
METHOD
Begin by soaking dates in boiling water and then set aside.
Meanwhile in a large bowl, stir together oat flour, whole oats, whole wheat flour, cacao, sugar and wattleseed.
Add honey, tahini, and olive oil.
In a blender, combined soaked dates and soaking water, banana, almond milk and salt. Blend until smooth. Add blender mixture to bowl with flour and stir to combine. Once fully combined, add in desired mix-ins, such as sultanas, chocolate chips, nuts or seeds.
Once combined, press mixture into a rectangular pan lined with baking paper, and bake in the oven, preheated to 180 degrees Celsius for 20-30 minutes, or until golden.
Remove from the oven and cool on a rack before slicing into bars.
Recipe and image supplied by The Australian Superfood Co.
Read more
✕