NATIVE FOOD MONTH: PHILLIPPA'S BAKERY LAMINGTONS
September 14 2019
·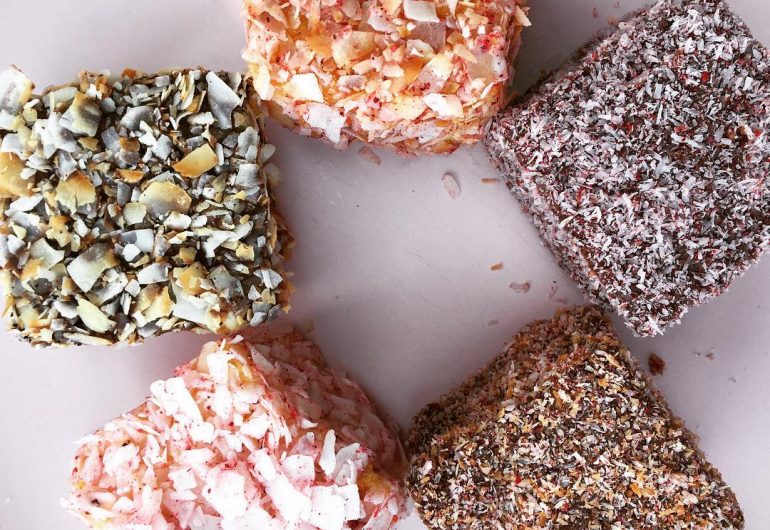 September 14 2019
·
INGREDIENTS
800g sponge approx. 4cm high, 24x34cm approx
8 eggs
350g caster sugar
220g corn flour
7g bicarb
10g cream tartar
5g vanilla
40ml water
500g plum jam
10 drops Davidson plum extract
500g toasted flaked coconut
45g Davidson plum freeze-dried powder
525g white chocolate
560g pure cream
METHOD
For the sponge:
Mix together jam and extract
Trim edges off sponge, split sponge in half horizontally and spread with plum jam. Sandwich sponge together and cut into 30 cubes (5×6)
For the coating:
Mix together the flaked coconut and Davidson plum powder.
For the White Chocolate Ganache:
Place finely chopped chocolate in small heatproof bowl. Set over warm water on low heat (water should not touch bottom of bowl). Stir very frequently until almost melted. Remove from heat; stir until smooth.
In small saucepan over low heat, heat cream just to a simmer, stirring frequently. Remove from heat; add two-thirds of hot cream to melted white chocolate.
Gently stir to incorporate, then beat until smooth. Gradually stir in remaining cream.
Assembly:
Dip the sponge squares in white chocolate and roll in coconut mixture. Leave to dry on a wire rack.
Recipe and image supplied by The Australian Superfood Co.
Read more
✕