NATIVE FOOD MONTH: SALTED FISH WITH MACADAMIA AND NATIVE PEPPER
September 18 2019
·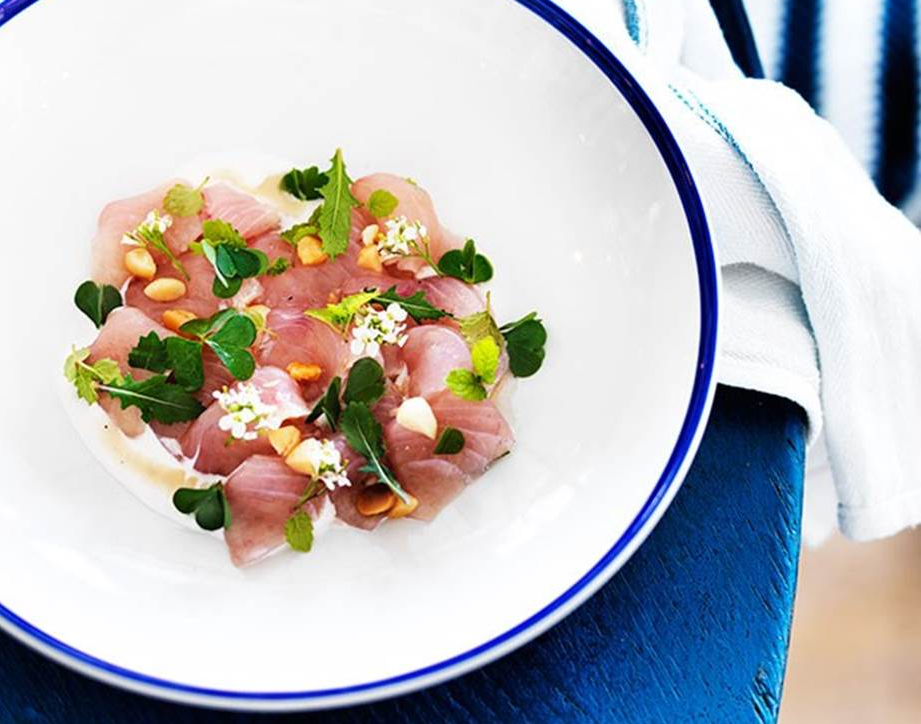 September 18 2019
·
INGREDIENTS
25 gm sea salt (1¼ tbsp fine)
200 gm boneless skinless Spanish mackerel fillet, cleaned of sinew
75 gm macadamias, plus extra coarsely chopped, to serve
30 ml macadamia oil
2 lemon myrtle leaves
½ tsp dried native pepperberry
1 tbsp lemon juice
To serve: mustard leaves or baby rocket leaves, lemon balm or wood sorrel, and edible flowers (optional)
METHOD
Preheat oven to 200C. Stir salt and 500ml iced water in a bowl until salt dissolves, then place fish in a container large enough to fit snugly, pour brine over and refrigerate for 20 minutes.
Spread macadamias on an oven tray and roast until browned and toasted (3-4 minutes), transfer to a blender while still hot, add 1½ tsp macadamia oil and 80ml water and blend until smooth. Place in a piece of muslin or a clean tea towel then squeeze to extract as much milk as possible (discard solids) and refrigerate until required.
Pound lemon myrtle leaves, pepper berries and lemon juice with a mortar and pestle, until aromatic, then add remaining macadamia oil and pound to combine. Strain dressing through a fine sieve and season to taste.
Drain fish from brine, pat dry with paper towels, slice thinly across the grain and arrange the slices on a serving plate. Pour macadamia milk into spaces between fish, spoon native pepper dressing over fish, scatter with chopped macadamias, leaves and flowers, and serve.
Recipe and image supplied by Gourmet Traveller.
Read more
✕