NATIVE FOOD MONTH: GRILLED CUCUMBER AND LEMON MYRTLE SODA
September 17 2019
·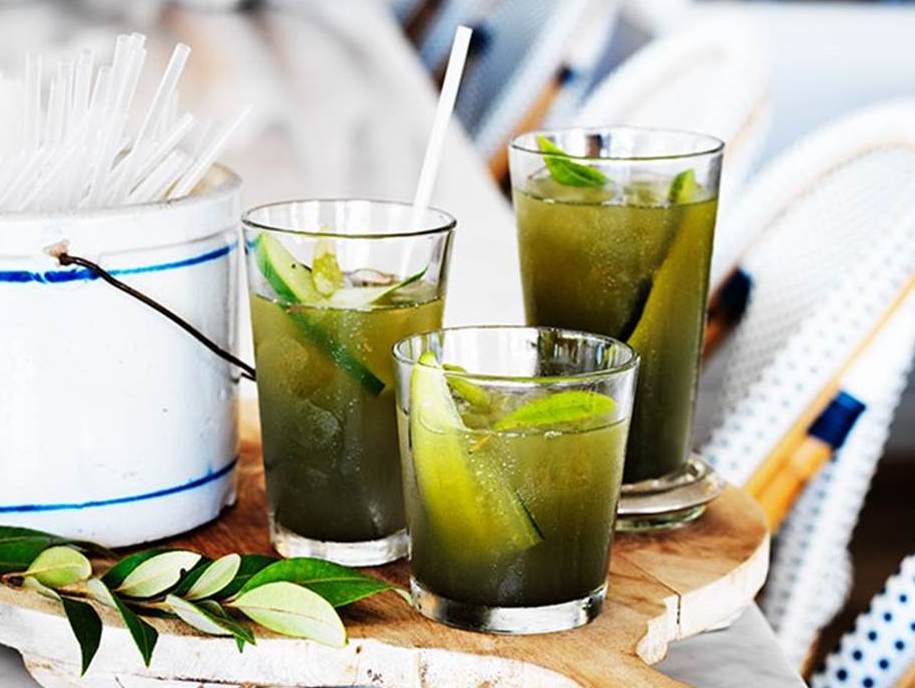 September 17 2019
·
INGREDIENTS
50 gm caster sugar
14 lemon myrtle leaves
2 large Lebanese cucumbers
500 ml chilled soda water (2 cups)
To serve: dried native pepperberries, coarsely ground
METHOD
Heat a charcoal barbecue or gas barbecue to high, or heat a char-grill pan over high heat. Bring sugar and 50ml water to the boil in a small saucepan, stirring to dissolve sugar. Transfer to a bowl, then crush half the lemon myrtle leaves in your hand to release the fragrance, add to sugar syrup and place in the freezer to chill.
Grill the cucumbers without turning until almost completely black (3-5 minutes). Transfer to a bowl and cover to steam for 5 minutes. Slice ¼ of a cucumber and reserve for serving, then juice remaining cucumber in a juicer and refrigerate until required.
Bruise remaining lemon myrtle leaves in the base of a serving jug with a wooden spoon, add cucumber juice and half-fill jug with ice, then add lemon myrtle syrup to taste. Stir well, top up with soda water, pour into glasses, add cucumber slices and top with freshly ground pepperberries.
Recipe and image supplied by Gourmet Traveller.
Read more
✕