ON OUR WISH LISTS
December 2 2022
·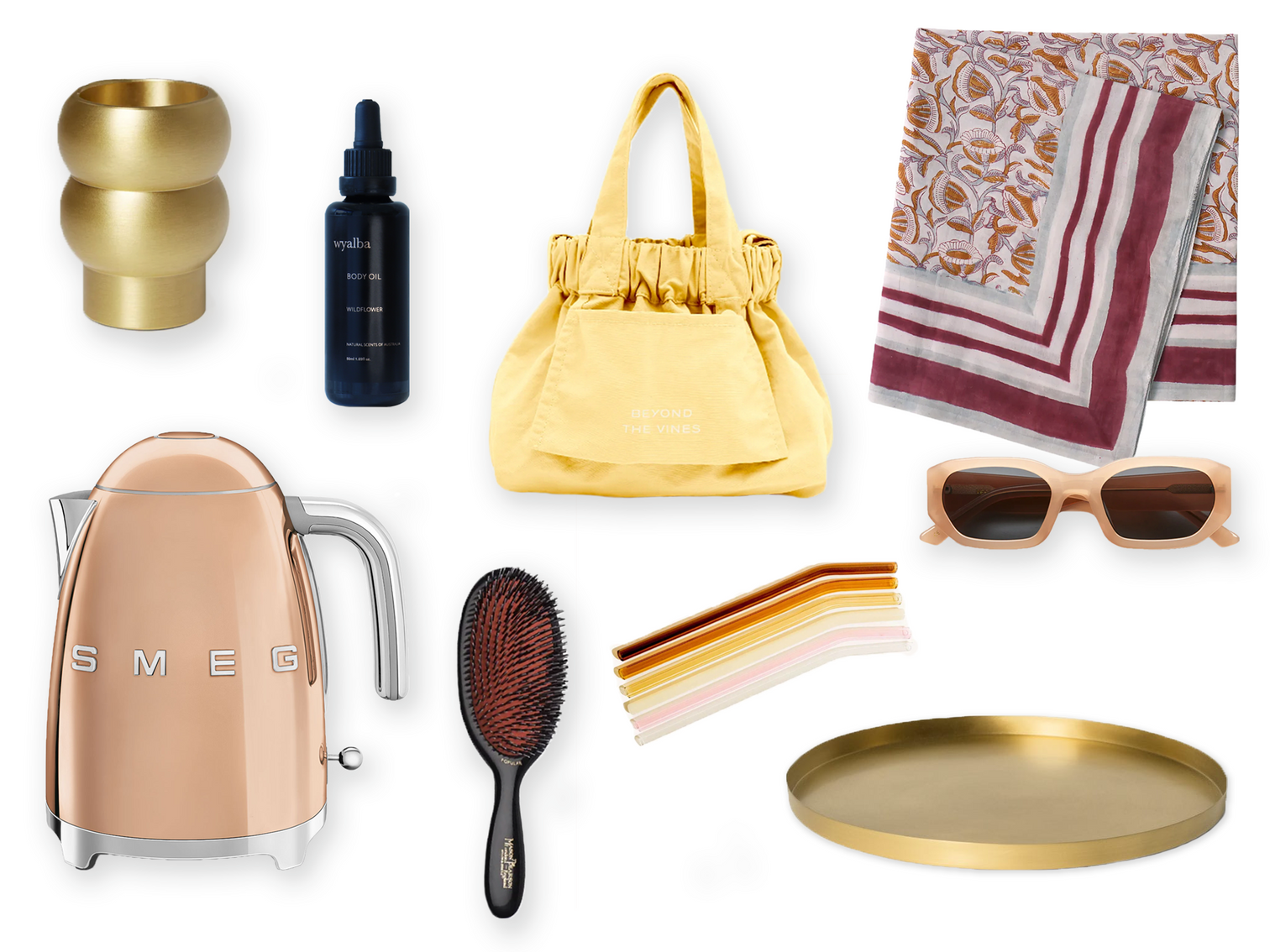 December 2 2022
·
The BONDI WASH team shares a few items from their wish list to help with gifting this festive season.  It's a gift guide with inspiration for everyone on the list from beach goers, fashion lovers, foodies, entrepreneurs, homebodies and more. 
01. Bitossi Home Glass Tumblers - Erin
I've had my eye on these tumblers for a while – I love that they come in so many different colours and shapes but team so beautifully together.  
02. Mason & Pearson Hair Brush - Belinda
These are timeless classics and so good for the hair. I think I'm due for an update after having mine for over 20 years. 
03. Light Brass Tray – Jane
This Large Brass Tray from Lightly - for display during the year or to hand around the champagnes during the festive season.
04. Walter G Marbella Sahara Sarong - Jules
I'm a big fan of Walter G – they have a range of beautiful prints available as cushions, quilts, tablecloths and sarongs. This year I'd love a sarong to cover up at the beach.
05. SMEG Kettle & Toaster - Marija
I would love a matching Smeg Kettle and Toaster in gold or rose gold – both are beautiful and look great in any kitchen.
06. Xinxin Ceramic Mug - Belinda
We featured Xinxin during covid when we offered our store windows to artists and I have fallen in love with her eclectic style.  Bondi Wash retail stores have a limited range of her hand made artisan ceramics – I'd like a mug for my morning coffee.
07. Glass Straw Pack Tramonto - Jules
I've been eyeing off these borosilicate glass straws from Studio Tutti – they make an eco-friendly and stylish accessory for any drink and come with a cleaning brush and storage bag.
08. Prada Backpack - Sara
I am not a big fan of backpacks but I have to admit that they make travelling much easier and I would love a very classy design like this Prada one. 
09. RAFI Gift Voucher - Ellie
I'm a big foodie and I've been wanting to go to RAFI in North Sydney since it opened. I would love a voucher so I can take my partner or go with friends. I love its contemporary feel and the fact it has a setting for every type of experience.   
10. Miss Arthur Black Enamel Range - Jane
I would adore anything from the entire black enamel range at Miss Arthur - unbreakable, perfect for picnics or days at the beach (or my dream country cottage which I am manifesting!)
11. Deliberate Calm by Jacqueline Brassey - Belinda
The book Deliberate Calm by Jacqueline Brassey, Michiel Kruyt and Aaron de Smet.  Running a business is not without its challenges – I like the concept of maintaining calm during volatile times.
12. Wyalba Body Oil Wildflower - Enrica
I love this natural, floral scent by wyalba and I'm excited to try it in the new Body Oil. I love the simple and elegant black packaging too.  
13. Black Blaze Brass Candle Holder - Jane
These candle holders from Black Blaze are divine – they are stackable so you can make different shapes and heights and they look beautiful with or without candles.
14. Vehla Felix Sunglasses - Ellie
One thing I can never have enough of is sunglasses and they're on my list again this year – I love this pair from Vehla Eyewear.
15. Mixed Bottled Cocktails - Jules
These ready-to-pour bottled cocktails from Weekend Liquor are perfect for the entertaining season and make a great gift.
16. Micro Dumpling Bag - Erin
I would love one of these micro bags by Beyond The Vines – they are so cute! There are so many colours to choose from I just can't decide. They also have a larger size – I want both!
17. The Milaneser Poster - Sara
I am a big fan of posters, these guys have created a concept inspired by the New Yorker magazine – the Milaneser is not a real magazine rather a collection of wallpapers made by different artists with the aim of representing the different souls and corners of the capital of fashion
18. Leather Card Holder from APC – Marija
I adore this simple leather card holder from APC – they are so handy and have options for both men and women.
19. Reusable Paper Lunch Bag - Jane
This reusable paper lunch bag from Gingerfinch is a great option for those leading a more sustainable lifestyle. Made in Tasmania from washable paper, it has a magnetic closure so that your lunch remains air tight.
20. Sasawashi Mesh Body Scrub Towel - Enrica
These mesh towels by Sasawashi are available in our Bondi and Paddington stores over Christmas and every day I'm in the store I eye them off! They are made from a blend of washi (Japanese paper) and fibres from the Kumazasa plant. 
Read more
✕