NATURAL SPRINGS
December 12 2022
·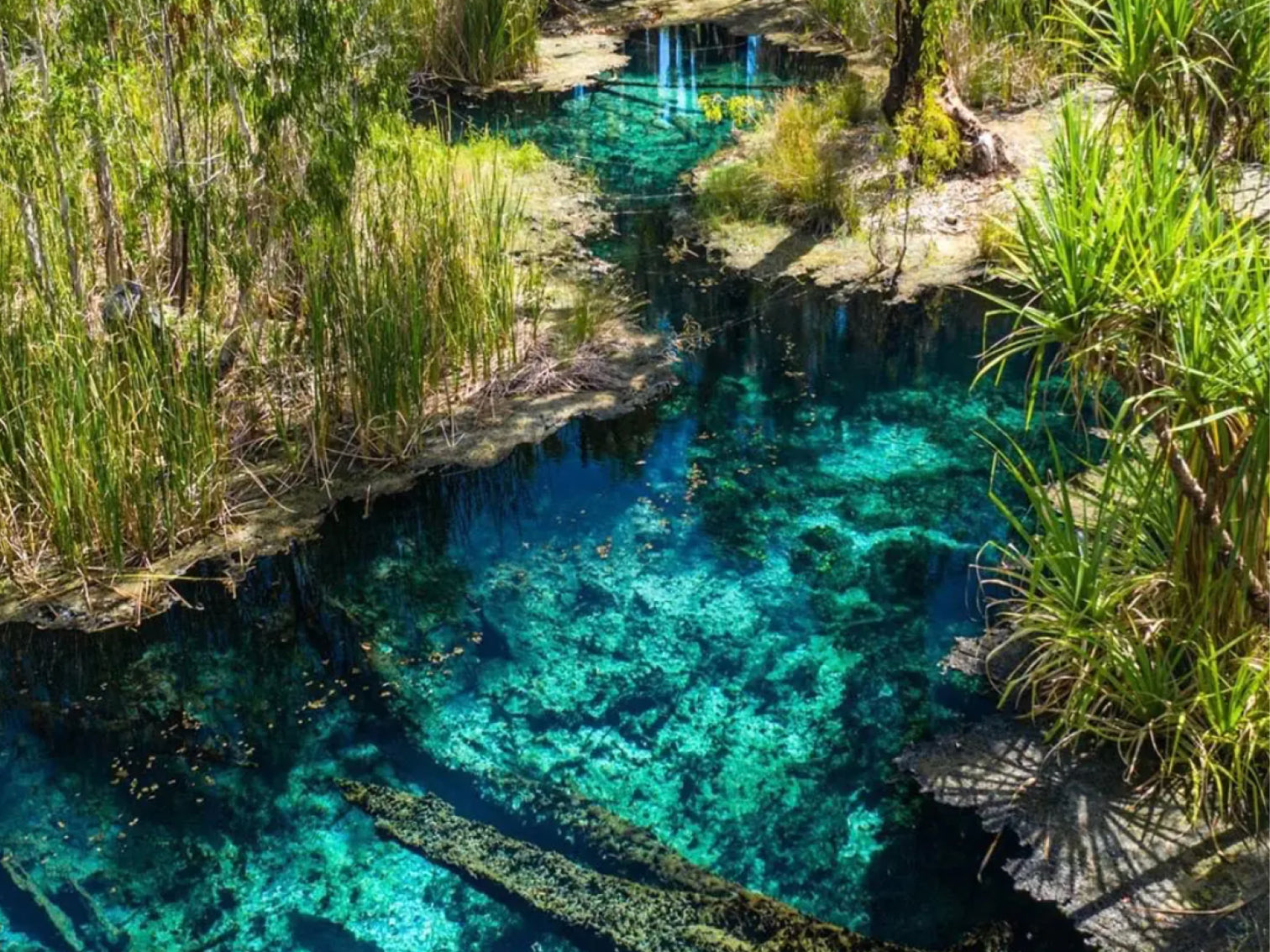 December 12 2022
·
There is no denying the benefits of a swim to keep our body, mind and spirit in top form. A dip in natural waters, teaming with nutrients and minerals, has been touted worldwide for centuries as an immunity booster, depression buster and general mood-enhancer. Regardless of any purported health benefits, the sheer pleasure an outdoor swim surrounded by the beauty of nature, is reason enough to seek out one of the many natural springs found around the country.
Apsley River Waterhole, Tasmania
Ngayaywana and Dyangadi People
Two and a half hours north-east from Hobart within the Douglas-Apsley National Park, this hidden gem is nestled within stretches of protected uncleared eucalypt forest. The Apsley Waterhole is easily accessible for a quick swim in the hotter months with basic amenities located nearby.
Image source: Discover Tasmania
Bitter Springs, Northern Territory
Mangarayi and Yungman People
Two kilometres from Mataranka in the Katherine region is Elsey National Park, home to Bitter Springs.  These thermal pools boast crystal-clear water surrounded by palms and tropical bushland, native wildlife and an abundance of birdlife.

Image source: Serendigity
Blinman Pools, South Australia
Adnyamathanha People
The Flinders Ranges is a 520km drive from Adelaide through rugged country, home to small kangaroos, white cockatoos, parrot and galahs.  The cool green waters of the two spring-fed pools have provided welcome respite for locals and travellers alike since the mid-1800s during the hot, dry summers common in this area.
Image source: All Trails
Cardwell Spa Pool, Queensland
Girramay People
Two and a half hours drive south of Cairns in tropical North Queensland, this seasonal pool is a social media favourite.  The ever-changing hue of the milky blue water is thought to be a result of filtration through sedimentary rocks, each imparting different minerals that can affect the colour.
Image source: Tropical North Queensland
Dangar Falls, New South Wales
Gumbaynggirr People
Not far from Bellingen on the east coast of Australia, the waterhole at the base of the Dangar Falls is the perfect spot for a refreshing dip in the cold water.  The deep water of this popular spot is best suited to strong swimmers or those more inclined to sit at water's edge to enjoy the views.
Source: Londoner In Sydney
Emma Gorge, Western Australia
Balanggarra and Nyaliga People
Located within El Questro Wilderness Park, one hour's drive from Kununurra, the one hour walk from the resort to Emma Gorge is rewarded with a magnificent swimming hole and waterfall surrounded by fern-covered boulders.  The icy cold waters offer sweet relief from the heat while the neighbouring thermal spring is great if needing to warm up.
Source: Ben Broady
Vaughan Springs, Victoria
Dja Dja Wurrung People
Once a gold-rush town but now a popular tourist destination, Vaughan Springs is located along the Loddon River, surrounded by overhanging gum trees with a steep, rocky hill on one side.  Long but deceptively shallow this is an ideal swimming spot for families with children of all ages.
Source: Goldfields Guide
Main image source: Trip.com
Read more
✕