ARTIST INSPIRATION: FRIDA KAHLO
January 19 2023
·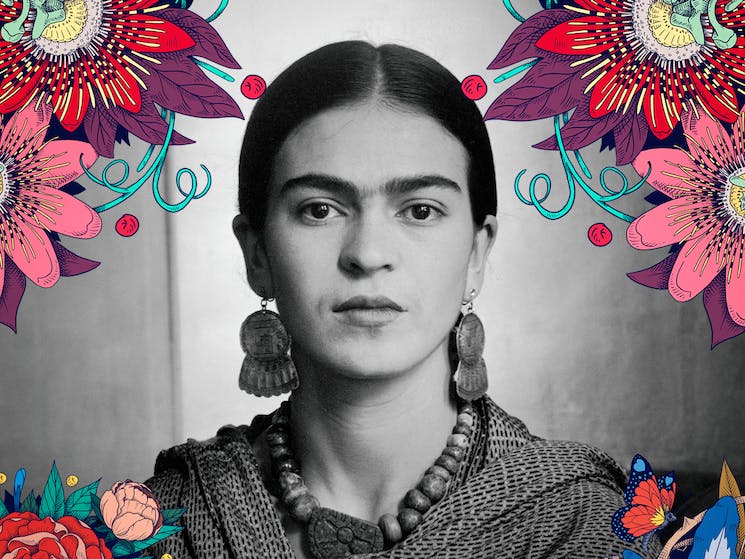 January 19 2023
·
Many would recognise the distinctive artwork of artist, Frida Kahlo, characterised by her use of vibrant colour and Mexican symbolism, also known as 'arte popular,' an important influence throughout her career evidenced in many of her self-portraits and still lifes.
Born in Mexico to Matilde—a woman of Spanish and Mexican heritage and Guillermo—a German-born immigrant, Kahlo was fiercely proud of her homeland and culture.  As a child living through the Mexican revolution, this violent ten-year uprising would also have a long-lasting impact on Kahlo's artwork as it shaped her view of the world and her place within it.
Source: Art Gallery of NSW
When young she was affected by polio resulting in a disability to one leg, followed by a near-fatal bus accident at age 18 that injured her severely and caused lifelong pain.  It was during many long months at home recovering in a full body cast that she painted as a way to pass the time.  Using an easel specially configured for her by her mother and paints loaned by her photographer father, she focused on self-portraits with little else to inspire her within her room.
Later, with ongoing surgeries and chronic pain a constant throughout her life, Kahlo chose to draw upon religion, her marriage to fellow artist and activist, Diego Rivera, their reported infidelities and a number of miscarriages, to reflect on the passion, suffering and reality of her life rather than any dreams or fantasy. 
Kahlo died at age 47 of a pulmonary embolism after contracting pneumonia. 
With over 150 works to her name, exhibitions across the world and work purchased by The Louvre in Paris, Kahlo's art is now recognised as one of the most significant bodies of work in the 20th century, her status cemented as a hero of indigenous culture, a role model for those with disabilities and an icon of feminism.
Source: Art Gallery of NSW
BONDI WASH is proud to work in collaboration with Sydney Festival this summer to celebrate the life and work of this influential artist.  FRIDA KAHLO: THE LIFE OF AN ICON is a unique biographical exhibition that opens at The Cutaway, Barangaroo from the 4th of January 2023.  This spectacular, immersive presentation is a multi-sensory experience including photographs, film, holography, 360° projections and a virtual reality system exploring the artist's most famous works.
Source: Sydney Festival
In homage to this creative icon, a special-release BONDI WASH Hand Wash label design has been inspired by the brilliant colour palette and iconographic style for which the artist was renowned.
Available for a limited time only, this new addition to the BONDI WASH range scented in refreshing Sydney Peppermint & Rosemary, is available at the exhibition gift shop. A limited number of this Hand Wash will also be available in the BONDI WASH retail stores and online at bondiwash.com.au.
Main image source: Sydney.com
Read more
✕