Native Eating: Tasmanian Pepperberry Cured Huon Salmon
November 22 2019
·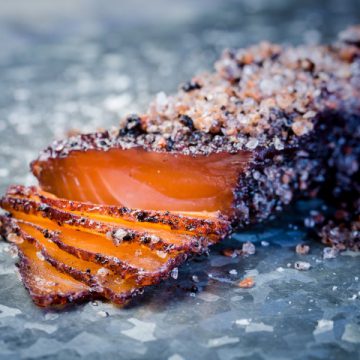 November 22 2019
·
Cured salmon always makes a beautifully fresh starter or main, and curing fish is easier than you think!
Tasmanian pepperberries can be bought online from The Australian Superfood Co.
Ingredients:
1 side fresh huon salmon
1 cup rock salt
1/4 cup Tasmanian pepperberries
1/4 cup fine salt (pure lake salt)
2 tablespoons sugar
1.5 tablespoons white spirit (gin / vodka)
Method:
Place fine salt, pepperberries and sugar into a spice grinder or mortar and pestle and grind until fine.
Mix with rock salt and spirit to form a rough paste.
Lay clingwrap out on bench and spread 1/3 of the cure over the centre of it.
Place the salmon on top of the cure and spread the remaining salt around the fillet.
Wrap cling wrap very tightly around fish and cure and add a few more cling wrap layers.
Place into a container and sit a plate on top, weighted with something such as a dinner plate.
Sit in the refrigerator for 48 hours, turning every 12 hours or so.  Salmon will be cured when it is firm to the touch.
Remove from the fridge and container and wipe salt cure off.
Gently run a sharp knife under the skin to remove and slice salmon thinly to serve.
Read more
✕