EMPOWERING WOMEN THROUGH MOVEMENT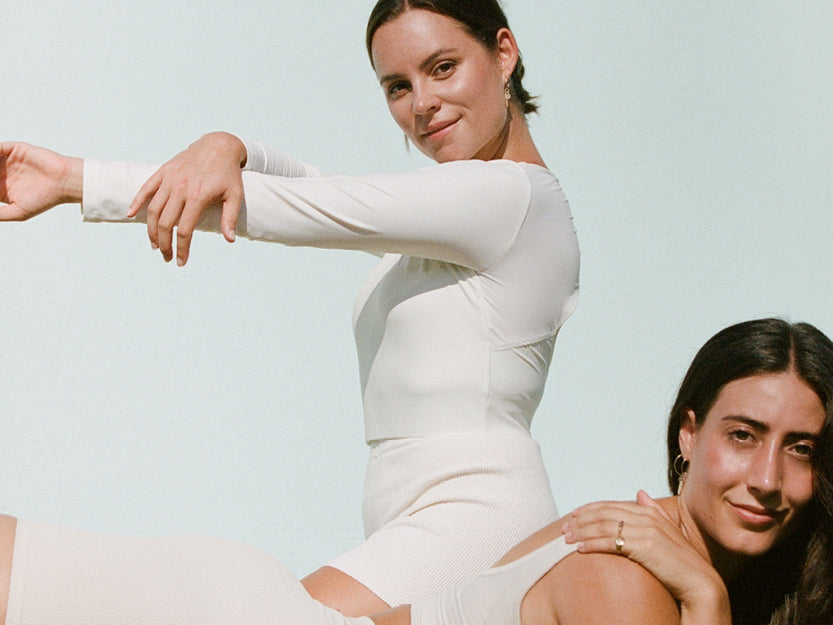 We'd like to introduce Sascha Orlievsky and Nicole Clarke Mitchell, the young founders of HOUSE OF SCULPT, an online pilates community.  The pair opened a boutique fitness studio Sculpt By The Sea in 2019, then had to quickly adapt to the huge changes that were happening globally.  In response they created a vibrant, connected online community, inspiring and empowering women beyond the mat.  We chatted to them to understand the philosophy behind HOUSE OF SCULPT and their experience running a business with a friend.  Read our interview via the link below.
We love your brand ethos and how you've created an inclusive, connected online community for all. Can you share the story behind the creation of HOUSE OF SCULPT?
After attending Pilates class after Pilates class where we felt the energy could be very 'exclusive'. We wanted to create an environment where people could come and have fun, hang out, feel inspired, laugh and carry on a bit (in-person or online). We wanted to build a movement space that wasn't preying on people's insecurities, a space where you can challenge your body but not punish it.


You are both friends in life and on the mat. What are the benefits of starting a business with a friend?
A knowing. A knowing that ideas are received and perceived from a place of understanding. An understanding that we want what's best for our community and each other.  That there is space to mess up or say the wrong thing and it does not feel detrimental to who we are as people or as business owners.


What are the benefits of pilates over other types of fitness?
Your joints will LOVE you. Any form of low-impact exercise is a god-send for the joints, plus it will serve you for your entire life. Pilates can be your northern star! What we are drawn to most about Pilates is the mind-body connection and the ability to strive for your version of 'precision'. Technique is different for everyone but the discipline required to master a Pilates practice is a very beautiful and rewarding thing plus it takes your mind off the demands of the day! A moment to go inward, I'll take every chance I can get!


Are there any regular practices you undertake to ensure you accomplish your goals?
N: Writing out monthly personal or business goals, even tiny ones so I don't get bogged down in the to-do's and lose sight of what it is all for. Also, everything goes into the calendar! If it's not scheduled, it's not going to get done haha! (that especially goes for workouts!)
S: There is no better feeling than pen to paper… I mean it!!! I always make sure to physically write out my goals, both big and small. It is also important for me to highlight the goals 'off' when I accomplish them. This process feels really rewarding even though it may sound silly. Another goodie is being vocal!! I love to tell my friends and family about the goals I want to achieve – by telling my loved ones it keeps me accountable. It also makes it way more fun when you can celebrate with your friends who have been along the ride (hello champagne!!!).


What skills or personal attributes do you think help women thrive in business?
The ability to be vulnerable. So much of business, especially in the digital space feels exposing. The word exposing sounds scary but the comfort in the discomfort is a powerful place.


This year's International Women's Day theme is #EmbraceEquity. What does embracing equity mean to you?
We can all call out discrimination, take a stand against gender stereotypes, make sure bias doesn't go unnoticed. Being fair and equal is a complex thing, but to us, it means understanding that people start at different places and experience different things. We can't just use a one-size-fits-all approach. But most importantly, being fair means supporting these customised solutions, even if we don't directly benefit from them.


House of Sculpt has a studio in Bondi. What are some of the things that you love about working in Bondi?
Starting the day by the ocean watching the sun rise is a huge privilege and instantly puts everything into perspective. Seeing our community (always smiling) show up, rain, hail or shine is the most inspiring way to start the day. The gratitude for our community, what's led us here and how 'right' it feels is extremely special. I want to say we are so lucky but it's not luck. We worked hard to cultivate and attract this community which makes it even more rewarding.


Do you have any local secrets to eat, drink or swim in Bondi you are willing to share with us? 
This is very much Sascha's domain!
S: Food is my love language so here are some of my top Bondi bites! The Shop and Wine bar. They serve the best – and I mean THE BEST – food and drinks all day long. From a BLAT at 9am to a Tuna Salad paired with orange wine at Happy Hour, it is just *chefs kiss*. On top of delish nibbles and vinos, they are also famous for making the best cappuccino ever! And of course, our new neighbours at the Bondi Pavilion, Glory Days the Promenade! YUM!
 
Can you share with us some of the natural choices you make in your life – for your health or for the environment?
N: Thanks to my partner we have a very efficient and healthy composting situation at our place. We are also lucky to have fresh produce markets locally and all the soil from our compost goes straight to nourishing our baby veggie garden. And of course, using Bondi Wash! The Swim & Sport Wash is a game changer.
S: Mineral rather than chemical sunscreen. Sustainably sourced meat. Bondi Wash for all my household and mat needs!
 
What is the best piece of advice you could impart to any woman considering going into business for herself?
You can't please everyone, so stop trying.
Stay up to date with HOUSE OF SCULPT via Instagram here. 
Read more
✕