EASTER READS
March 29 2023
·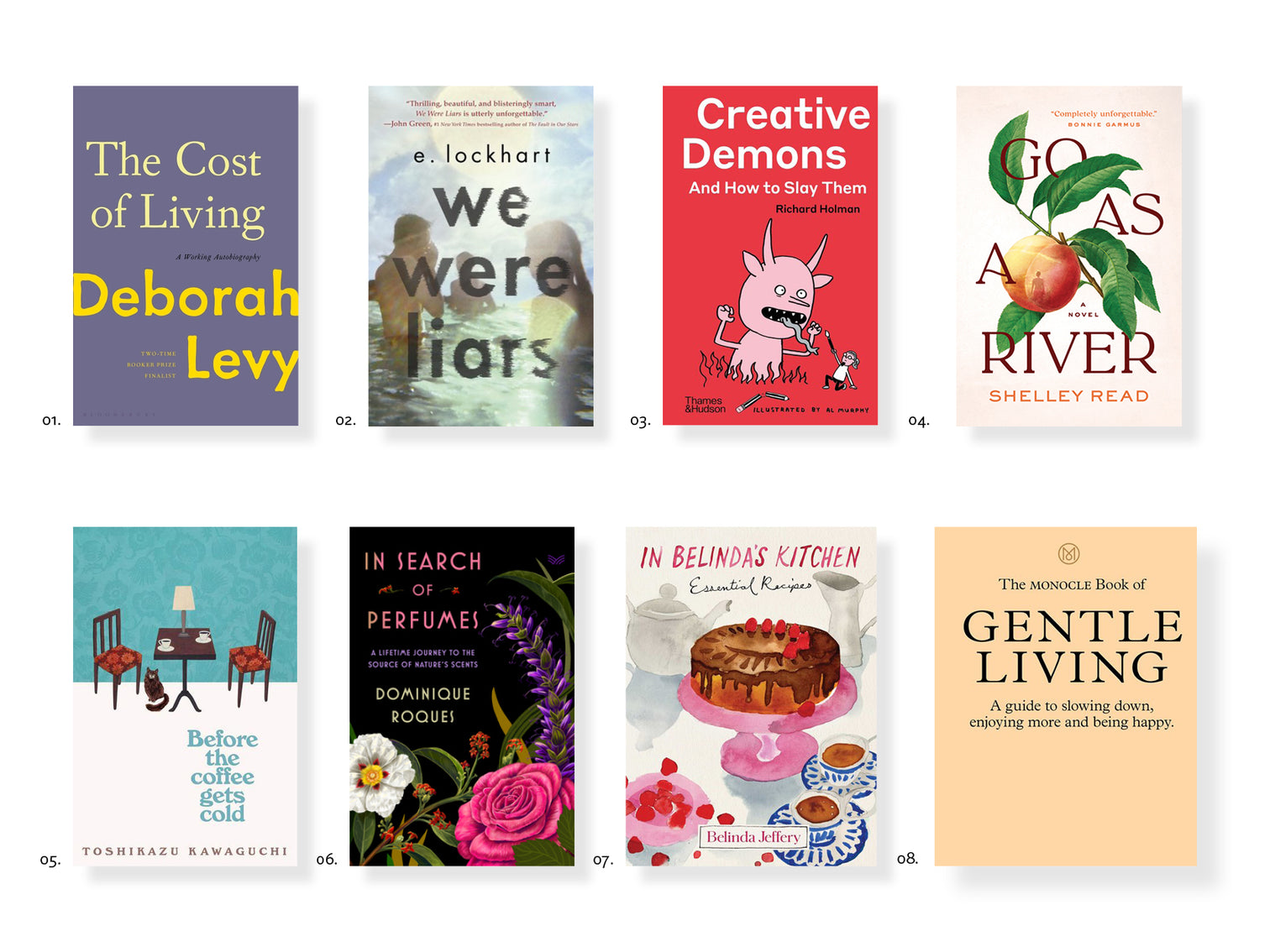 March 29 2023
·
With a little downtime over Easter on the horizon, we'll be turning to our bookshelves to catch up on some long-overdue reading.
1. The Cost of Living: A Working Autobiography
Deborah Levy
A collection of light-hearted, warm and interesting reflections on what it means to be a woman in roles assigned by society and the cost to challenge existing hierarchies, where the comfort and happiness of men and children have been the priority.
2. We Were Liars
E. Lockhart
Hiding behind privilege and wealth, a seemingly perfect family hold shocking secrets about events that transpired two years earlier.  Nursing a head injury that affected her recollections of that time and through a haze of migraines and medications that cloud her judgment, the main character, Candace, revisits the island, determined to unearth the truth.
3. Creative Demons and How to Slay Them
Richard Holman, Al Murphy
Those working in creative industries may be well-accustomed to moments of self-doubt, fear of failure or lack of inspiration.  Drawing on anecdotes from all fields, author, Richard Holman provides useful tactics to tackle procrastination, criticism and imposter syndrome paving the way for innovative and pain-free outcomes.
4. Go As A River
Shelley Read
Go as a River is a story of love and loss but also of finding home, family, resilience—and love—where least expected. Following a young teenager in the 1940s who runs the family household on a peach farm in Iola, Colorado, this sweeping story combines unforgettable characters and a breathtaking exploration of our connection to nature.
5. Before the Coffee Gets Cold
Toshikazu Kawaguchi
What would you do if you could travel back in time? Revisit a loved-one who has since passed, right a wrong, change the course of history?  Four visitors to a small café in Toyko each have the chance to journey back into the past to accomplish their goals, but not without risk and a promise to return to the present day before their coffee gets cold.
6. In Search of Perfumes
Dominique Roques
Exploring many of the most precious ingredients used in the making of perfume, Dominique Roques travels the globe with infectious curiosity and passion unearthing the history of this age-old industry while contemplating its place in a sustainable new world.
7. In Belinda's Kitchen
Belinda Jeffery
As the seasons change and the pull indoors grows ever-stronger, now is the time to get back into the kitchen with a collection of good old-fashioned, favourite recipes that the whole family will enjoy.  With an emphasis on simple, fresh flavours and with recipes updated for modern-day life, Belinda Jeffery's warm and knowledgeable style, makes this a book for every food-lover.
 8. The Monocle Book of Gentle Living
Tyler Brûlé, Andrew Tuck, Joe Pickard, Josh Fehnert
As proponents for the art of simple living, The Monocle Book of Gentle Living looks into aspects of our lives where improvements can be made and happiness can be found.  With essays from forward-thinkers to lessons in business, food and purchasing choices, this book encourages readers to slow down, reconnect and make good from life.
Read more
✕