THE CASE FOR NATURAL WINE
August 8 2023
·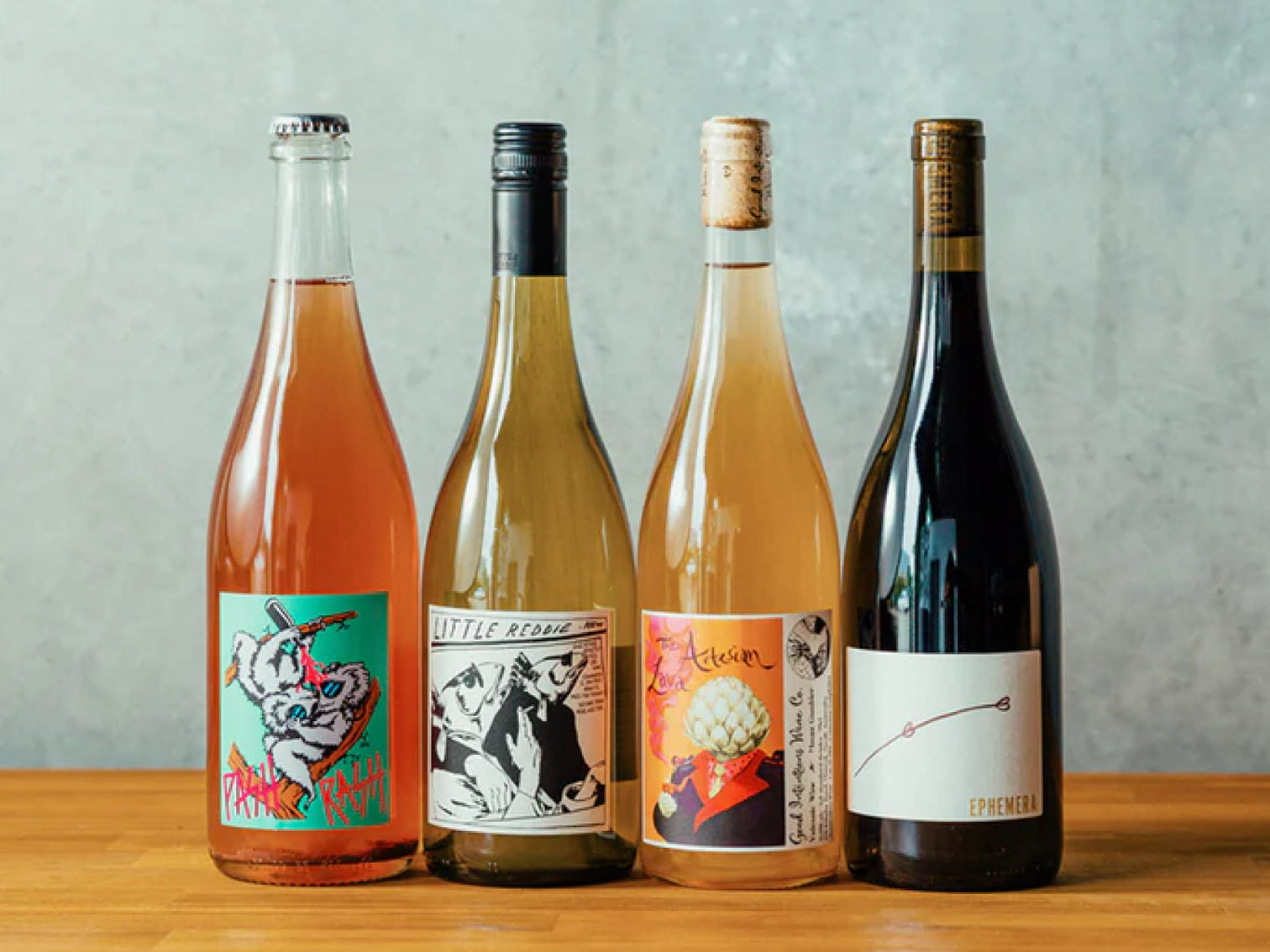 August 8 2023
·
'Natural wine' is a relatively new term, first noted around 2018.  It's a classification that is often mistaken, with consumers thinking that all organic or biodynamic wines are 'natural wine' (1).  Not so, as organic and biodynamic wines can be made using conventional processing methods whereas 'natural wine' is made without anything artificial added to the grape when it's growing on the vine, or during the winemaking process.  
Grapes typically used by the conventional wine industry are grown using pesticides, fertilisers and other chemicals, then processed with additives such as sugar, sulphites, colouring agents, flavourings and preservatives which can cause adverse effects to those who are susceptible.
Natural wine is made using antioxidant-rich (2) organic or biodynamic fruit, grown via sustainable practices that create rich ecosystems, improve soil quality and avoid chemical run-off from synthetic pesticides, herbicides and fertilisers that could potentially damage soil integrity and the quality of waterways (3).  The grapes are hand-picked and fermented with natural yeast without additives or the use of modern industrial methods (4) . Although some natural winemakers use small amounts of preservatives and utilise oak barrels for maturation, purists prefer to follow the edict, 'nothing added, nothing taken away', allowing the characteristics of the soil, climate and location of the vineyards to flavour the wine, naturally.
Even with these health and environmental benefits, natural wines are still new to the market, making up less than 0.1% of what's on offer so it may be a little harder to find them. The flavour can be quite different from conventional wine, and not always beautifully palatable.
Our team has been trialling them and we have put together some of our favourites to start a fruitful search…
Left to right: Bressan Carat 2018, Doom Juice Rouge 2022, Shady Lane Pet Nat Pinot, Bondar Cinsault Rosé 2022.
Left to right: BK Wines Pétillant Naturel Chardonnay 2022, La Calmette 'Nyctalope' 2020, Benotti Rosavica Langhe Nebbiolo 'Nebiulina' 2020, Tanca Nica Kaffefi 2020.
Left to right: Jilly Wine Co. Banana Girl 2021, Edenflo Quincy J 2022, La Petite Mort Qvevri Gentil White 2021, Domaine des Sablonnettes Le P'tit Blanc 2020.
Main image: Borachio Pash Rash Pet Nat 2022, Little Reddie New Chardonnay 2021, Good Intentions Artesian Lava 2021, Ephemera Nero d'Avola.
Read more
✕