Native eating: Raspberries with eucalyptus meringue by Pierre Roelofs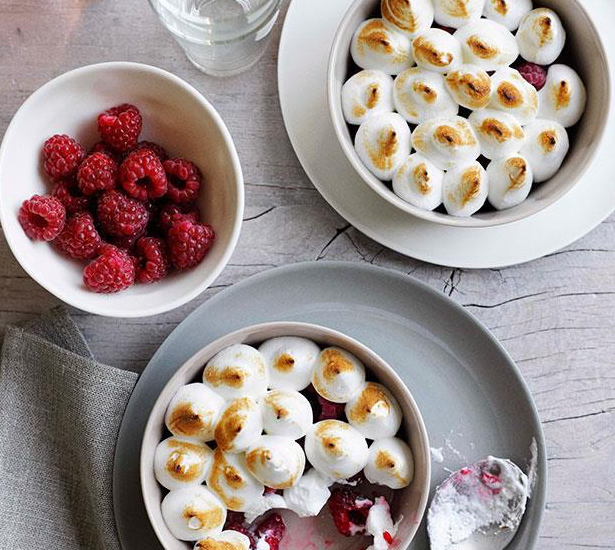 A fresh berry dessert with a hint of eucalyptus oil by chef Pierre Roelofs of Cafe Rosamond in Melbourne.  The eucalyptus in this dish should be used sparingly and can be found at your local health food shop. 
As eucalyptus oil can be poisonous when ingested, we would recommend replacing it with lemon myrtle oil which is 100% safe to consume.
Ingredients:
600 gm raspberries (about 4 punnets)
150 gm caster sugar
100 gm eggwhite (about 3 eggs)
1-2 drops eucalyptus oil - or lemon myrtle oil (see note below)
Method:
For the meringue, combine sugar and 1 tbsp water in a saucepan over medium heat, stir to dissolve sugar then simmer until sugar syrup reaches 112C on a sugar thermometer (6-8 minutes). Meanwhile, begin whisking egg white in an electric mixer until soft peaks form.
Continue to cook syrup until it reaches 121C, then, while whisking, gradually add syrup to egg white in a thin steady stream and continue to whisk until mixture cools (8-10 minutes). Fold through eucalyptus or lemon myrtle oil (see note), then spoon into a piping bag fitted with a 1cm nozzle.
Divide raspberries among 4 shallow 250ml heatproof bowls, pipe over peaks of meringue, brown tops with a blowtorch or under a hot grill and serve warm.
This recipe was sourced from Australian Gourmet Traveller by Chef Pierre Roelofs of Rosamond Cafe in Melbourne. 
note: eucalyptus oil can be poisonous even in small amounts - we would suggest replacing the eucalyptus oil with lemon myrtle oil.
Read more
✕