NATIVE EATING: LEMON MYRTLE CAULIFLOWER
October 13 2023
·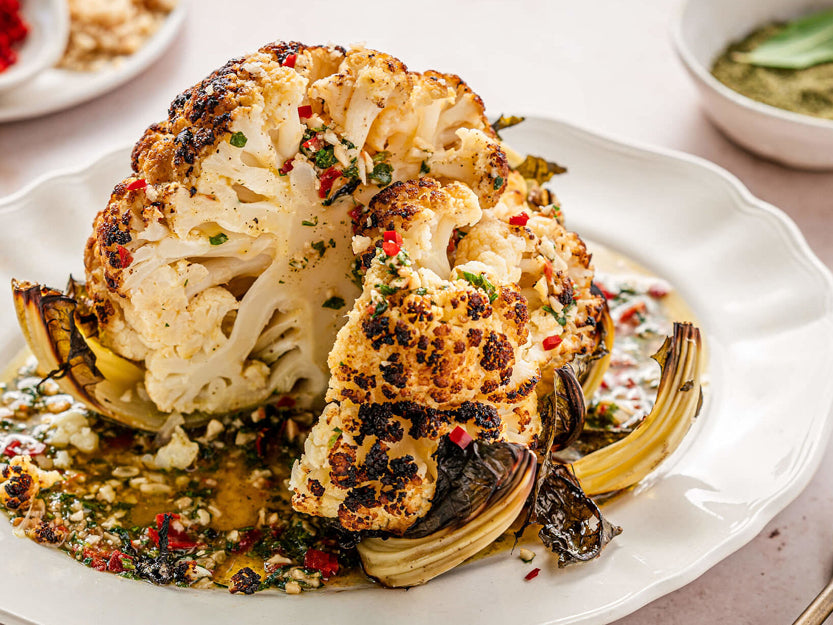 October 13 2023
·
A crispy, whole roasted cauliflower served on a spicy lemon myrtle chimichurri. 
The lemon myrtle really is the hero, bringing out the nutty sweetness of the cauliflower. It's incredibly simple to make and pairs perfectly with nearly any main. 

Serves: 4
Prep time: 5 minutes
Cook time: 35 minutes

Ingredients

1 cauliflower
70 grams roasted macadamia nuts
2 tbs red wine vinegar
1tsp dried lemon myrtle
½ bunch parsley roughly chopped
2 long red chillies diced, and seeds removed
3 garlic cloves
1 tsp salt
3 turns black pepper
40ml macadamia oil (or olive oil)
 
To top
Roasted macadamias
1 long red chilli, de-seeded and diced up
Dusting lemon myrtle powder
Method
Preheat oven to 200C degrees.
Boil a pot of salted water and place the cauliflower in. Cook for 10 minutes with the lid on.
Once done, transfer the cauli to a baking tray and place in the oven. Cook for 25 minutes or until crispy, golden and looking delicious.
In the meantime, in a blender or mortar and pestle add the macadamias and blend till crumbly. Take out 2 tablespoons worth and place in a bowl for later.
Add in the red wine, parsley, lemon myrtle powder, long red chilli, garlic, salt and pepper and blend or grind to a rough paste. Pour into a bowl and add the oil, mixing everything together.
Take the cauliflower out of the oven, and let rest briefly.
On a serving plate, spoon the lemon myrtle chimichurri and place the warm cauliflower on top. Sprinkle over fresh chilli, leftover macadamias and a dust of lemon myrtle powder. 
Read more
✕