WILDFLOWERS OF WESTERN AUSTRALIA
October 10 2019
·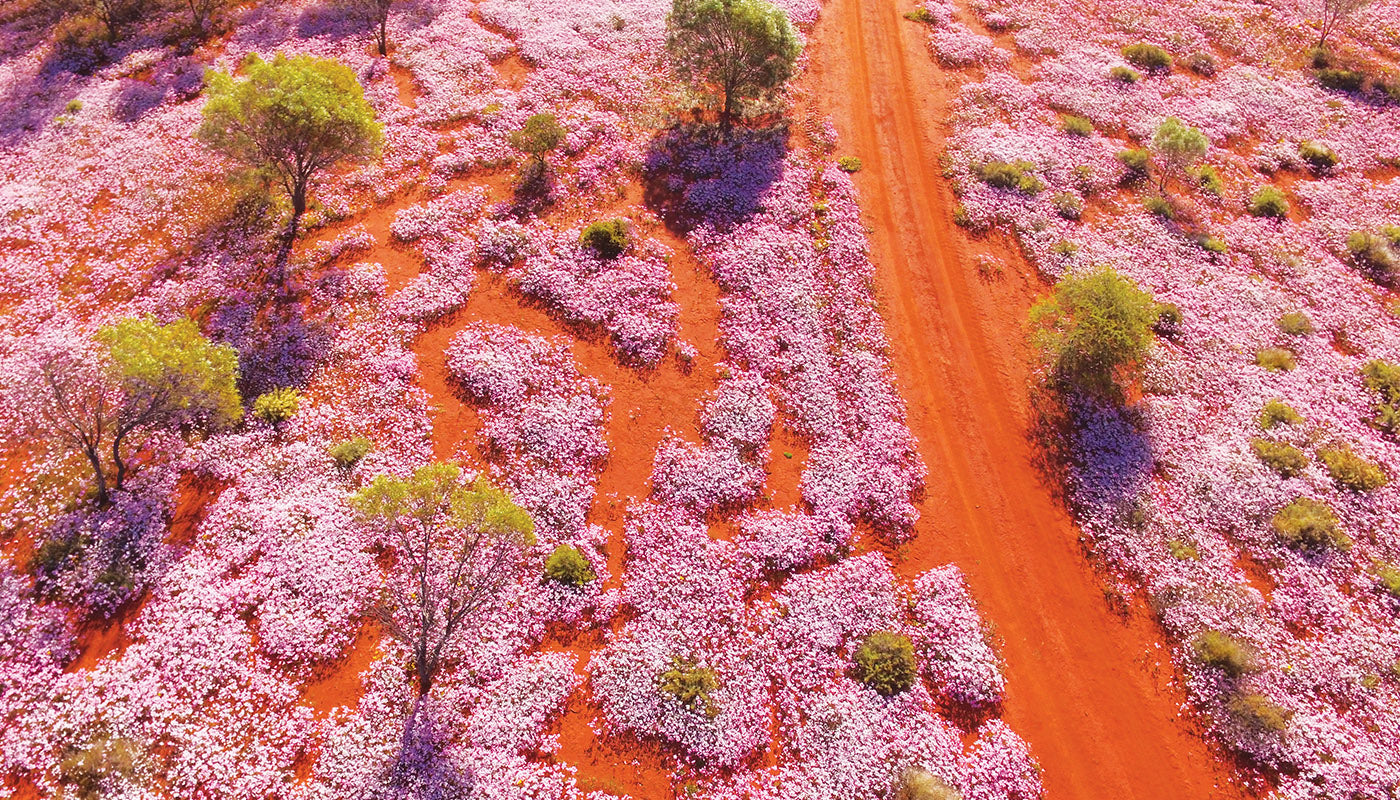 October 10 2019
·
The wildflower bloom in Western Australia is a majestic sight - with a wonderful fragrance.  The colourful fields showcase thousands of wildflowers native to the region - including a large number of endangered and rare species that are not found anywhere else in the world. 
The vivid display begins in the northern Pilbara region in June, extending south to Perth until November each year.  The wildflower bloom is dependent on rainfall and other climatic factors so you can expect some variation between flowering times and availability of certain species year to year.  
There are a number of wildflower trails across the state and we list a few below:
Pilbara Trail: Karijini National Park, Millstream-Chichester National Park, Cossack 
Karijini National Park is home to some of the oldest rocks on the planet - its landscape reveals four billion years of the Earth's history.
Millstream-Chichester National Park is rich in native flora - you can explore the River Red Gums, Coolabahs, and Candlestick Cassia.
Cossack is a town rich in history with restored stone buildings from the pioneer settlement.
Cape Range Trail: Charles Knife Canyon, Cape Range National Park
Charles Knife Canyon & Cape Range National Park. You can find Cape Range Grevilleas, Kurrajongs and Verticordias in bloom within the region with Rock Figs spotted along the Yardie Creek Gorge.
Northern Explorer Trail: Kalbarri, Francois Peron National Park, Murchison Region
Kalbarri National Park covers a large expanse of northern WA with gold and orange Banksia, Grevillea, Kangaroo Paw, Featherflower, Starflower, Smoke Bush and Eucalyptus on display.
Francois Peron National Park. Wander through fields of vivid wildflowers such as Hakea, Wattle, Dampiera, purple Pea and the Shark Bay Daisy.
Murchison Region. Look for Everlanstings and Golden Billy Buttons however the wildflowers are prolific within this area after good winter rains.
Everlastings Trail: Moore River National Park, Lesueur National Park, Mullewa and Coalseam National Park
Moore River National Park is home to the unique golden bloom of the Western Australia Christmas Tree.
Lesueur National Park is diverse with species of Honey Bush, Cork Mallee, Propeller Banksia, large magenta Starflower and teh Lesueur Hakeas.
Mullewa and Coalseam National Park hosts sprawling fields of Everlastings
Wave Rock Trail (the Central Wheatbelt): York, Hyden
York. Discover a variety of wildflowers such as Pygmy Sundew, yellow Hibbertia, Rosy cheeked Donkey Orchids, climbing Fringed Lily, Mouse Ears and Damperia.
Hyden. Numerous species of orchids along with Verticordi, Banksia, Mulla Mulla, Grevilleas, Sheoaks, Salmon Gum, Borree Gimlet and Mallee trees.
 Perth trail: Swan River, Kings Park, Botanic Gardens
There are multiple national parks located within the Perth hills area where you can see species such as Kangaroo Paws, Hakea, Grevillea, Wattle, Orchids and Peas.
Jarrahland Trail: Darling Range, Cape Leeuwin, Leeuwin-Naturaliste National Park, Yalgorup National Park
 Darling Range. Trek through the heritage listed Jarrahdale which offers a spectacular array of Wattle, Hakea, Hardenbergia, Chroizema and Verticodria wildflowers.
Cape Leeuwin is home to a scenic coastal trail with views of Vanilla Orchids, Wisteria, Clematis, Coastal Pimelea and Fan flowers.
Leeuwin-Naturaliste National Park. Spot Karri Hovea, trailing Clematis, yellow Cone Bush and Patersonia.
Yalgorup National Park. Look out for Fairy Orchids, Hovea and Cockies Tongue.
Esperance Trail: Lucky Bay, Fitzgerald River National Park, Narrogin
Lucky Bay is Australia's whitest beach home to wildlife such as pygmy honey possums, bandicoots and mobs of grey kangaroos along with multiple species of Banksia.
Fitzgerald River National Park is recognised by UNESCO as one of the most diverse botanical regions on earth with around 1800 species of flowers including Royal Hakea, Qualup Bell, Sepulcralis, Weeping Gum, Pincushion Hakea, Wooly Banksia and Bottlebrush.
Narrogin. Take a drive from Narrogin into the Dryandra Woodland to discover a plethora of native mammals as well as Golden Dryandra, Prickly Lamertia, purple Tangled Grevillea, pink and lemon Rainbows and Orchids.
To help plan your trip - the wildflower trails are listed on the Western Australia Tourism website.  The Western Australian Visitor Centre also has a Wildflower Tracker to help you find wildflowers that are blooming around the state - this is updated to give you an accurate guide of where the flowers are this year.
Read more
✕