A GUIDE TO HEALTHY TRAVEL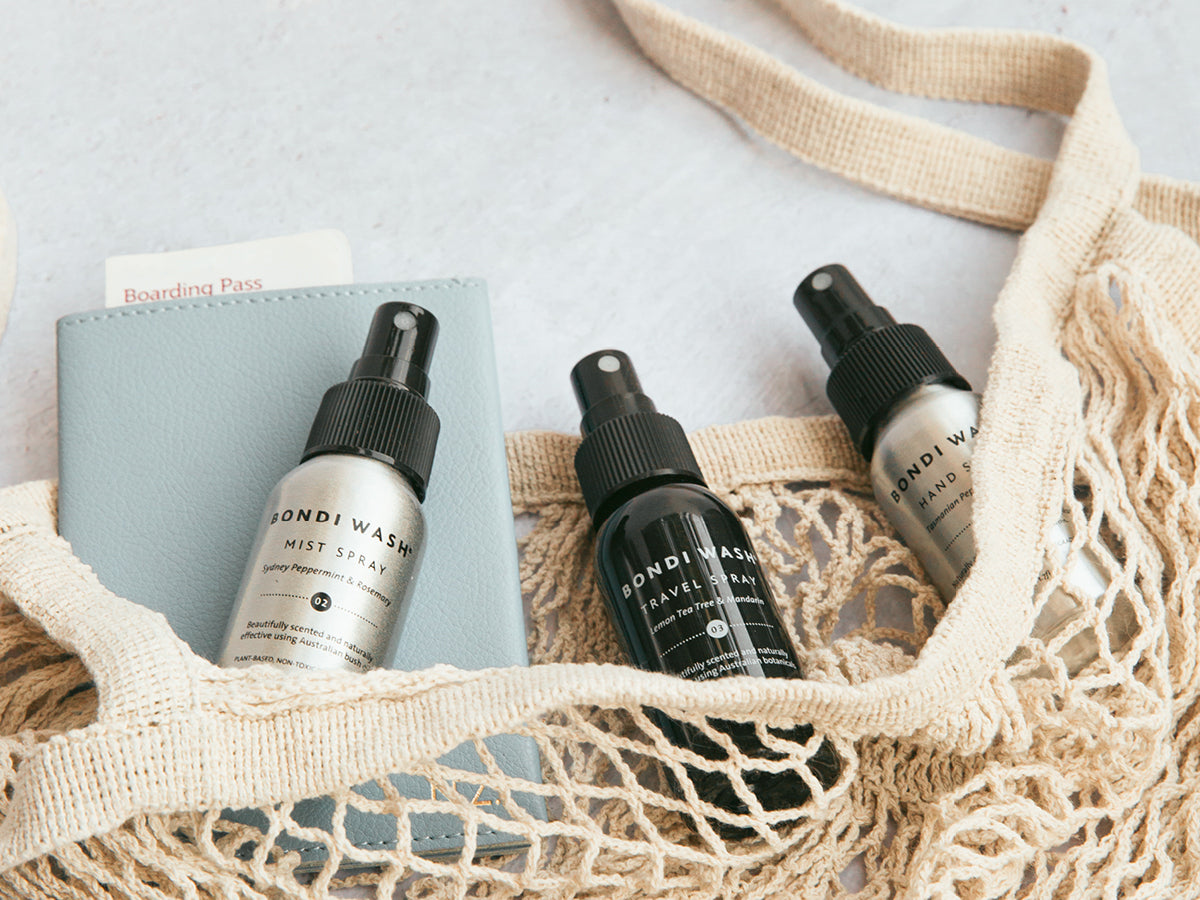 The world has reopened to travel and almost everyone is jetting off overseas - even many of our Bondi Wash team members.  But COVID-19 is still circulating and staying healthy while travelling can be difficult - we share our top tips for staying healthy on your travels.  
Preselect your seat
We recently discovered an interesting fact - passengers sitting in aisle seats are more likely to be exposed to viruses (1).  One of the likely reasons is that people walking up and down the aisle (coming back from the bathroom) hold the seats for support, thereby spreading germs.  When booking your next trip, try to be more selective and choose the window seat. 
Bring your own naturally anti-bacterial products
We're aware cleaning standards in some hotels (even 5-star ones) aren't up to scratch.  In one 5-star hotel in China, undercover cameras and UV light technology exposed staff using the same rag to wipe down toilets to clean other hotel room surfaces (even in luxury hotels like the Marriot and Four Seasons). Travelling can expose us to all sorts of hygiene and health risks, so we recommend packing a few of the Bondi Wash travel sized products.
1. The Hand Spray is naturally anti-bacterial - it sanitises and kills 99.99% of germs while being gentle on the skin and non-drying. 
2. The Travel Spray is multipurpose and can be used on clothes, luggage and other surfaces.  It meets the independent lab test 'kills 99.9% of germs' so bacteria that cause many travelling odours will be removed. 
3. The Deluxe Travel Box is a collection of natural products including the travel spray to help you stay fresh and germ free while travelling. 
4. The Home Getaway Bag features a selection of our best selling natural products to clean surfaces and kill germs naturally.
Support your gut health
Indulging in the local food scene while travelling is all part of the experience but supporting a strong and healthy immune system all begins in the gut.  Try choosing meals with lots of fruit and veggies – especially those high in vitamins that boost immunity like citrus fruits.  To support your gut, we also recommend taking the Beauty Chef's Inner Beauty Boost daily.  Our CEO and founder Belinda drinks it and swears by it - she's managed to avoid getting sick all through the pandemic.  There is a small 200ml bottle perfect for travelling.
Exercise daily to boost immunity
While exercise isn't the first thing on our minds while travelling, a quick 15-minute online yoga or HIIT session in the morning will put you in good stead for the day.  Meditation is also a great way to wind down in the evening.  My Yoga Works is a wonderful platform that offers a number of different yoga classes for all levels.
Don't forget your mental health
While travelling has countless benefits, it can also be stressful and disrupt our daily routines - impacting our mental health as a result.  There are many ways to reduce stress while travelling such as planning ahead, practicing mindfulness or finding time to relax.  One thing we have found helps is packing cells - which help to organise the contents of your bag.  These take all the anxiety out of packing and help us feel organised throughout our travels. 
Image source / 
Read more
✕