Our new Paddington store
October 29 2018
·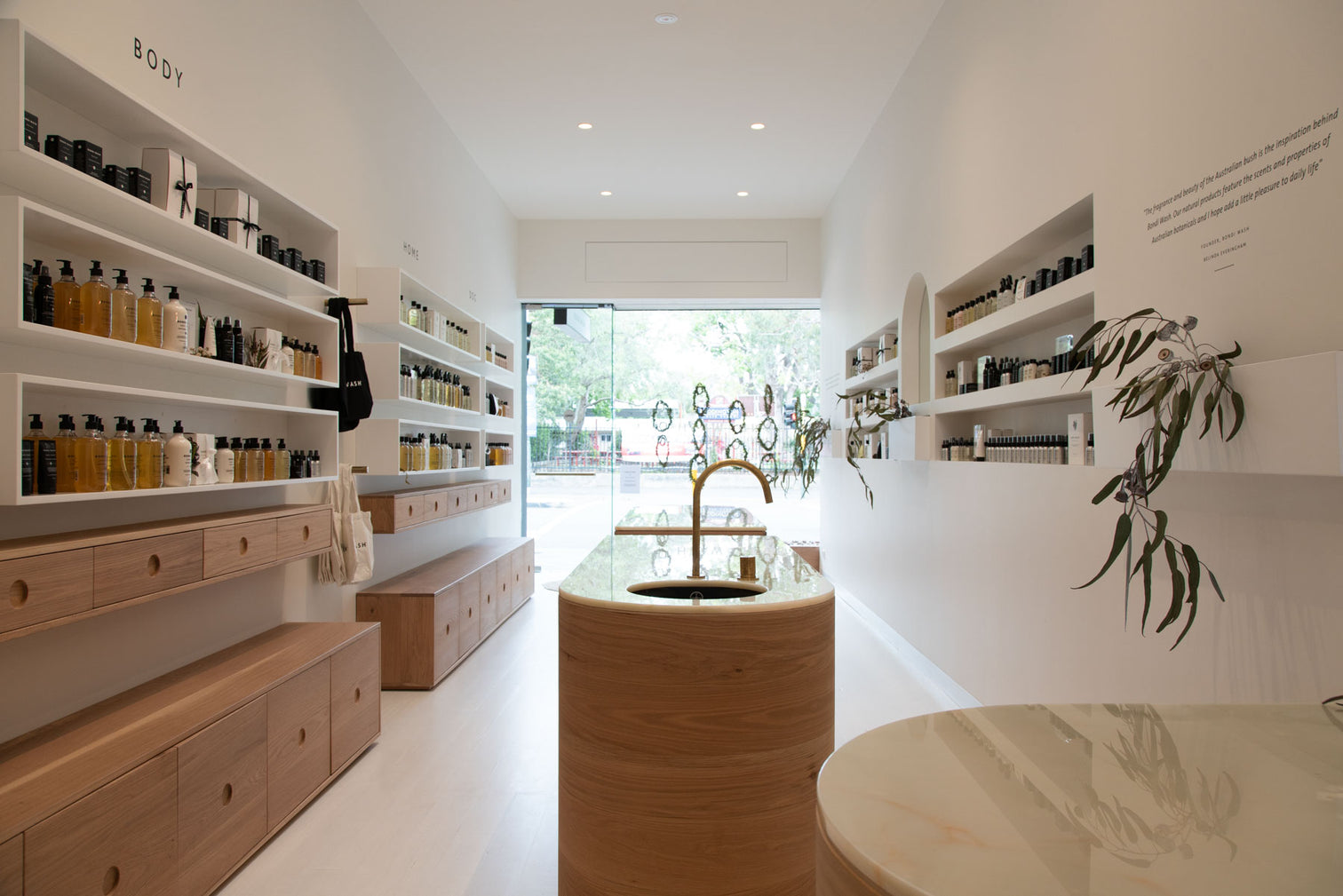 October 29 2018
·
The brief we gave Sasha White, one half of the design duo 'Mr & Mrs White' for the creation of our first flagship store in Bondi back in 2016 was 'an Australian interpretation of a French perfumery; warm and inviting; a place to feel welcome to test the scents and products without pressure to buy - a little like walking into Belinda's living room'.  Simple yet beautiful with natural tones, colours and materials to allow the Australian flora and products to shine.
Sasha's original design of our Bondi store we think captured the brief beautifully.  The store is constructed from a combination of white onyx (chosen to reflect the waves washing on the sand) and light maple, with black accent taps and a white concrete floor.  It's calm and fragrant and enables us to display the products and Australian botanicals without distraction.  It's simple and clean, yet warm and inviting.
For our Paddington store, we wanted to create a similar feel, but also wanted to reflect the sophistication and rich history of the Paddington area.
We approached Sasha tentatively, as earlier this year, not long after the birth of her third daughter Clay, she was diagnosed with bowel cancer.  We knew she was undergoing treatment and we of course did not wish to put any additional pressure on Sasha or her family (Mr & Mrs White is a family affair with husband Nathan White managing the creation side of the business and Joshua White overseeing the day-to-day operations).
Sasha had a 6 week window in between treatments, so agreed to help and we were thrilled. What you see in our new Paddington store is her vision.  We sourced a green onyx, reminiscent of a green pond or the grey/green tones of eucalyptus leaves.  And the timber chosen for the cupboards is oak.  You'll find planter boxes in the wall - perfect for displaying the sculptural foliage of the Australian bush.   Brass is featured throughout, in the doorway, in hooks, the tap and the lights, referencing the extensive use of brass back in Victorian homes in he early 1900s when Paddington was being settled. Archway shapes around mirrors, doorways in the furniture reflect the architecture of the era.
Quite bizarrely, we've recently discovered both Bondi Wash stores were once laundromats - which does seem fitting for our range of fragrant 'washes' and related products.  
We invite you in to both stores to experience our range of natural Australian scents. And both stores are also 'dog friendly' - dogs are always welcome.  
Sasha White is now undergoing her final chemotherapy treatment.  If you love simple yet beautiful furniture or homewares, please do offer your support via their online store or one of their retail locations in Manly or Dee Why.
396 Oxford St Paddington
02 8018 9883
76 Gould St Bondi
02 9365 5609
Read more
✕