Native Drinking: Lilly Pilly and Rose Gin & Tonic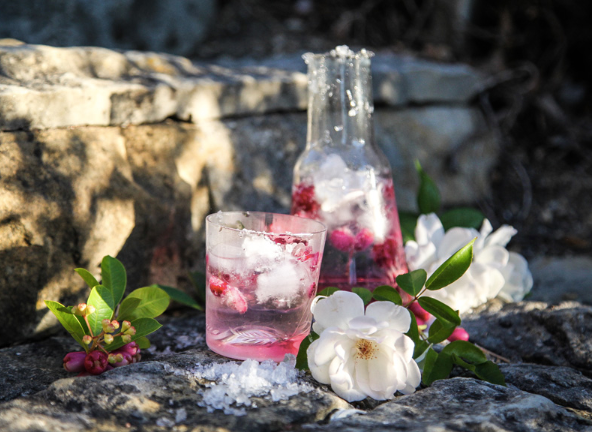 We discovered this little gem of a drink thanks to the abundance of lilly pilly berries around at the moment.  It's a wonderful way to add flavour and nutrients to the traditional G&T.  Thank you Good Looking and Cooking for the Lilly Pilly & Rose Gin & Tonic.
 Lilly Pilly and Rose Gin & Tonic
Serves 2
Small handful of lilly pilly berries
2 shots of good quality gin
1 shot rose syrup
2 limes, juiced
Tonic water to top up


Crush the lilly pillies (remove seeds if your variety has them) in a bowl using the back of a spoon, add raspberries for a sweeter alternative.  Don't crush too much - you want to be able to see fruity pieces.  Place roughly a tablespoon in the base of a cocktail glass or crystal whiskey glass.


Place the gin, lime juice, syrup in a cocktail shaker with ice.  Pour into glasses and top with tonic as desired.  Stir each cocktail, add a lilly pilly leaf, rose patel or mint leaf for added effect.
For a non-alcoholic alternative, replace the gin and tonic with soda water or lemonade.
Read more
✕