NATIVE PLANTS TO ATTRACT WILDLIFE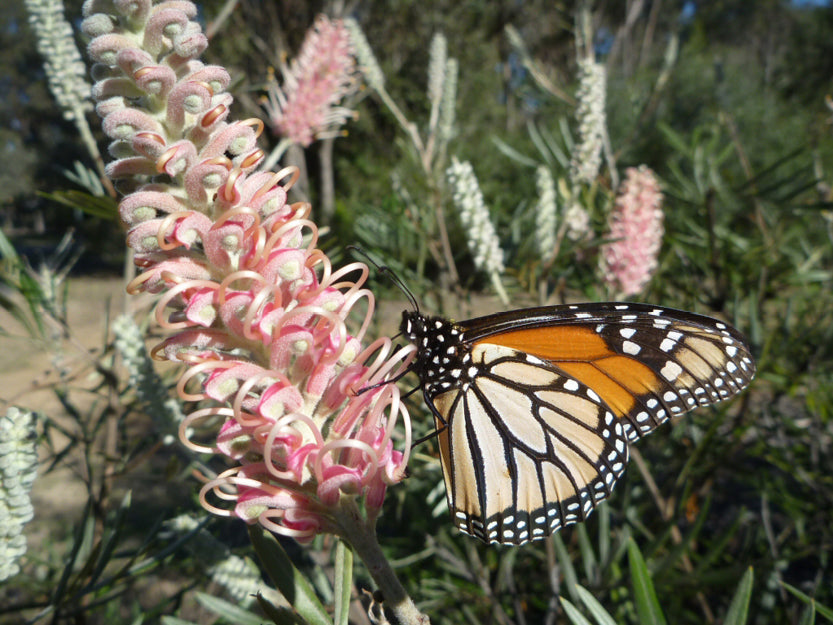 Creating an environment that attracts Australian wildlife to your garden is like inviting a piece of the bush into your own sanctuary. The presence of these creatures, both big and small, brings a unique sense of harmony and connection with nature. Our list of wonderful native Australian plants not only adds vibrancy to your garden but attracts a diverse range of wildlife, including bees and butterflies.
1. Bottlebrush (Callistemon spp.): With their bottlebrush-shaped flowers, these iconic Australian shrubs make excellent garden plants and provide the perfect home for a range of wildlife, including possums, flying foxes, lizards, insects and nectar-eating birds.
Source: gardenia.net
2. Banksia (Banksia spp.): Ranging from shades of yellow, orange, pink and red, the banksia will not only add a touch of colour to your garden but will attract many birds and small mammals.  Its flowerheads produce large volumes of nectar, making it an excellent plant to encourage native animals into the garden.
Source: foliagefriend.com
3. Grevillea (Grevillea spp.): The grevillea, also known as the spider flower, has hundreds of different species with unique foliage. Like the banksia, they come in a range of different shades and their long, tubular blossoms are great for attracting birds that feed on nectar such as wrens and honeyeaters.
Source: nativeplantproject.com.au
4. Kangaroo Paw (Anigozanthos spp.): Not only do these unique paw-shaped flowers make great cut flowers, they also provide a valuable food source for nectar-loving birds and bees.
Source: abackyardobsession.wordpress.com
5. Tea Tree (Leptospermum spp.): While more commonly known for producing aromatic essential oils, tea trees also attract native bees to the garden, who can't resist the abundance of nectar in their delicate flowers.
Source: gardeningwithangus.com.au
6. Wattle (Acacia spp.): Australia's national floral emblem, the wattle, is a favourite among many bird species. Their golden blossoms provide a feast for honeyeaters and parrots.
Source: austraflora.com Pam Goble
7. Eucalyptus (Eucalyptus spp.): As well as being home to Australia's most iconic animal, the koala, eucalyptus trees attract a variety of birds, insects and possums with the flowers they produce. They also impart a delicate fragrance of eucalyptus into the air.
Source: gardendrum.com Rodger Elliot
8. Paperbark (Melaleuca spp.): The dense foliage from Paperbark trees offers an excellent nesting site, while their blooms attract lorikeets, honeyeaters and parrots who feed on their nectar.
Source: gardeningwithangus.com.au

Main photograph source: gardeningwithangus.com.au
Read more
✕