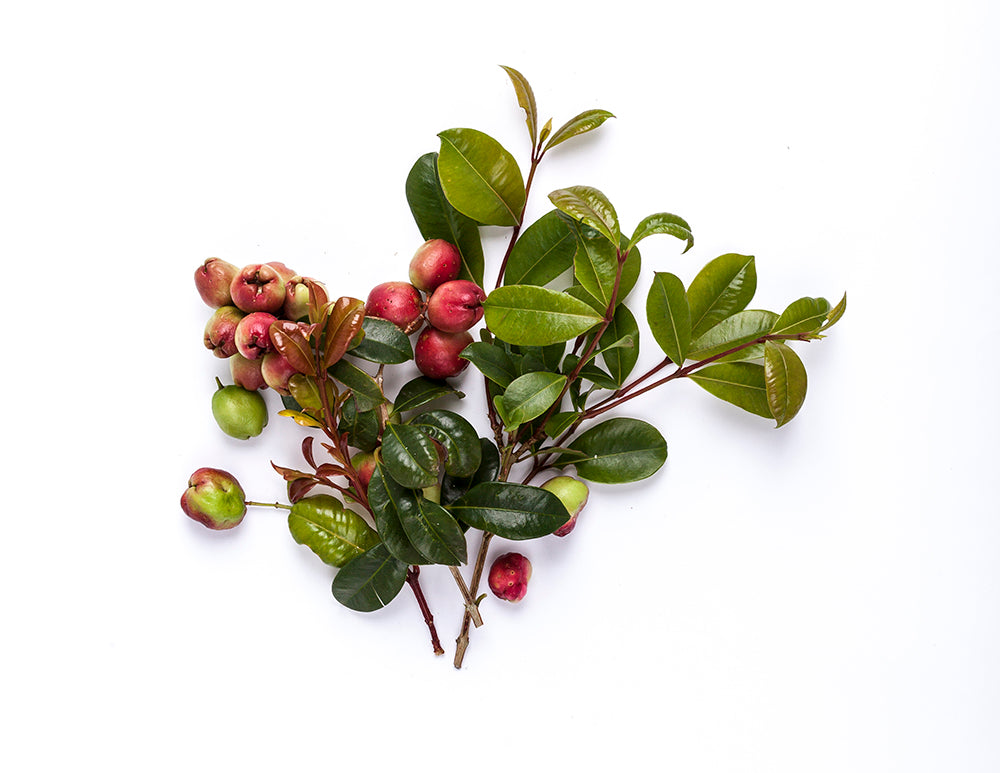 Native Australian botanicals such as kakadu plum, lilly pilly and lemon myrtle are garnering more attention in the beauty industry than ever before with research confirming their beneficial properties and multinational companies sourcing them for their products.  Yet, these botanicals have been used for generations by indigenous Australians for their powerful antioxidant, antiseptic and healing properties.  Lilly pilly is just one of the hero ingredients native to Australia that is being added to skin care products for its rejuvenating and healing properties.
Lilly pilly is a small shrub with vibrant berries ranging from pink to reddish brown and grown extensively throughout Australia.  It is actually an edible berry with a flavour often described as close to cloves or cinnamon but with a starchy, metallic aftertaste.  It is commonly used in cooking with appearances in baked goods and jams.  Aside from its use in cooking, lilly pilly is also incredibly nourishing for the skin and was even used by indigenous Australians to heal and clean the skin as well as nourish the body with it's high vitamin C content.  Vitamin C is used extensively in anti-ageing skin care products due to its ability to increase skin cell turnover and reveal fresh, youthful skin underneath.  On top of its naturally high vitamin C content, lilly pilly is rich in anthocyanins which are a type of compound found in red and purple pigmented produce.  Studies have shown that plants have naturally developed these rich tones to protect them from oxidative stress related to sun damage!  What this means for us is that anthocyanins are powerful free radical scavengers which have been shown to prevent premature ageing from sun exposure.  They are also anti-viral and anti-inflammatory which is great for sensitive as well as acne-prone skin.  Lilly pilly is truly a potent ingredient that has been shown to be incredibly nourishing and protective for the skin. For this miracle ingredient you can believe the hype!
You can find nourishing lilly pilly extract within our Hand Cream, Hand Lotion, Cleansing Shampoo and Cleansing Conditioner.
Read more
✕