THINKING OF THE ENVIRONMENT THIS CHRISTMAS
November 19 2019
·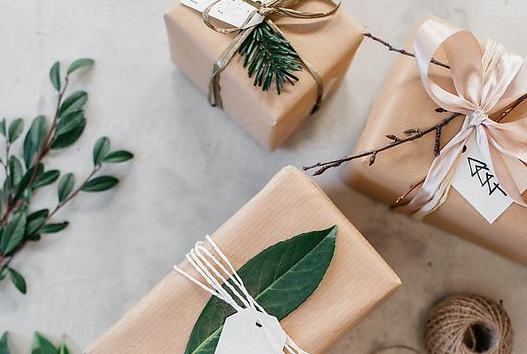 November 19 2019
·
There are many ways to think of the environment this Christmas - we've listed a few ideas below on how to reduce your impact this festive season. 
1. Avoid excess waste.  Unfortunately printed and foil/plastic wrapping paper cannot be recycled.  You can create beautifully wrapped gifts using kraft paper and re-usable ribbons and decorations.  We particularly like adding a sprig of foliage or a gum nut as a way to decorate gifts.
2. Re-use Christmas decorations.  All Christmas decorations should be re-used every year including tinsel, fairy and LED lights, plastic baubles and plastic Christmas trees.  You can even buy a real Christmas tree every year that can be added to the green bins in January.  
3. Shop local or better yet - locally made artisan products.  Many gifts found in department stores come from half way around the world with transportation contributing significantly to greenhouse emissions and global warming.  Try to find thoughtful gifts from local artisans and support brands with locally-made products.
4. Avoid non-recyclable plastic.  There are many toys and games that are plastic-free and still fun for kids.  Try to avoid excess plastic that cannot be recycled and contributes to landfill.
5. Reduce food waste.  It's easy to go overboard on Christmas day however planning your menu in advance and only buying what you need is a great way to avoid excess waste.
6. Avoid paper napkins and throw away tableware.  Unfortunately paper napkins cannot be recycled as they are often contaminated with food - consider using washable napkins in natural fibres such as cotton or linen.  Plastic cutlery, plates and straws are also a large contributor to landfill - try to get the whole family to help with washing up after lunch!
Read more
✕