THE INGREDIENTS WE AVOID IN OUR NATURAL SHAMPOO AND CONDITIONER
October 9 2019
·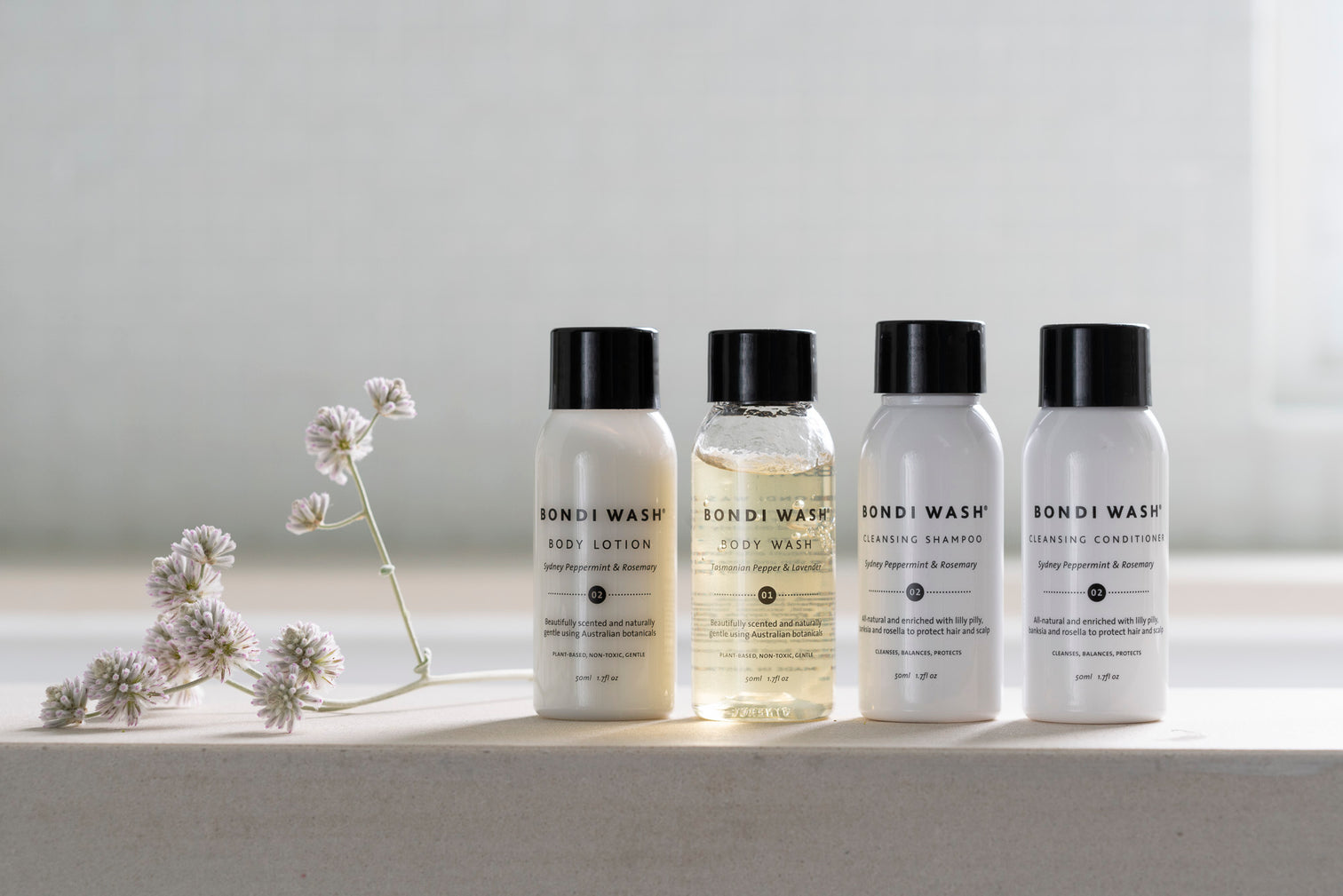 October 9 2019
·
Like all Bondi Wash products, our shampoo and conditioner are free from synthetic ingredients such as Sodium Lauryl Sulphate (SLS), Sodium Laureth Sulphate (SLES), silicones, parabens and phthalates.  Below we explain why we choose to avoid these ingredients in particular:
Sulphates (SLS and SLES) are harsh surfactants derived from coconuts.  While this may sounds natural, they are heavily processed and extremely damaging for skin and hair.  Sulphates strip the scalp of natural oils which depletes moisture from hair strands as well as the scalp. This causes the scalp to overcompensate oil production, meaning the hair is oilier at the roots and extremely dry on the ends. 
Silicones are synthetic materials that are used in commercial hair care products to add shine and hydration.  They coat the individual strands of hair with a substance similar to plastic which is thought to lock moisture in.  The problem with silicones is that they aren't water soluble.  They build up on the hair which means that conditioner and hydrating products can't penetrate the hair shaft.  The only thing that can strip silicones from hair are sulphates which causes a vicious cycle and ultimately damages hair.  
Parabens are well documented hormone disrupters and are unfortunately present in thousands of beauty and hair care products.  Parabens are quickly absorbed through the skin including the scalp and accumulate in the body.  The biggest concern is their oestrogen mimicking behaviour which some studies have linked to be carcinogenic.  
Phthalates are another well documented toxin which have been shown to cause defects in male reproductive systems in studies on animals.  Unfortunately, they are heavily used in cosmetics despite being regulated in Canada and the EU which have completely banned their use to protect consumers.  The danger with phthalates is that they are able to be absorbed by the skin from the scalp but also through inhalation which doubles the risk of overexposure.  They also accumulate in the body.  
Read our journal article covering endocrine disruptors.
Read our journal articles on the ingredients that we choose to avoid, sulphates, sillicones, and phthalates.
Read more
✕