THE ACTIVE INGREDIENTS IN OUR NOURISHING SHAMPOO AND CONDITIONER
October 9 2019
·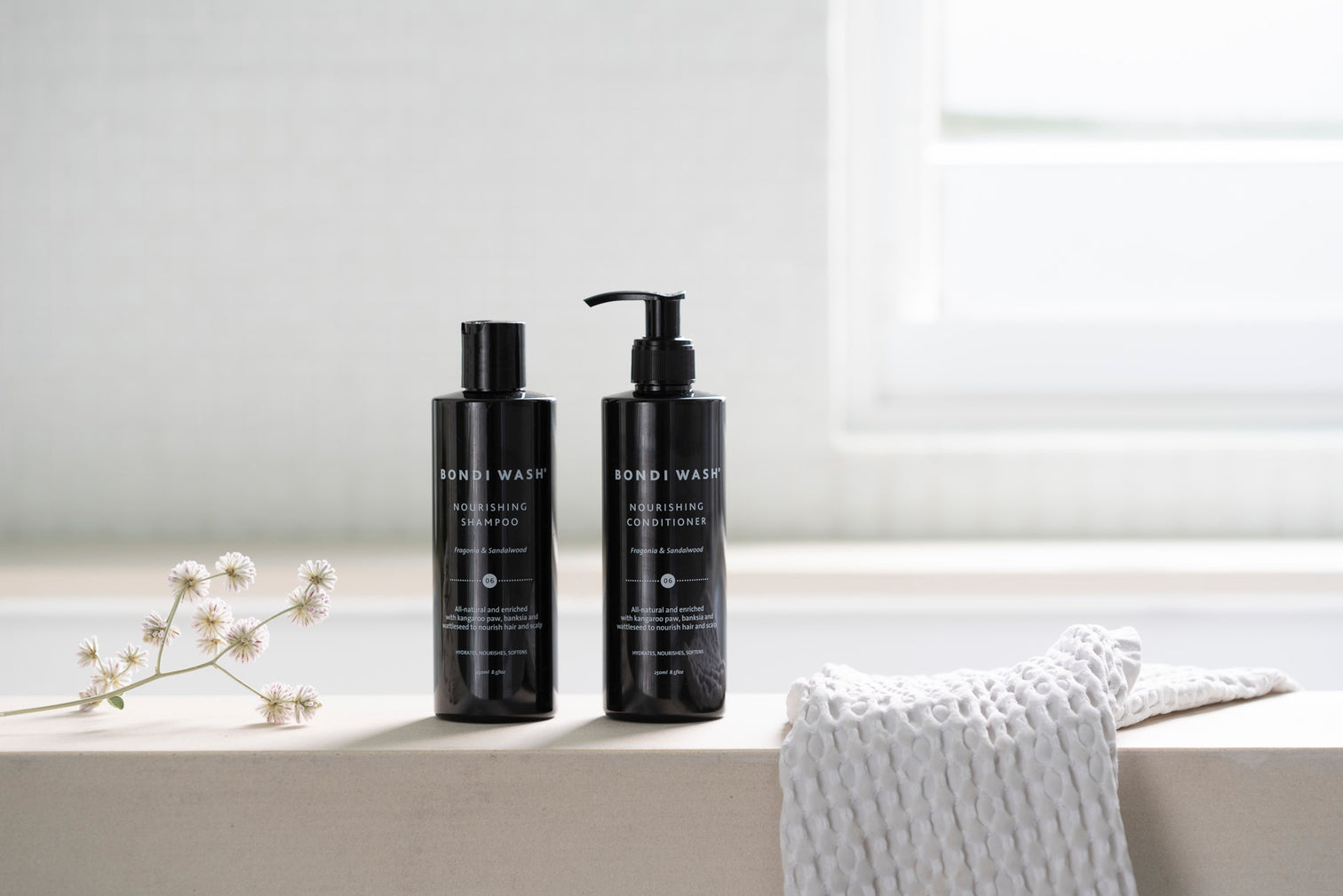 October 9 2019
·
Our natural shampoo and conditioner contain a number of Australian active ingredients that are beneficial to the hair and scalp.  The nourishing hair range has been developed for normal to dry hair enriched with kangaroo paw, banksia seed and wattleseed, along with natural extracts of wheat protein and carob.
Kangaroo Paw (Anigozanthos manglesii) is full of essential fatty acids including linoleic acid which are the building blocks of healthy cell growth.  Linoleic acid is a holy grail ingredient known for its ability to strengthen the skins' barrier and lock moisture in to skin and hair cells.  As our bodies can't naturally make this essential fatty acid, linoleic acid needs to be applied topically in order to receive its full benefits.  
Banksia (Banksia serrata flower extract) is a hero ingredient which is deeply restorative for the hair.  Banksia flower is full on amino acids which are organic compounds found in the skin and hair - often referred to as the building blocks of protein.  Protein is absolutely vital for strong hair as hair follicles are essentially made of mostly protein.
Wattleseed (Acacia victoriae seed oil) is naturally high in essential fatty acids.  Studies have shown that essential fatty acids are good for damaged hair as they nourish the scalp and reinforce the hydro-lipid layer to protect hair.
Wheat protein (Hydrolysed wheat protein) is highly restorative as it is able to deeply penetrate the cortex of the hair.  The protein has been found to act similarly to an adhesive - it fills the voids that form in damaged cuticles and seals them with a film.  This function seals in moisture and prevents damage as well as promotes a silky feel.
Carob (Hydrolysed ceratonia siliqua seed extract) is an often overlooked powerhouse ingredient for hair.  It is naturally chock full of Vitamin E which is incredibly nourishing for the scalp and hair as well as aiding hair growth.  Studies have shown that Vitamin E widens the blood vessels on the scalp, thereby stimulating the growth of hair follicles.
Like all Bondi Wash products, the Nourishing Shampoo and Nourishing Conditioner are free from synthetic ingredients such as Sodium Lauryl Sulphate (SLS), Sodium Laureth Sulphate (SLES), sythetic fragrance, silicones, parabens and phthalates.  Read our journal article covering the ingredients that we choose to avoid.
Read more
✕