NATIVE FOOD MONTH: TAMARIND AND THYME CRÈME BRÛLÉE
September 21 2019
·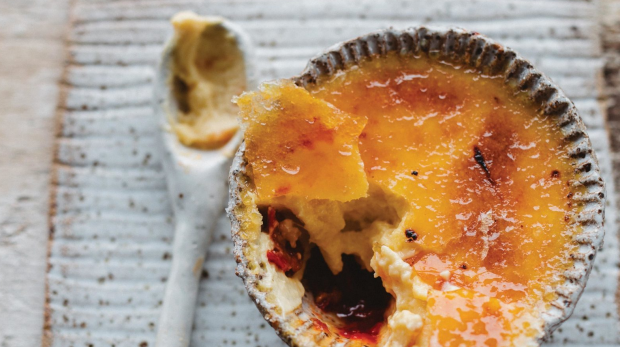 September 21 2019
·
INGREDIENTS
250g boonjie tamarind, chopped
1 cup caster sugar
¼ cup water
¼ cup orange juice
500ml double cream
1 teaspoon vanilla essence
6 sprigs of native thyme
6 egg yolks
¼ cup caster sugar, extra, for sprinkling
2 sprigs native thyme, for garnish (optional)
METHOD:
Preheat oven to 180°C. Place tamarind, ½ cup sugar, the water and orange juice in a small saucepan over high heat. Bring to the boil. Reduce heat to medium and cook for 18-20 minutes, stirring occasionally, until the consistency is thick and jammy.
Spoon into the base of 4 x ¾ cup heat-proof ramekins or dishes. Place cream, vanilla essence and thyme sprigs in a medium saucepan over high heat. Bring to the boil.
Reduce heat and simmer for 5 minutes. Remove thyme.
Place egg yolks and the remaining sugar together in a bowl and whisk. Pour cream mixture into egg mixture and whisk. Pour back into the saucepan, heat over low heat and cook for 4 minutes or until thick.
Carefully pour into ramekins. Place in a baking dish and pour boiling water into the baking dish to about halfway up the ramekins. Bake for 15-20 minutes, or until just set. (The brûlée should have a slight wobble.)
Cool at room temperature. Refrigerate for 2 hours or until cold. Sprinkle with extra sugar and torch the tops with a kitchen blowtorch until golden and caramelised.
Serve immediately.
Note: If you don't have a kitchen blowtorch, preheat oven grill to high. Place ramekins under grill for 30 seconds to 1 minute, or until tops are golden and caramelised.
Native recipe and image supplied by Rebecca Sullivan and Damien Coulthard of Warndu.
Read more
✕