NATIVE FOOD MONTH: Roo bolognese and lemon myrtle pasta by Warndu
September 4 2019
·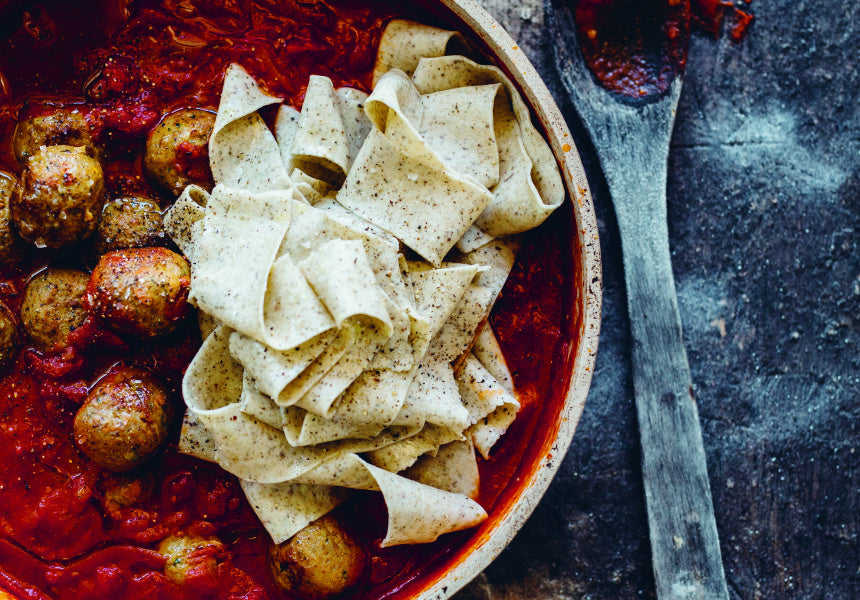 September 4 2019
·
Ingredients
For the roo bolognese:
1kg kangaroo mince 
1 cup breadcrumbs 
1⁄2 cup sea parsley, chopped 
2 tsp sea rosemary, chopped 
2 free-range eggs 
3 garlic cloves, crushed 
1⁄2 cup grated parmesan plus extra to serve 
Salt and pepper, to taste 
Oil, for frying 
1 onion, diced 
2 x 400g tins tomatoes 
500ml passata 
Drizzle of wattleseed balsamic vinegar 
Splash of Worcestershire sauce 
1 tbsp barbeque sauce 
1 bunch of wild basil, leaves picked 
For the lemon myrtle pasta:
140g good quality plain flour 
1 tbsp ground lemon myrtle 
140g hard wheat semolina 
2 large free-range eggs
 
Pinch of salt
Method:
For the roo bolognese:
Start by making the meatballs. In a large bowl, combine the mince, breadcrumbs, sea parsley, sea rosemary, eggs, 2 garlic cloves, parmesan, and salt and pepper.
Roll into balls using about a tablespoon of mix at a time. Place on a tray and chill in the fridge for at least 1 hour. Remove from the fridge 30 minutes before cooking and roll in a little oil prior to cooking.
Heat a large frypan to high heat. Fry the meatballs in small batches until golden brown on all sides. Set aside.
In a large saucepan over medium heat, cook the onion with a pinch of salt until soft. Add the remaining garlic clove and cook for another minute. Add the tomatoes and passata along with the balsamic vinegar, Worcestershire and barbeque sauces and cook over medium–high heat until it begins to reduce, around 20 minutes.
Return the meatballs to the pan with half the basil and cook for another 10 minutes. Serve with the pasta and the remaining basil and sprinkle with parmesan.
For the lemon myrtle pasta:
In a large bowl, mix the flour, lemon myrtle and semolina with your hands. Make a well in the centre and crack in the eggs, then add the salt. Mix to a dough then turn out onto a floured surface. Knead for up to
5 minutes, or until smooth. If the dough feels too dry while kneading, add a few drops of water as necessary. If too wet, add a little more flour. Cover the dough with a tea towel and leave to rest for 1 hour.
If you have a pasta machine, follow the instructions to make tagliatelle. If not, use a rolling pin to roll the dough into very thin sheets and cut into strips 1cm wide and about 20cm long.
Cook in boiling salted water for a few minutes, or until al dente.
Recipe and image supplied by Rebecca Sullivan & Damien Coulthard of Warndu.
Read more
✕