ON OUR BOOKSHELVES THIS SUMMER
December 7 2021
·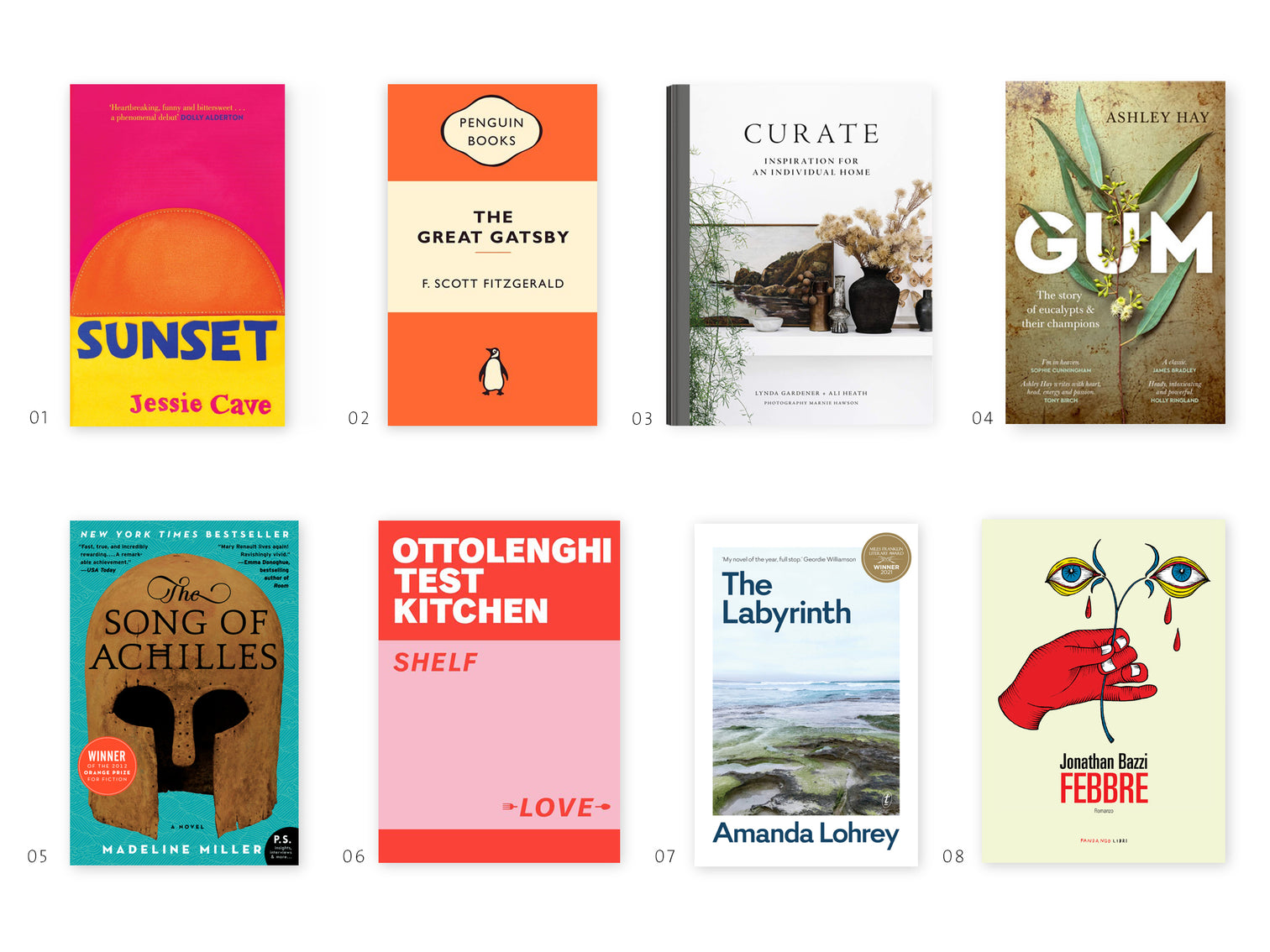 December 7 2021
·
Over summer we'll be picking up a paperback or making headway with a hardback as we take time to read works by some of our favourite authors.
01.  Sunset by English actress, comedian and author, Jessie Cave follows the story of two sisters and a life changed forever one summer holiday.  A bittersweet exploration into the bonds of sisterhood and the reformation of life when the world comes crashing down.
02.  The Great Gatsby by F. Scott Fitzgerald is a timeless classic set in America amongst the glittering parties of the 'Roaring Twenties'.  The story follows the life of a wealthy, good looking young man, who despite his fortune and social status, yearns for a life beyond his reach.
03.  Curate by Victorian-based interior stylist, decorator and retailer, Lynda Gardener is a collection of highly-coveted secrets on how to achieve Lynda's signature style – an eclectic mix of vintage, antique and contemporary finds.
04.  Gum, The story of eucalypts & their champions by Ashley Hay is a detailed and passionate exploration into these iconic trees, their contribution to our landscape, their powers and potential.
05.  The Song of Achilles by Madeline Miller is an epic tale of friendship between two young men and the path that eventually leads them to fight in the Trojan War.  A story of love, loyalty and a battle between gods and kings.
06.  Yet another indispensable cook's companion, Yotam Ottolenghi's Test Kitchen: Shelf Love is full of recipes that call for humble pantry ingredients, resulting in delicious meals that can be rustled up in no time.
07.  Winner of the 2021 Miles Franklin Literary Award, The Labyrinth by Tasmanian author Amanda Lohrey is the story of a woman, deep in personal trauma, seeking a way to build a maze as a means to navigate her troubles.
08.  Febbre by Jonathan Bazzi is a personal account about life growing up in Rozzano, Italy.  Bazzi details his life raised by his grandparents amongst the working class, junkies and criminals and the eventual HIV diagnosis that inspired this powerful story.
Read more
✕