Naturally Inspiring: Jonas Allen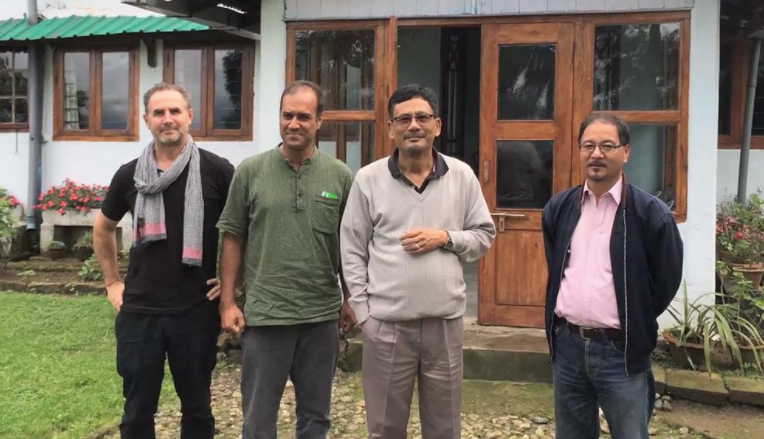 Jonas Allen has a long history with creativity, having been involved in the creation of the brand Mambo.  An industrial designer, Bondi local, and health advocate, he has drawn on his passions and his heritage to launch The Organic Tea Project.  He is pictured on the left above and answers our questions below:
Have you always been a creative entrepreneur? When did this part of your career start?
I would say I have always been an entrepreneur, from lemon juice stands when very young to studying industrial design I have always as my first turn looked at working for myself and starting things that I am passionate about.
How did the concept for The Organic Tea Project originate?
I grew up in India and tea drinking is a daily ritual. The early morning strong chai, a 10am break and a 3pm break formed a love of tea and particularly chai. A close friend of mine that I grew up with started consulting with a third generation tea plantation owner to help move their tea to certified organic. Over the years we enjoyed drinking some of the best teas in the world from Darjeeling and Assam and amazing green teas. A serendipitous moment in our design studio with one friend needing tea and a professional tea blender hot desking next to me led us to go 'let's start this'.
Why is it important to choose organic in tea?
Tea is a relatively simple process of withering and roasting the leaves. The pesticide sprayed on tea leaves has no opportunity to even wash off many times and once you experience that you would never choose to drink non organic tea.
What are some of the things that you love about living and working in Bondi?
I would say the beach but I recently have been so busy I rarely get down there. I love the young happy beautiful people that are everywhere. Our studio is on Hall street that has gotten more energy every year. Love it here.
Can you share with us some of the natural choices you make in your life – for your health or for the environment?
A small health scare a year ago bumped me into a daily 5:45am ritual of a 20 minute meditation and a 20 minute yoga which I love and our chickens that eat every small food scrap makes me smile on Tuesday bin night as we literally don't have a red bin to take out.
How do you maintain energy and enthusiasm to run a creative business?
I grew up in a community that focused on constantly learning. I think this has carried through to always keep me interested as each project creates new things to learn and master.
Which is the best selling project in your range?
We really tried hard to get an amazing BREAKFAST blend, something like 40 blends before we were happy and that effort paid off with it being our biggest seller. Second in line is Apres Meal that Jonny crafted over a year and we all love.
Do you have any local secrets to eat, drink or swim in Bondi you are willing to share with us?
We are working with The Well on Campbell parade at the moment and maybe not a secret anymore but love the food, atmosphere and the people.
Do you have a favourite Bondi Wash product?
The bench spray is held in high regard with our household.
Read more
✕