Naturally inspiring: Jacqueline Alwill
February 23 2018
·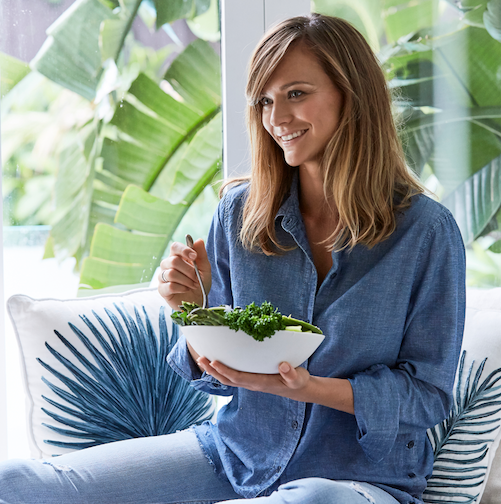 February 23 2018
·
Jacqueline Alwill is an inspiration to us. A mum, an entrepreneur, a TV presenter and model, Jacqueline has built the wholefood catering company Brown Paper Nutrition from its origins at the Bondi markets back in 2012 to now catering for some of Sydney's finest events and helping improve our health and wellbeing through sharing her natural recipes.  We were so happy she agreed to answer our questions about her natural life.
We hear the term natural used loosely these days and there are many choices behind it. Can you share with us some of the main ways you choose to 'live a natural life'?

Oh there are so many great ways you can and each day I try to do just a little more, however for now I…
eat a wholefoods diet - primarily vegetarian with some fish
whenever possible try to get out into nature, hiking, big long walks, a dip in the ocean and simply kicking off my shoes and connecting with the earth
use natural botanical skin and body care and minimal make up
try to give back to the earth however I can be it composting, gardening, recycling, or simply being amongst it to appreciate what natural beauty there is surrounding us.
As a mum, what do you think are the most important 'natural ways' to pass on to the next generation?
I'd say encouraging the next generation to minimise instead of consume. It's so easy for them/ us to be caught in a web of consuming consuming consuming because information and technology overloads us, but the one thing I want to see my little boy do is to step away from that, consider and be grateful for what he has before him and work through ways to always give back.
Do you have any beauty rituals or secrets you can share?
Gosh, nothing that might break the news I think! I have become much better with my beauty and skin care rituals over the years and with age - ensuring I cleanse morning and night, using a sun cream when exercising outdoors, giving lots of love to my digestive system so that the care shows from the inside out and the oldest trick in the book - drinking plenty of water.
What are some of the things that you love about where you live?
Fortunately I live in one of the most beautiful cities in the world - Sydney - and more specifically in Bondi Beach. Whilst sometimes I find the busy-ness of Bondi a little intense, it only takes a walk to the beach to feel refreshed and appreciative of what I am surrounded by.
Can you share with us your strongest scent-based memories?
Salt in the air from the ocean on our way home from school.
My mum's warmth, cuddle, smell and the fragrance that drifted from her hand cream each night as she would gently massage it into her hands.  
 Do you have house care/cleaning tips for around the home that you can share with us?
We generally use eco friendly products which are purchased rather than home brewed, ask me about home health remedies though and I can go on for hours!
Which is your favourite Bondi Wash product?
The Bench Spray. I LOVE it!!
What does your ideal weekend look like?
Early morning walk with the sun rise, a swim in the ocean, home cooked breakfast, a surf with my little boy, snuggles and snooze on the lounge, dinner out and about locally or somewhere new and inspiring, diving into a good book and more cuddles to end. That's what our holidays were recently, we're still working on making that our weekends! 
What is the best piece of advice you have been given, or a saying that you like to live by?
You are only as young as your mind is open and your spine is flexible. Passed onto me by a yoga instructor in Bali and kept very close ever since.
Read more
✕