Native Eating: Carpaccio Kangaroo with Beetroot and Native Fruit
September 21 2018
·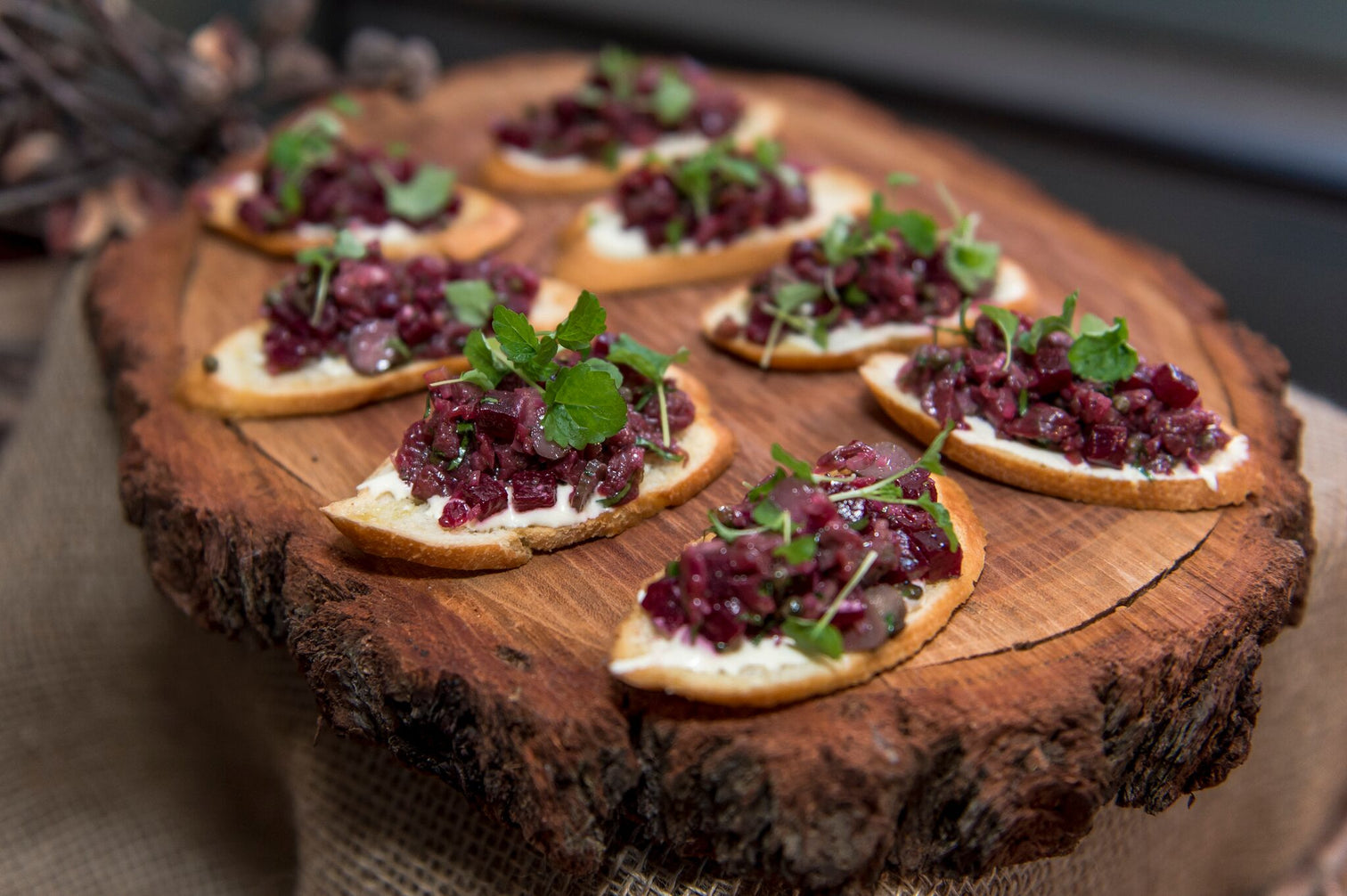 September 21 2018
·
These carpaccio kangaroo, native pepper berry, beetroot confit and horseradish baguettes were a hit at The Great Australian Graze presented by Endeavour Tap Rooms.  We lightly seared the kangaroo as a variation.
This native recipe celebrates the wild and wonderful flavours of Australia and has kindly been shared with us.
Ingredients
500g x kangaroo loin
1 x large beetroot
1 x medium baguette
1 x tablespoon dried pepper berries
2 x peeled eschalots
½ bunch thyme
3 x garlic cloves
½ x bunch flat leaf parsley
40g x washed baby capers
50g x cornichons (pickled cucumbers)
½ punnet micro lemon balm (optional)
½ x tablespoon horseradish relish
4 x tablespoon sour cream
200ml x extra virgin olive oil
Sea salt & pepper to taste
Recipe Method
To start, slice baguette at an angle 2mm thick.
Lay on baking tray. Sprinkle with olive oil & bake at 160c for 6-7 mins till golden and crispy. Place aside to cool.
Gently combine horseradish with sour cream & set aside
With a sharp knife finely dice the kangaroo loin & set aside.
Cover unpeeled whole beetroot with water in a sauce pan.
Cook beetroot very gently on the simmer till the beetroot can be pierced easily all the way through with a skewer. This will take approximately 2 hours.
Cool beetroot in the water. Once cool, peel beetroot and carefully dice into 3mm squares.
In a small heavy based sauce pan. Cover diced beetroot with 150ml of olive oil, garlic cloves & thyme. Place in oven at 50c or 2 hours for infusing of flavours. Place aside to cool.
Gently toast pepper berry on stove top & then grind finely with a mortar & pestle.
Finely dice eschalots, parsley & slice cornichons into thin round discs & set aside
Lightly sear kangaroo loin
Combine all ingredients with salt & pepper & 50 ml of olive oil.
Gently smear a small amount of horseradish sour cream on base of baguette, place a ½ tablespoon of kangaroo mix onto baguette & garnish with lemon balm.
Recipe makes approximately 25 canape sized bites.
Read more
✕