NATIVE EATING: SNAPPER WITH NATIVE SPICED BROTH
October 21 2020
·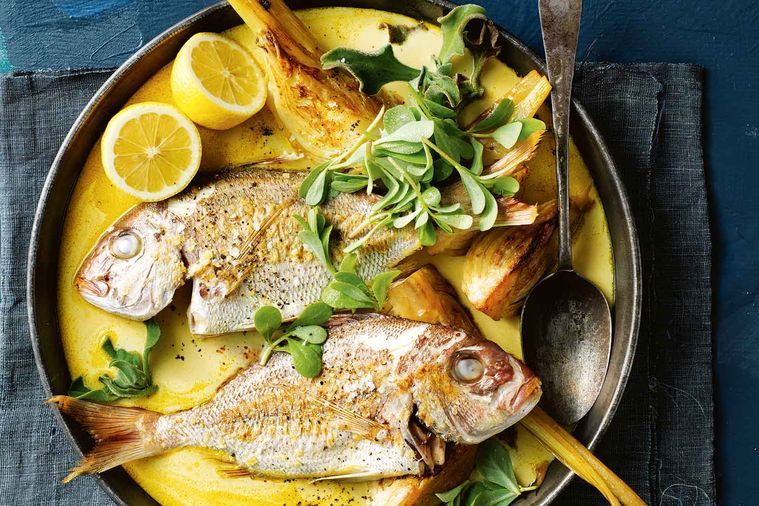 October 21 2020
·
We share a native recipe with a warming broth featuring spicy pepper berries and fresh Lemon Myrtle leaves.  You can also substitute the whole fish for individual fillets if you would prefer. 
Ingredients
100ml extra virgin olive oil
2 fennel, cut into sixths
200ml fish stock
1/4 cup (60ml) white wine
2 x 500g whole snapper, cleaned
Ice plant sprigs and purslane sprigs (edible succulents – substitute watercress and flat-leaf parsley), to serve
For the native spiced broth
2 tbs extra virgin olive oil
4 garlic cloves, thinly sliced
2 onions, chopped
2 tsp curry powder
1/2 tsp loosely packed saffron threads
3 tsp fennel seeds
2 tsp pepperberries (Australian native pepper – substitute black pepper)
2 tsp yellow mustard seeds
1.2L fish stock
1 cup (10g) bonito flakes (from Asian food shops)
1/4 cup (60ml) pure (thin) cream
6 fresh lemon myrtle leaves (optional)
Juice of 1/2 lemon, plus extra lemon wedges to serve
Method 
For the native spiced broth, heat oil in a large saucepan over medium-high heat. Add garlic and onion, and cook, stirring occasionally, for 8 minutes or until softened but not coloured. Add curry powder, saffron, fennel, pepperberries and mustard seeds, and cook, stirring constantly, for 1 minute or until fragrant. Add stock and bonito, reduce heat to low, cover and cook, stirring 3 times, for 2 hours to infuse. Stir through cream, lemon myrtle, if using, and lemon juice. Stand for 2 minutes to infuse, then strain through a fine sieve into a clean saucepan. Cover and keep hot until needed.

Preheat oven 200°C. Grease a baking tray and line with baking paper.

Meanwhile, to make the braised fennel, heat 1/4 cup (60ml) oil in a large, deep frypan over high heat. In 2 batches, cook fennel for 2-3 minutes each side or until dark golden. Return all fennel to pan, add stock and wine, and bring to a simmer. Reduce heat to low, cover and cook, turning fennel halfway, for 20 minutes or until tender.

To cook snapper, heat remaining 2 tbs oil in a large non-stick frypan over high heat. Season snapper with 1/2 tsp salt flakes and, working in batches if necessary, cook for 2 minutes each side or until golden (line pan with baking paper if fish is sticking). Transfer to prepared tray and roast for 8-10 minutes or until just cooked through.

Pour hot broth into a large shallow serving dish, top with drained fennel and snapper, and scatter with ice plant and purslane. Serve with lemon wedges.
Recipe by Ally Waddell and Peter Hardwick.
Read more
✕