Native Eating: Quince & Lemon Myrtle Syrup Cake
April 18 2019
·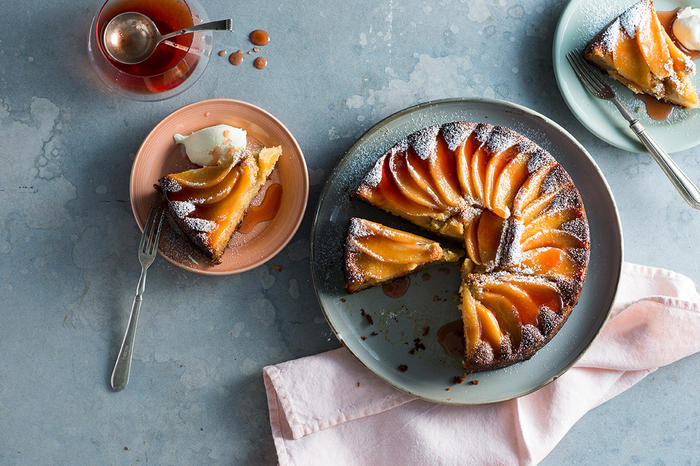 April 18 2019
·
A decadent afternoon treat featuring fragrant lemon myrtle poached quinces.  This cake is made with raw sugar offering a slight caramel note and will certainly be a hit with mum this Mother's day.  A very simple recipe that is dense and aromatic - we suggest serving this cake warm with a dollop of crème fraîche.  
If you are unable to find quinces, you can always substitute for apples or pears. 
Lemon myrtle leaves can be picked fresh if you have access to a tree, or can be purchases affordably from Herbies. 
Ingredients:
Melted Butter, to grease
1 3/4 cups self-raising flour
3/4 cup raw caster sugar
185g butter, diced, softened 
3 eggs, at room temperature
1/3 cup cooled syrup from poached quince
icing sugar, to dust
cream, ice cream or crème fraîche, to serve
3 quinces, peeled, cut into eighths, cored
1 1/2 cups caster sugar
6 cups water
10 lemon myrtle leaves
Method:
To prepare the lemon myrtle poached quinces, combine sugar and water in a large saucepan and stir over medium heat until the sugar dissolves.  
Add the quince quarters and lemon myrtle leaves and bring to the boil.  Reduce the heat and simmer, cover the quince with baking paper and simmer for 1 hour or until tender.  Remove the quince from the syrup and set aside to cool completely. Continue to simmer the syrup for another 30 minutes or until reduced to about 600 ml.  Pour into a jug and set aside to cool.  Cut each quince wedge into 3 slices.
Preheat oven to 170°C (150°C fan-forced).  Grease a 22 cm springform tin with melted butter and line the base with non-stick baking paper.
Place the flour, sugar, butter, eggs and cooled poaching syrup in the bowl of an electric mixer and beat on low speed until combined. Increase the speed to high and beat for 3 minutes or until the mixture is very pale and creamy.
Spoon half the cake batter into the prepared tin and use the back of a spoon to spread evenly.  Top with half the poached quince slices.  Cover with the remaining cake batter, spreading evenly, and then top with the remaining poached quince on top.
Bake in for 1½ hours or until a skewer inserted in the centre comes out clean.  Heat the remaining quince poaching syrup until just simmering and then pour 1/2 cup of the hot syrup over the cake.  Set the cake aside in the tin on a wire rack to cool for at least 20 minutes.
Meanwhile, return the remaining syrup to the heat and simmer until reduced by half (you will have about 1 cup left).
Dust the cake with icing sugar, if desired, and serve warm or at room temperature, accompanied by the remaining syrup and cream.
Photography by Alan Benson. Styling by Sarah O'Brien. Food preparation by Tina McLeish.

Read more
✕