CHRISTMAS GIFT IDEAS FOR EVERYONE
October 28 2022
·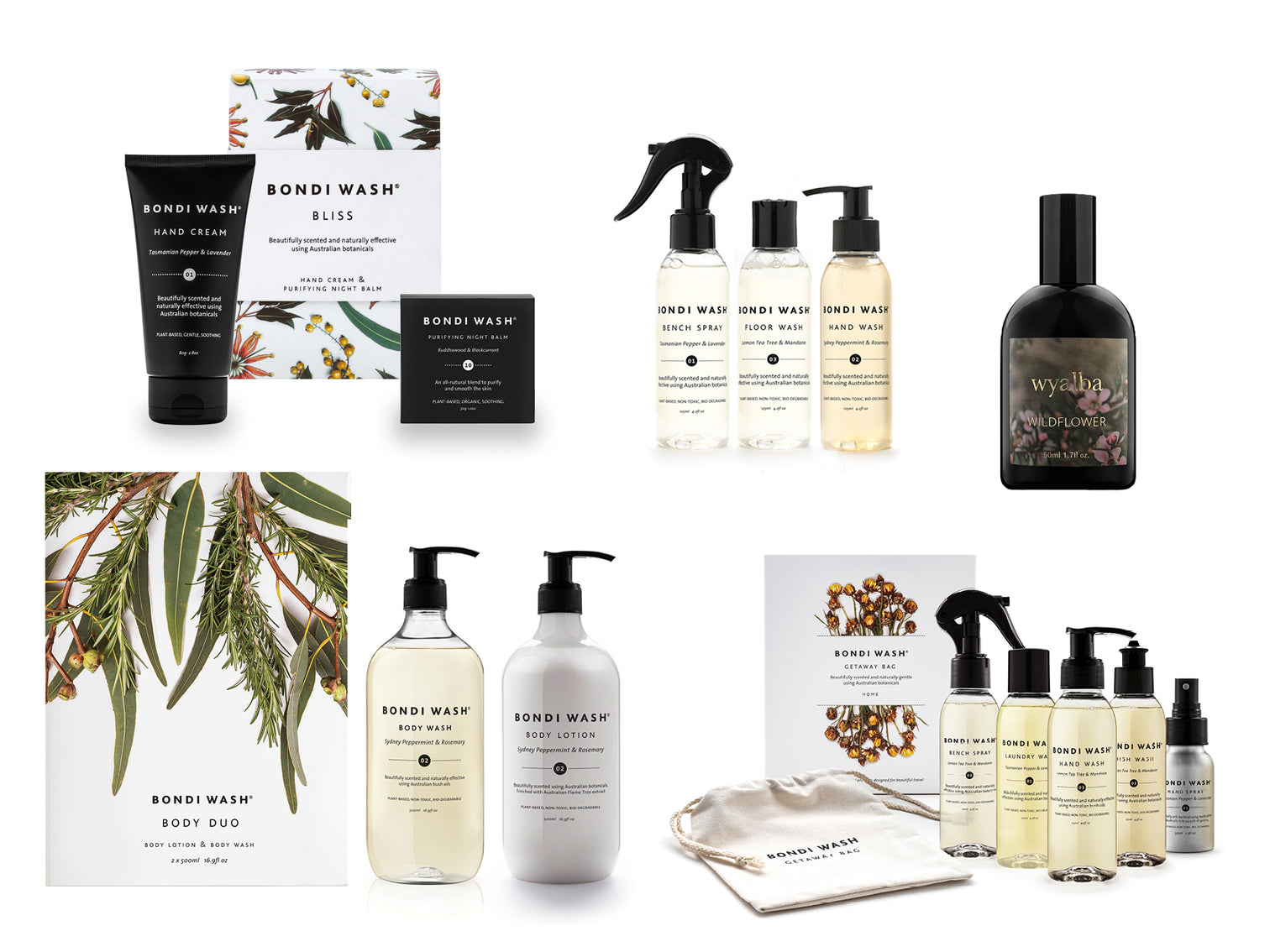 October 28 2022
·
At BONDI WASH, we have a fantastic range of thoughtful gifts for everyone on the list with some great ideas to make gift-giving easy and rewarding…
Home lovers: Kitchen Pamper Duo - $42
A practical gift perfect for those who are interested in a more natural approach to home care.  The Kitchen Pamper Duo contains a 500ml Hand Wash in Tasmanian Pepper & Lavender and a 500ml Dish Wash in Lemon Tea Tree & Mandarin.
Body beautiful: Body Pamper Duo - $70
A duo of natural body products for anyone in need of a little TLC. The Body Pamper Duo contains a Body Wash ideal for sensitive skin and a Body Lotion enriched with Australian super-plant Flame Tree to maintain firmness and elasticity of the skin.  Both fragranced in Sydney Peppermint & Rosemary and packaged in a gift box decorated with Australian botanicals. 
Skincare lovers: Bliss Box - $70
Perfect for those who love all things skincare, the Bliss Box is designed to bring on a feeling of bliss through self-care and natural fragrance.  It features a luxuriously soothing and gentle Hand Cream enriched with Australian Lilly Pilly extract and an intensely nourishing Purifying Night Balm designed to soften and smooth the skin whilst purifying and clarifying. 
Anyone - Kris Kringle: Mini Home Care Trio - $30
A trio of natural products suitable for anyone on the list featuring our three most loved scents.  The Mini Home Care Trio contains a Bench Spray in Tasmanian Pepper & Lavender, a Hand Wash in Sydney Peppermint & Rosemary and a Floor Wash in Lemon Tea Tree & Mandarin. 
Dog Lovers: Dog Pamper Duo - $60
A collection of natural products for your favourite companion to keep them fresh and pampered. The Dog Pamper Duo gift set includes a 500ml Dog Wash and 500ml Dog Conditioner in Paperbark & Lemongrass, specially designed for dogs sensitive skin. 
Travellers: Home Getaway Bag - $60
The Home Getaway Bag contains a selection of natural products designed to keep you fresh and fragrant while traveling including a 125ml Bench Spray to clean any surface, 125ml Dish Wash free from toxic chemicals, 125ml Hand Wash gentle with added moisturisers, 125ml Laundry Wash that is 100% plant-derived and a 50ml Hand Spray that 'kills 99.99% of germs' naturally all packaged in a natural cotton bag.
New parents: Petite Baby Pamper Duo - $40
The Petite Pamper Duos in Baby contains a duo of all-natural products beautifully packaged and ready to gift. Designed carefully with oils and ingredients that nurture and soothe a baby's sensitive skin.
Lovers: Wyalba Natural Perfume - from $45
Be transported to distinctive places and experiences in this wide brown land - from the coast through the cities and beautiful gardens to the vast open plains and hot dry desert.
Wyalba natural perfume, formulated by Australian artisan perfumer, Samuel Gravan, and handmade in Sydney using natural ingredients. Available in earthy and grounded Firetree, calm and inviting Rockpool and the floral, alluring, Wildflower.
Read more
✕