NATIVE FOOD MONTH: GREEN GNOCCI WITH CINNAMON MYRTLE BURNT BUTTER SAUCE
September 23 2019
·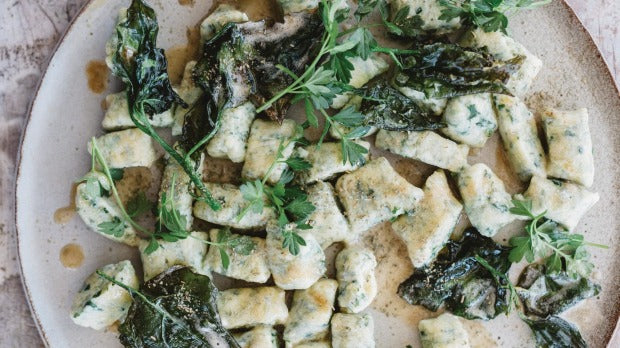 September 23 2019
·
INGREDIENTS
Serves 2
For the gnocchi:
400g warrigal greens
handful of sea parsley, finely chopped
1 garlic clove, crushed
140g ricotta
85g plain flour
2 free-range eggs
100g grated parmesan cheese
salt and pepper, to taste
For the burnt butter sauce:
100g butter
1 teaspoon ground cinnamon myrtle, plus extra to sprinkle
1 garlic clove
1 sprig of sea parsley, leaves picked, to garnish
salt and pepper, to taste
INGREDIENTS
Place 300g of the warrigal greens in a bowl and pour boiling water over them. Leave for 1-2 minutes until wilted, drain thoroughly, squeeze out excess water and finely chop.
Place the warrigal greens, parsley, garlic, ricotta, flour, eggs and cheese in a large bowl and season with salt and pepper. Use a fork to stir very thoroughly.
On a floured surface, roll the dough into finger-sized lengths then cut into 3 cm portions. Place on baking tray lined with baking paper and refrigerate for at least 30 minutes before cooking.
Boil a large pot of salted water and cook the gnocchi until just cooked, a few minutes. They will float to the top when cooked. Drain and set aside.
To make the burnt butter sauce: In a large saucepan over medium heat, melt the butter with the cinnamon myrtle, garlic and remaining warrigal greens. Cook for 5-6 minutes, or until the butter is slightly brown.
Toss the gnocchi through the sauce, stir through the sea parsley leaves and season with salt and pepper to taste.
Sprinkle with cinnamon myrtle to serve.

Native recipe and image supplied by Rebecca Sullivan and Damien Coulthard of Warndu.
Read more
✕