CHRISTMAS GIFTS $60 & UNDER
December 15 2020
·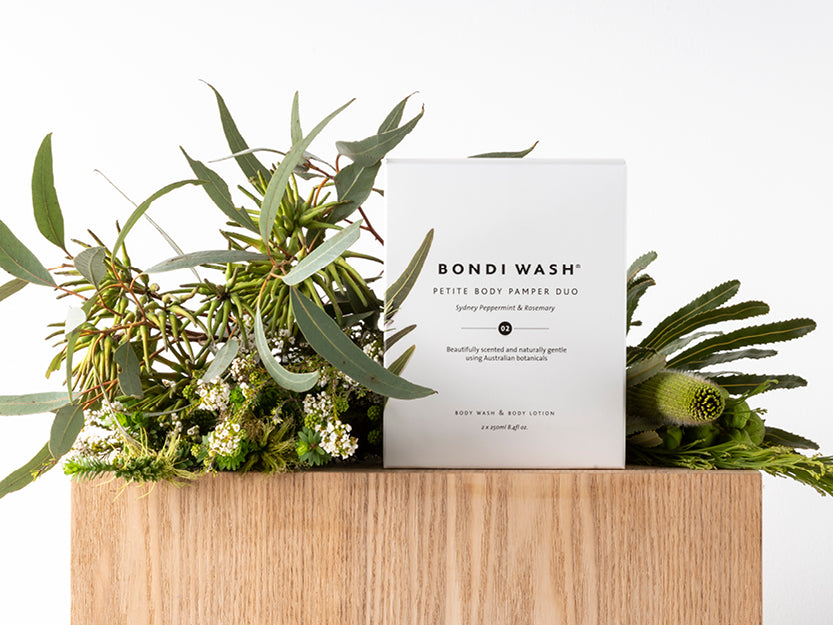 December 15 2020
·
We share a list of top picks from our range to put under your Christmas tree or give for Secret or Stealing Santa. 
Bathroom Pamper Duo - $60 AUD
The perfect match for the bathroom, featuring a 500ml Hand Wash in Sydney Peppermint & Rosemary and a 500ml Body Wash in Lemon Tea Tree & Mandarin. Decorated with our distinctive Australian botanical posies.
Petite Pamper Duos - $50 AUD
A gift box with two of our best sellers from each range. Each decorated with our distinctive Australian botanical posies. Choose from either Hand, Baby or Dog Petite Pamper Duo. 
For Her - $59 AUD 
The perfect gift for any female figure in your life, featuring a Hand Wash, Body Spray and a complimentary Hand Lotion, packaged in a 100% cotton and botanically decorated Festive Bag to make gift giving extra special and sustainable this year. 
May Gibbs Baby Essentials - $55 AUD
A carefully selected range of Bondi Wash baby products convenient for travel over the Christmas break. The gift set includes: Baby Wash Cloth 35cm x 35cm, Deluxe Baby Balm 20g, Deluxe Baby Wash 50ml, Deluxe Baby Lotion 50ml, Deluxe Baby Powder 20g & a White Cosmetics Bag decorated in a box with May Gibbs illustrations.
Botanical Duo - $60 AUD
Ideal to soften the skin and fragrance the home. The gift set contains: 500ml Hand Wash & 150ml Mist Spray. Available in scent 2: Sydney Peppermint & Rosemary and scent 6: Fragonia & Sandalwood. 
Hair Pamper Duo - $60 AUD
Choose between a Nourishing or Cleansing Hair Duo containing a shampoo and conditioner to soften, hydrate, add shine and volume to hair. Enriched with Australian extracts and packaged in beautiful box reflecting the botanical ingredients within.
Dog Essentials - $45 AUD
An ideal collection for your favourite companion to keep them fresh and pampered. The gift set includes: Dry Dog Wash 100g, Dog Wash 125ml, Kennel Spray 50ml, Wash Cloth Black, black travel cosmetics bag in Paperbark & Lemongrass.
Read more
✕