ESQUIRE HONG KONG INTERVIEW
December 9 2014
·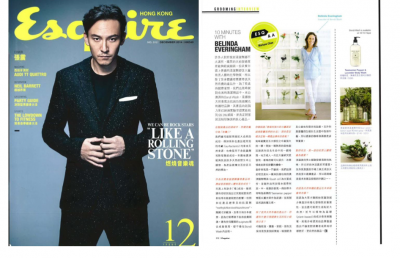 December 9 2014
·
Esquire HK Magazine questions for Bondi Wash – answered by Belinda Everingham, Founder
How do you define "organic" in creating a product?  
We try to source ingredients that are as close to nature as possible. So, for example, the soap bases (surfactants) that we use in our products all come from entirely natural sources. We also source ingredients that are genuinely organic (free from pesticides and herbicides) if they are available. We are lucky here in Australia in that many of our natural oils are wild harvest so naturally free from toxic chemicals.
What should a customer be aware of when choosing organic product? (ie. what are the common ingredients that are harmful to us?)
There are so many 'bad' ingredients out there and the research is still being conducted into the effects on us and the planet. For example, a commonly used preservative 'methylchloroisothiazolinone' is in many products, but has just been prohibited in leave-on products in Europe, Canada and Japan because it causes bad skin irritation.
Some of the most commonly used ingredients that we won't use include all of the sulphates (Sodium Lauryl Sulphate of Sodium Laureth Sulphate, Sodium Coco Sulphate). Synthetic 'fragrance' or 'parfum' is also very commonly used and can mask a range of nasty ingredients that do not need to be listed on the product.
Part of the challenge is that the ingredient names are quite long and complex, which makes it so hard for the consumer to understand what's in products. The 'ingredients' page on our website (www.bondiwash.com.au) lists the ones we avoid and why – for anyone wanting to know more.
You mentioned that fragrance has a huge power that can affect our lives, can you elaborate more on this? How do you decide which kind of scent to go with which product when you develop them? 
Scent is so very powerful – indeed the most powerful of all the senses. A familiar scent can rapidly transport you back to a time, place or person in your life – even many years later. Lots of research has found that scent can indeed uplift, improve mood and reduce depression.
That is an excellent question about scent creation. And the more time I spend doing it, the more I think it is an art-form. It is highly creative and requires total concentration. The concept behind Bondi Wash is to develop fragrances starting with a beautiful Australian native bush oil. We then work out what scent complements it best. So for example, Tasmanian pepper is a soft woody base note – so lavender being a top note complements it perfectly. Then we layer them – including top notes, middle notes and base notes – to create a more complex fragrance.
We then do extensive scent testing with lots of real people. Finally we test them in the actual products – sometimes they don't work– so we tweak the scent at this point. And sometimes the scent won't work at all in a particular product. We have an aniseed scent yet to be released that we probably won't launch as a Body Wash as we are not sure people want this scent on their body.
Apart from using natural and organic products, what are your tips on leading a healthy lifestyle?
A wonderful mix of diet, exercise, family, friends and joy is a good start. Doing things you love – and this can include being uplifted by scents – is important.
 I try to stay as close to nature as possible in all aspects. So this includes eating less processed food, eating organic if you can and exercising or spending time outdoors.
Yoga is great too – for the body and the mind.
But it is about balance, and pleasures like chocolate, coffee and wine, definitely have a place.
What are the natural choices of ingredients (i.e. type of herbs, flowers, fruits & veg) for skincare / home cleansing?

 

Australian natives are really tough plants having to cope with droughts and floods – and they often have anti-bacterial, anti-fungal and anti-microbial properties. So they are great for cleansing at home. Our Bench Sprays for example smell like a perfume but thanks to the bush oils, pass the independent lab tests for killing 99.9% of germs. We have a range of 6 scents – all with anti-bacterial properties for our first range of products.
 And there are many more Australian natives that we are only just starting to discover have great properties such as collagen creation and anti-oxidants for protecting cells. For example, we are working on a Hand Lotion with new ingredients extracted from Australian native plants that have perfect properties for moisturising. We are also working on a new scent for the Hand Lotion – based on Boronia – which is an Australian botanical that isn't anti-bacterial but well-known in the French perfume industry. It is really beautiful in a Hand Lotion. 
In your opinion, which part of the grooming process for a man is most important?
 Excellent question. I am not a fan of men's fragrances in general, but men smell great when they are fresh and clean. So – a great Body Wash is important. I also think there are not many great natural skin care options for men. So creating one tailored to their skin is on our product development plan.
What is the future of natural / organic product?
I think people are only just starting to realise how important it is to reduce our exposure to toxic chemicals and to try and keep life as natural as possible.   Plant-based ingredients are becoming more effective all the time. Companies I hope will start making better, more natural, choices that are better for the consumer and the planet.
Read more
✕